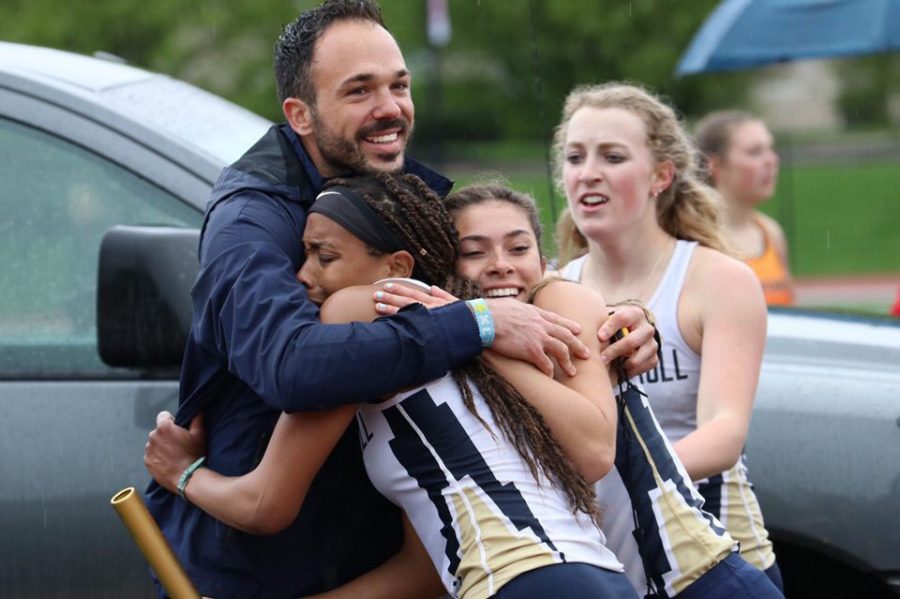 It was the perfect ending to a great weekend of performances for the women at the Ohio Athletic Conference Outdoor Track and Field Championships hosted by Otterbein University in Westerville, Ohio, on April 26-27. For the first time in program history, the Blue Streak women became OAC Champions.
The JCU women came into Friday and Saturday afternoon's meet ranked No. 1 in the Great Lakes Region and they proved that with their performance on the track. The Blue Streaks score of 174 points won the race. Mount Union placed second with 171 points and Otterbein's 167 points placed them third.
A lightning delay initially came into the picture on day one, but that did not stop the Blue Streaks from putting up some crucial points in the standings.
Coach Kyle Basista explained how he felt in the weeks leading up to the competition, "As a coaching staff going into the championships we knew we would be in the mix.  However, over the course of two days and trying to focus on both genders it's easy to get lost in where you're stacking up against the rest of the competition.  We had a lot of amazing performances during the championship and it probably started to be more on our radar as a reality halfway through the events on Saturday.  The 200m really broke it open for us, we executed in the 5k and the 4×400 relay was able to bring it home with another All-OAC performance."
In the women's 100-meter dash, freshman Lucia Cannata claimed the title, posting a time of 12.36 seconds. Her teammate, freshman Sara Johnson was right behind her, earning second with a time of 12.47 seconds.
Cannata also claimed the 200-meter dash title, clocking in at a time of 25.29 seconds, while Johnson and junior Ashura Powell were not that far behind, finishing third and fourth.
Powell and freshman Autumn Hale put up some major points in the 400-meter dash, finishing third and fourth, respectively.
Not only did the Blue Streaks score well individually, they found success as a team as well. Their success was evident in the 4×100-meter dash, with the quartet of Cannata, Powell, sophomore Izzie Penna and freshman Sara Johnson setting a school record winning time of 48.02, which placed them in first.
Cannata was credited with OAC Female Sprinter of the Year for her outstanding weekend on the racetrack.
According to JCU Sports Information, that time was the eleventh best time in the nation.
Moving on to the distance side, sophomore Morgan Kelley put up a stellar performance coming in fourth place in the 3.000-meter steeplechase at a time of 11:44.
In the 10,000-meter race, Cameron Bujaucius continued her successful freshman year, claiming all-conference honors placing second with a time of 38:48. She also earned a third-place finish in the 5000-meter race, clocking in at 17:44.
The field events, freshman Kelsey Dunn registered points in the discus with her mark of 38.41 meters, which placed her third. Fellow freshman Olivia Hurtt placed fifth with a mark of 35.92 meters.
In the hammer throw, Hurtt continued her success, placing second with a 48.78 meter throw.
In the javelin, junior Nicole Pilewski claimed her second career OAC with a throw of 35.92 meters. Freshman Madeline Scherle established crucial points as well, placing third with a throw of 33.63 meters.
In the long jump, freshman Maria DeLuca and sophomore Courtney Pheonnik put their strength to the test by placing third and fourth. Senior Katelyn Frandanisa placed fifth, also putting up points.
DeLuca, Pheonnik and Frandanisa kept their strong weekend rolling. DeLuca won the triple jump title, jumping with a mark of 11.44 meters. Frandanisa had a mark not far behind as she leapt 10.90 meters. Pheonnik placed second with a mark of 11.25 meters to snatch an OAC runner-up.
Not only did the Blue Streaks rewrite history with their first-ever program in the OAC, it was the first time JCU had finished in the top three in the race since 2006.
Coach Kyle Basista said of the win, "It's special. It really is and still very hard to put into words. Whenever you're the first to do something it means a little more. It's great for our entire program, men included. We feel like this has been a long time coming and to finally get the monkey off our backs is huge moving forward.  Hopefully this will open the floodgates to more championships to come in the future."