The ongoing protests in Hong Kong that began in June were initiated over Chinese President Xi Jinping's proposal of an extradition bill. Extradition, as described in The New York Times, means the sending a person back to his or her home country or state after finding out they have committed a crime. Therefore, according to the BBC, this extradition bill would allow Hong Kong criminal suspects to be extradited to mainland China. 
Hong Kong was a British colony for 156 years until the sovereignty over the territory was transferred to Communist China in 1997. Today, Hong Kong is classified as a Special Administrative Region of the People's Republic of China, according to the BBC.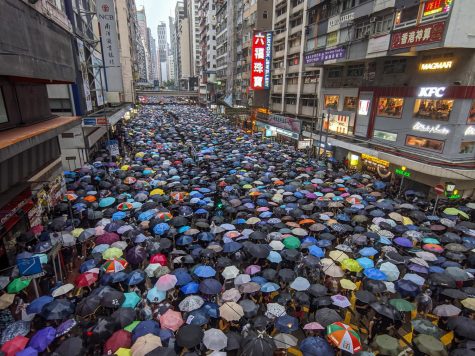 Under their mini-constitution called the Basic Law, which expires in 2047, Hong Kong can practice limited pro-democracy lawmaking and economic systems, according to the BBC. This extradited bill proposal is one of many examples of the Chinese government attempting to weaken Hong Kong's independent rights before the Basic Law expires. 
As for the protests, a handful of global companies and brands are facing the consequences after showing clear signs of support for Hong Kong, one of the most densely populated regions in the world, according to The New York Times. Major fashion brands that have been caught in the crossfire, according to Vox, are Vans, Tiffany & Co., Zara, Versace and Givenchy. 
These five companies seek to satisfy consumers from both Hong Kong and China which, according to Vox, is the largest global fashion market. 
This October, Vans and Tiffany Co. were under scrutiny for allegedly supporting Hong Kong protests. 
First, Vans faced backlash after removing a very popular Hong Kong entry from its international sneaker design competition. According to CNN, the entry design depicted a crowd of anti-government protests in Hong Kong and a yellow umbrella, which was the symbol for Hong Kong's 2014 pro-democracy protests. Vox explained that the Californian brand issued a statement on Facebook which explained that the brand's core values ,saying they do not take a stance on political issues and therefore, they had to remove the entry.
As for Tiffany Co., according to the online publication of Business of Fashion, on Oct. 7 the company deleted a Twitter post displaying a female model with her hand covering her right eye. As reported by Business of Fashion, this image alluded to a Hong Kong female medic who was hospitalized due to injury of a pellet in the eye during protests in August as a result of police's use of force. Meanwhile, according to Business of Fashion, a spokesman for the brand commented that the image had been photographed in May for a planned campaign issue and was unrelated to any political situation. 
In early September, according to the BBC, the company Zara was placed under the interrogative spotlight when a local Hong Kong newspaper inquired if four recently closed Honk Kong Zara stores were shut down in support of the anti-government student protests. Once again, according to Vox, the popular Spanish fashion brand issued a statement on Chinese social media, relaying support for China's sovereignty. 
In August, Versace and Givenchy were accused of including images on T-shirts that clearly expressed solidarity with the protestors of Hong Kong and received endless criticism on Chinese social media. Both companies issued damage control statements, which contained apologies.