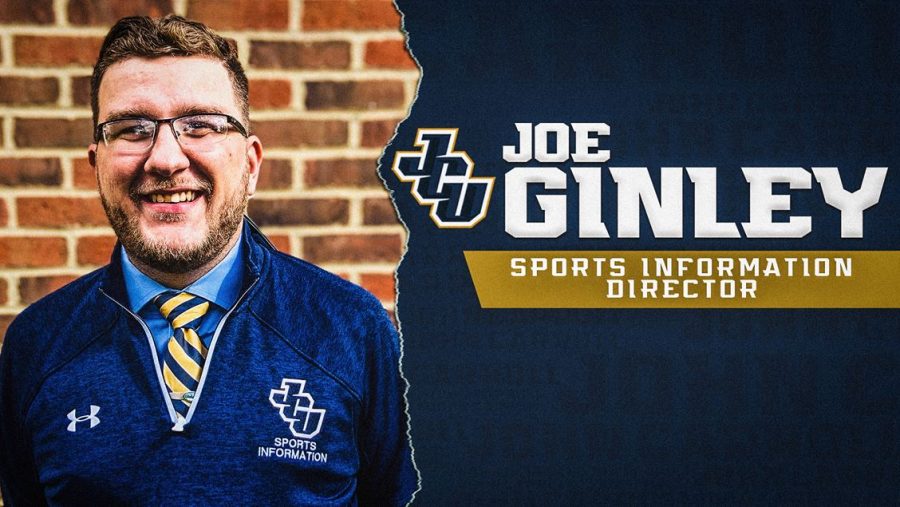 JCU Sports Information/Eddie Marotta
Joe Ginley, class of 2016, was hired as Sports Information Director of John Carroll University on Friday, Oct. 16. Ginley is replacing the late Chris Wenzler, who held the position for 30 years. Wenzler passed away on June 23, following a two-year battle with cancer.
The Carroll News caught up with Ginley for a question and answer session that ranged from his plans as Sports Information Director to his experiences as a JCU student and his relationship with Wenzler. 
Editor's Note: Answers have been edited for clarity and length. 
Q: What does it feel like to be back at John Carroll?
A: "It feels wonderful. When I was a senior, we did a luncheon with the graduating seniors from the Sports Information Office. Chris [Wenzler] always had a luncheon with the graduating seniors. 
"He would give away these rocks that had messages on them. The rock that he gave me said 'Blessed.' I keep thinking back to that day, and I keep that rock close to me. I feel blessed. I have been blessed to have a great job at Saint Ignatius with a wonderful boss and wonderful coworkers. Now, I am walking into another place I love dearly — John Carroll. At John Carroll, I will have a wonderful boss, I'll have amazing coworkers, really brilliant students and awesome coaches.
"I am really, really excited. There is already a great foundation in place here in the Sports Information Office. There are a lot of great things to work off of. At the end of the day, I just feel blessed."
I'm thrilled to announce that I am the next Sports Information Director at @jcusports!I will always treasure my 4 years with @SIHSSports. I'm excited to remain with the Jesuits and to continue Chris Wenzler's work with JCU. Can't wait to get started ⚡️#WenzlersWarriors💜💛 https://t.co/fGQXUN03L9— Joe Ginley (@JoeGinley) October 16, 2020
Q: What was it like to be back on campus on Friday for the first time as Sports Information Director? How can you describe the outpouring of support?
A: "It was an absolute whirlwind. I am really lucky to have a wonderful group of people supporting me, especially my fiancé, my family and lots of people at John Carroll. The outpouring of support was really humbling. I was expecting some response, but the amount of response that I received was phenomenal.
"John Carroll is a relatively small community, but it is a really welcoming one. There are so many great people. That's what makes it one of the best, most favorite places on this planet. I feel really blessed to have so many great people in my life and so many great people behind me. It really feels great."
What a crazy 24 hours. Thank you to everyone who tweeted, texted, and DM'ed me congratulations on the new job. I'm humbled by the kind words and amazing response.Thank you to everyone in my life who helped me become the man I am today. I love you all! #GoCats #OnwardOn⚡️ pic.twitter.com/SOvIjemRqf— Joe Ginley (@JoeGinley) October 17, 2020
Q: You have been no stranger to John Carroll. You have often come back to assist at games, whether that was with the Sports Information Office or the campus radio station, 88.7 WJCU. How have you stayed connected to the University and kept giving back to the community?
A: "John Carroll for me is like a magnet. It's a great place. It is a warm and welcoming place. I had four great years here as a student. Every time that I had a chance to come back, whether it be to help out at a game — I was also fortunate enough to guest lecture in a couple of classes — it pulls you back. It is such a great place. 
"There's a sense of hospitality. When I step onto this campus, I feel at home. Every chance that I received to come back was always great." 
Q: What has it been like since graduating from John Carroll in 2016?
"It's been a busy four years at Ignatius. I have had an opportunity to really learn and grow. This is a profession where you never stop doing that. You always try to get better. I was lucky to have a great boss and a mentor, coworkers and colleagues, who helped me to get better at my job. We had a lot of success at Ignatius both on and off the field. It was a once-in-a-lifetime experience to come back to John Carroll."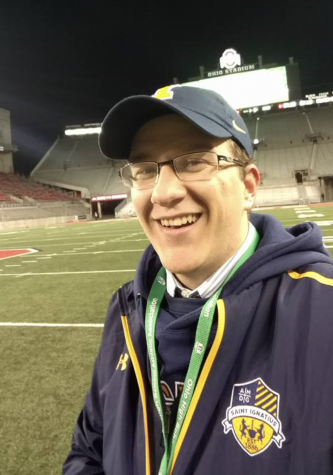 Q: What are your relationships already like with the coaches and people at John Carroll?
A: "The advantage that I have is I already have many of those relationships. Those relationships are critical in sports information. You can't do this job without having good relationships with coaches, administrators and student-athletes. I am fortunate to have a lot of those relationships, going back as a student and the last couple of years staying connected.
"In these times, to hit the ground running, you need to have the relationships in place. It is a little bit tougher when you can't see people in person. I am fortunate to already know a lot of the people I will be working with. I am also excited to meet the people that I haven't met before and work with them. The two most important things when you're developing relationships and working with others is you have to have patience and humility. I am looking forward to bringing those two things to John Carroll. 
"I couldn't be more excited to work with (Senior Director of Athletics and Recreation) Michelle Morgan. Her experience in the NCAA and beyond is invaluable. I am excited to work for her, in part because she has so much experience and knowledge. 
"I have met President [Michael] Johnson a few times, and I have watched his work from afar. I have always had the sense that he is a brilliant, intelligent leader, especially with the way he has helped John Carroll navigate through the pandemic. I can't wait to work with such a great administration."
We are thrilled to welcome Joe back to campus to help share all the accomplishments of @jcusports on the field, off the court, in the classroom and in our community! https://t.co/nnO7FG1EVk— Michelle Radzik Morgan (@MMorganAD) October 16, 2020
Q: What was your relationship like with Chris Wenzler, and what will it be like for you to carry on his legacy?
A: "Chris was a one-of-a-kind human being. He was someone who welcomed me with open arms into the Sports Information Department. He was a boss for me, just like he was for a lot of people, but more importantly, he was a mentor. He was a friend. I always felt, with the Sports Information Department with Chris, that if I had a free moment, I was always welcome to come up and stop by and sit in the office when times were good and when times were bad. When I was going through a rough patch or when I needed some support, I knew I could go to Chris for help or support. He was such a wonderful person, a wonderful human being. I miss him dearly. I think about him just about every day. I truly wish he was still here.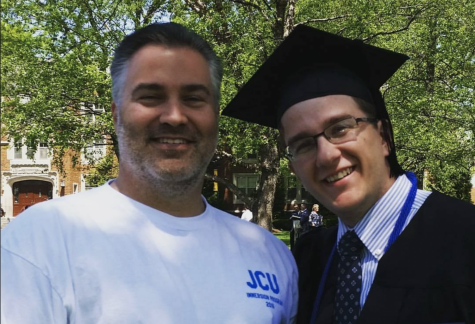 Ginley Continued:
"With the sports information department, our first goal is to make sure that we continue his work and his legacy — in both ways big and small. In ways such as, when we cover an event or we work, we make sure we are doing everything to the best of our ability. 
"Why Chris was so special is he made the world a better place. Everyone that came into contact with him was a better person. That's one of my goals: to have an impact on other human beings the way he did. It is a large goal, but it really comes down to every single day, doing the best in your job but also making sure to take time to develop relationships and to help others in any way you can."
Q: How do you plan to make the Sports Information Office your own?
A: "One of our first goals is to be a leader in the Ohio Athletic Conference and Division III in social media. I want us to do more creative things to help us stand out on social media. I want to be one of the best in the conference in social media and in storytelling. We want to do things that are new and haven't been done before.
"Another thing is I want to expand our broadcast offering. I want to really continue the excellent work that we have done with that. I want to make it a bigger program with the broadcasting aspect. I want to make John Carroll an attractive place to come to if you want to be a student broadcaster. If you have aspirations of doing sports media, I want John Carroll to be the place to be. 
"Beyond that, we are going to have a real focus on written content with feature stories to start with. But overall, my goal is to be one of the best sports information departments in Division III and in the NCAA."
Q: What is your experience with student-media organizations as a professional and a student?
A: "It comes down to one word and that is family. At Ignatius, we have the Saint Ignatius Broadcasting Network. When I started, we had about 10-15 dedicated students. Over four years, we have expanded that to 60 students. We have made it a fun and family-oriented student organization. I am really proud of what we have done in that we have made it a fun organization to be a part of on campus. 
"We do different things. We broadcast, we do videography, students help out with social media. We try to make it fun. I think that is super important. I think that is why we had a lot of success at Ignatius is because we made it fun.
"That is sort of how I want to run things at John Carroll. I want to make sure students have the license to be creative and have the freedom to do fun and different things. When there is a new idea, I want to do everything in my power to make it happen.
"I view my role as a coach. The Sports Information Department is the 24th team. Along with that, my job is to help everyone succeed in the best way they can and make sure that everyone has the freedom to do and do whatever they do best. I view my role as a coach to help everyone get better. Not only as  student sports information workers but also as people."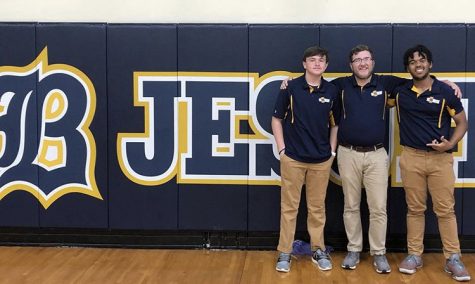 Q: The pandemic has created a challenge for Division III sports. You will have two months in the Sports Information Office before we hit the ground running with sports again. What are the advantages and disadvantages of the pandemic? What are some of your ideas that you have during this time?
A: "I have been fortunate to have experience dealing with the pandemic. I helped to create the safety plan for COVID-19 with Saint Ignatius athletics with the help of our athletic director. I had some experiences with what you need to do to help sports go off safely. There are a lot of things that you need to think about and it involves a lot of prior planning. The No. 1 thing on my list for the next few months is planning.
"Planning will be crucial. When sports happen, we are going to hit the ground running. In the next couple of months, I plan on using this time to help the students, to train them with all the tools and skills they will need to succeed when they get started. Beyond that, I am going to make sure we have the proper equipment to cover sports safely. When it happens, it is going to be a lot of work. Really importantly, it is going to be about the ability to be agile.
"With COVID-19, or with life, it is about how you adjust and problem-solve. We will handle those two things with adjusting and problem-solving."
Q: What has the last four years been like at Saint Ignatius and what has that place met to you?
A: "Saint Ignatius has a special place in my heart and always will. There are so many amazing people that work at Ignatius, and that's what makes a place special: the people and the mission, the Jesuit mission of forming Men For Others, and in John Carroll's case, forming Men And Women For Others. 
"My amazing boss. My great colleagues. The great coaches, administrators and teachers. It is the people that make the place great. That is why I am going to miss Ignatius. 
"One of my favorite parts of the job at Ignatius is to work closely with the student-athletes and students in the SIBN (Saint Ignatius Broadcast Network). That is the toughest part about leaving, is leaving them. Hopefully, in a few years, some of the kids at Saint Ignatius will follow me to John Carroll if they'd like. I will really miss the place, but I will miss the people the most."