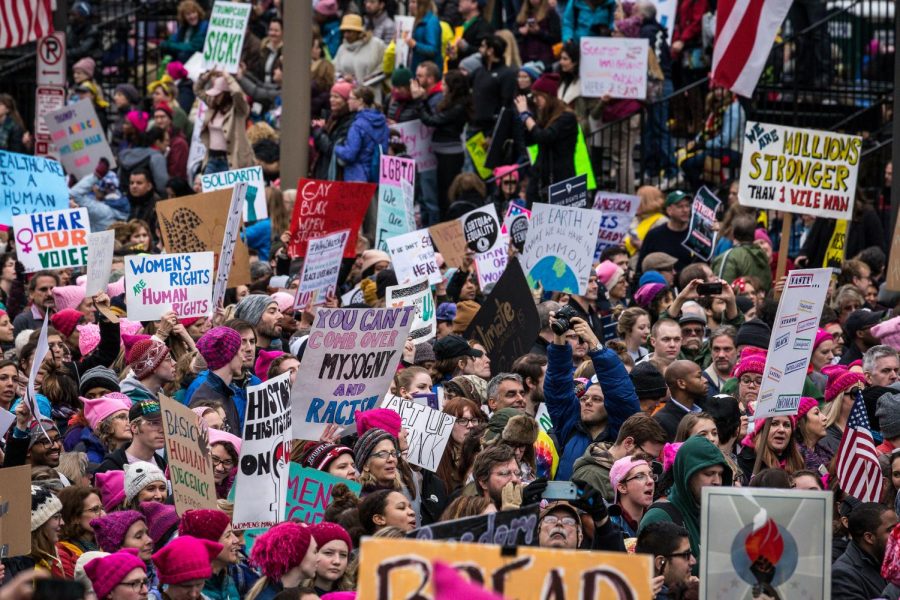 Photo by Mobilus In Mobili
This article is part of The Carroll News Elections Series, written by the students of the Fundamentals of Journalism class. For more information on these series, check out this introduction!
Gender equality and feminine rights have been a major issue in modern politics and a looming matter in the nation ever since the Seneca Falls Convention of 1848. The American population has long been looking for equal rights for women, and it is a constant struggle every day in many environments. Politicians are far too often asked the essential question, "How will you even the playing field between men and women?"
However, what is not discussed as often is the discrimination women from minorities face daily and how far the country has yet to progress in this area of gender equality.
This issue was just one of the many concerns raised by student members of the John Carroll Latin American Student Association. During a meeting with students from Professor Carrie Buchanan's COM 350 Fundamentals of Journalism class, the group described a myriad of problems they see plaguing minorities today with female inequality being a large facet of their concerns.
According to Catalyst, a popular female rights organization, the mental, physical and financial toll women from minorities face are rather large. Catalyst also states that African American women often feel as if their psychological safety is threatened in the workplace due to discrimination, both because of their race and gender.
There is also a higher wage gap between women who belong to minority groups and white men. Women of color make up half of the low-wage workforce according to the U.S. Census Bureau, National Center for Labor Statistics, and the National Women's Law Center.
"More and more now, your insurance is connected to how white-collared your job is," said Heeju Sohn, a sociology professor at Emory University who conducted a study on immigrant rights in the United States. "Gender comes into play in a roundabout way. The second biggest way a person gains insurance is through their spouse. The proportion of women who are on their husband's insurance is larger than that of the husbands who are on their wife's insurance."
According to Sohn, this means that most women in this situation will be stuck in difficult marital situations, including various types of  abuse, without options for divorce because they feel trapped by their insurance. This factor is even worse for women who are part of a minority group, especially when they are forced into a low-paying occupation.
Besides employment, women from minority groups are also threatened by a lack of representation in debates on health care, economic factors and women's rights in general, according to Kaiser Health News, a nonprofit health informational service. This comes as no shock when women only make up one-fourth of the 116th Congress, and only half of those seats are held by women of color, which can be gathered by examining the statistics provided by the U.S. Congress.
In short, racially diverse females are beginning to wonder when their voices will be heard.
Paula Jean Swearingen, a candidate for U.S. Senator in West Virginia, stated via her campaign staff that she "supports women's access to reproductive healthcare and equal pay for women" and she "promises to always fight for equal pay and equal rights for women."
Swearingen has been a strong advocate  not only for women's rights but also minority rights in government. She has campaigned against the incumbent for the West Virginia Senate seat before and lost by a meager amount of votes. Now, she is running on a campaign of equity and freedom.
"Paula Jean is devoted to addressing the racial injustice in our country, especially as it intersects with the most vulnerable and marginalized in our society," Swearingen's campaign staff stated. "Paula Jean knows how important it is to address systemic racism in this country by giving all people an equitable playing field — that's why she is devoted to making sure that everyone has access to healthcare, ensuring environmental justice, promoting economic opportunity for all and fighting to protect the rights of women and our society's most vulnerable."
Sen. Shelley Moore Capito, the Republican incumbent for the U.S. Senate from  West Virginia, was contacted for her input on this matter, but she has not yet responded.
An example of a lack of feminine rights in our country occurred only a few weeks ago when women in an Immigration and Customs Enforcement Detention Center in Georgia were forced to have hysterectomies without their full consent. Immigrants in the detainment center were reportedly told they had a problem with their ovaries, such as cysts or menstruation problems, and went to the center's doctor for a check-in. However, the practitioners have now been accused of unnecessarily removing their patients' fallopian tubes entirely, rendering them infertile.
When asked about this situation, Swearingen stated that "the allegations of forced hysterectomies and other inhumane practices are abhorrent violations of human rights. We must get to the bottom of this situation and end the trauma being done in the name of this country right now! I am disgusted."
"It's honestly horrendous and disgusting to even see," said Daniella Flores, president of the John Carroll Latin American Students Association, regarding the Irwin County Detention Center allegations. "It's very abusive, it's very disgusting to watch, and it's because some of those people look like our family. … There is so little citizens can do, yet so much to speak out about."
These reports have caused a national uproar as people have demanded intervention at ICE centers for this reason and others. The Irwin County Detention Center in Georgia, where this situation occurred, was contacted for a comment, but they have yet to respond to this issue.
The battle for gender equality and women's rights for minority groups still wages on by day in the courtrooms and by night with protests. Many Americans are working to dismantle misogyny and xenophobia in order to uplift gender equality and racial pride.
Hannah Newsome, a member of the John Carroll Latin American Student Association, summed up the situation: "If you have to face the recoil of the political system, you should have more of a role in it."