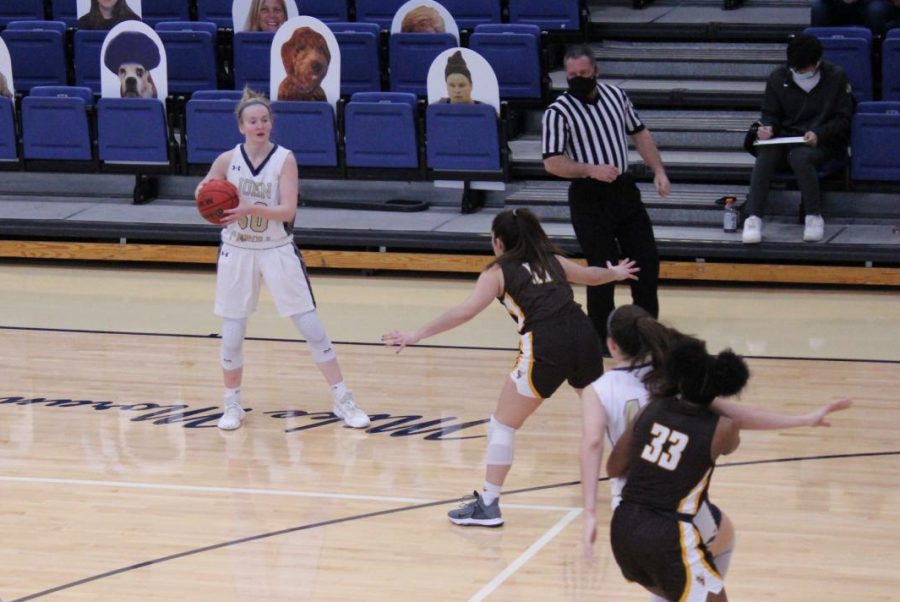 JCU Sports Information
Some players don't always show up consistently on that stat-sheet. 
However, big-time players show-up in big-time moments in big-time games.
That was John Carroll University Women's Basketball senior Abby Adler in the Ohio Athletic Conference Tournament championship game on March 6.
In an 83-71 victory over Baldwin Wallace in the championship game, Adler scored 14 points and two steals. She didn't miss a free throw (3-3) or a 3-pointer (3-3). Her 80% shooting from the field was the best among all players that played in the game.
Yet, Adler was left off the All-Tournament team.
The Blue Streaks were well represented on the All-Tournament team, as they secured three of the six selections on the list — despite Adler's snub.
Junior Olivia Nagy was rightfully named tournament MVP after a 22-point, 13-rebound, 10-point triple-double. Nagy is just one of two players in all of Division III to have recorded a triple-double this season. Seniors Dani Carlson and Nicole Heffington were also recognized on the first team for their contributions over the last three games.
Emily Brock from Ohio Northern, Elena Rauhe from Mount Union and Megan Schiebelhut from Baldwin Wallace rounded out the All-Tournament team. 
Not only should Adler have been recognized on the All-Tournament team, but she also has the case to prove it. 
Brock and Rauhe are both listed as guards with Schiebelhut labeled as a forward. Adler is officially considered a guard but played the "four," which is considered a "power-forward" type of role. In collegiate basketball and in the women's game, there are oftentimes similarities between the positions with players playing all positions on the court. 
Position is not of concern in this case, as Adler plays both forward and guard, which makes her one of the most dynamic players on the court.
Of course, this is not a career award but Adler has started 82 games in her JCU career — a mark that only 13 other women's basketball players have accomplished at John Carroll. If there had been a full-season, Adler would likely be in the top five.
Adler's 40.7% career shooting percentage from beyond the arc is the best in program history. 
In the third quarter of the OAC Tournament Championship, Adler's eight points (including two threes), which helped the Blue Streaks fend off a Yellow Jackets comeback.
During the OAC Tournament, Adler averaged 9.7 points per game, 3.7 rebounds and shot an impressive 58.8% from the field and 70% from deep. In the OAC Tournament semifinal against Ohio Northern, Adler was arguably JCU's best player, as she scored seven points, had a team-high four assists and three blocks. 
Brock only averaged 7.3 points per game in the tournament, three rebounds and shot 35.3% from the field and 40% from three. She only had two total steals in three games and no blocks. 
Not only did Adler best Brock in every single category during the tournament, but Adler also scored nearly four more points per game, had a significantly better shooting percentage (46.5% > 25.8%) from the field and three (45.1% > 23.4%) and had more assists, rebounds and steals per game.
Rauhe only bested Adler in points, steals and rebounds during the tournament: Adler shot 47.4% better from the field and 62.7% more from three than Rauhe. 
Schiebelhut did score 16 points in the OAC Tournament game but did not average more steals, assists or blocks than Adler for the tournament. 
Rauhe and Schiebelhut honors to the All-Tournament team were well-deserved, although Adler compared well to both standout players.
However, when it came to Brock, based on stats alone, Adler should have earned the nod. Except, Adler does more than what the stat-sheet shows: sacrifices her body for loose balls, takes charges routinely and plays a careless brand of basketball. 
I am sure having four players on the All-Tournament team from John Carroll would have been a sore eye for some, but the stats don't lie — and the film doesn't either.
Abby Adler should have been one of the five players selected to the OAC's All-Tournament team. It was a no-brainer, really.