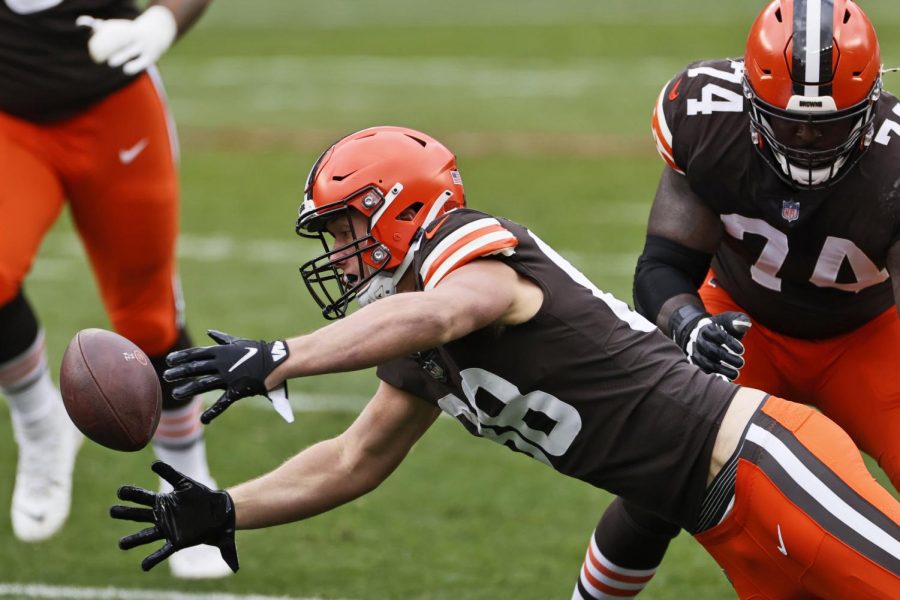 (AP Photo/Ron Schwane)
A violently windy, snowy day at FirstEnergy Stadium in Cleveland was the site for two playoff hopefuls. The Cleveland Browns and the newly relocated Las Vegas Raiders squared off this past Sunday with both teams looking to stay firm in contention for a potential playoff spot. However, for the Browns, costly drops, poor run defense and the weather were huge factors in the 16-6 loss. 
The errors for Cleveland began to pile up in the third quarter a little past the nine-minute mark. With the score at 6-3 in favor of the Raiders, Browns quarterback Baker Mayfield noticed the perfect opportunity to take a possible 10-6 lead when he threw a nice pass to Pro Bowl wideout Jarvis Landry along the left sideline to the endzone. It was perceived to be a touchdown, but a booth review showed that Landry never had full control, so the seven points were taken off the board. 
Going into the final quarter with the score at 13-6, the Brown and Orange looked to find a spark to even the game up once again. It appeared that they found a groove as the offense kept the ball moving into Raider territory. A nice run from Kareem Hunt got the drive started with a solid gain of about 13 yards. But another crucial drop came on 3rd & 8, as Baker tossed a pass over to tight end David Njoku. Njoku easily had the first down and more, but it fell right out of No. 85's hands. 
Las Vegas running back Josh Jacobs was the focal point for Jon Gruden's offensive attack. Even though the weather hindered the passing game for both sides, Jacobs was not going to let his team lose this game. 
Jacobs gashed the Browns run defense for 128 yards on a massive 31 carries. He controlled the tempo all game, as the Raiders held the ball for a whopping 37 minutes compared to the Browns' meager 22. 
"We got beat. They came in here and beat us. … They possessed it for 38 minutes. I believe and we didn't do enough of those things you gotta do in those conditions," Browns head coach Kevin Stefanski told reporters after the game on Sunday. 
After this loss, the Browns finished the first half of the season at 5-3 — the best start to the season since 1994, a year in which they made the playoffs and got to the divisional round. For the Raiders, they get back into the win column after a tough 45-20 loss to Tom Brady's Buccaneers in week seven. 
Las Vegas improves to 4-3 and will travel to Los Angeles to take on the division rival Chargers next week. The Browns kick off next in week 10 against the Houston Texans, as part two of a three-game homestand.