Election feature: gender equality
Nov 3, 2020
This article is part of The Carroll News Elections Series, written by the students of the Fundamentals of Journalism class. For more information on these series, check out this introduction!
Gender equality and feminine rights have been a major issue in modern politics and a looming matter in the nation ever since the Seneca Falls Convention of 1848. The American population has long been looking for equal rights for women, and it is a constant struggle every day in many environments. Politicians are far too often asked the essential question, "How will you even the playing field between men and women?"
However, what is not discussed as often is the discrimination women from minorities face daily and how far the country has yet to progress in this area of gender equality.
This issue was just one of the many concerns raised by student members of the John Carroll Latin American Student Association. During a meeting with students from Professor Carrie Buchanan's COM 350 Fundamentals of Journalism class, the group described a myriad of problems they see plaguing minorities today with female inequality being a large facet of their concerns.
According to Catalyst, a popular female rights organization, the mental, physical and financial toll women from minorities face are rather large. Catalyst also states that African American women often feel as if their psychological safety is threatened in the workplace due to discrimination, both because of their race and gender.
There is also a higher wage gap between women who belong to minority groups and white men. Women of color make up half of the low-wage workforce according to the U.S. Census Bureau, National Center for Labor Statistics, and the National Women's Law Center.
"More and more now, your insurance is connected to how white-collared your job is," said Heeju Sohn, a sociology professor at Emory University who conducted a study on immigrant rights in the United States. "Gender comes into play in a roundabout way. The second biggest way a person gains insurance is through their spouse. The proportion of women who are on their husband's insurance is larger than that of the husbands who are on their wife's insurance."
According to Sohn, this means that most women in this situation will be stuck in difficult marital situations, including various types of  abuse, without options for divorce because they feel trapped by their insurance. This factor is even worse for women who are part of a minority group, especially when they are forced into a low-paying occupation.
Besides employment, women from minority groups are also threatened by a lack of representation in debates on health care, economic factors and women's rights in general, according to Kaiser Health News, a nonprofit health informational service. This comes as no shock when women only make up one-fourth of the 116th Congress, and only half of those seats are held by women of color, which can be gathered by examining the statistics provided by the U.S. Congress.
In short, racially diverse females are beginning to wonder when their voices will be heard.
Paula Jean Swearingen, a candidate for U.S. Senator in West Virginia, stated via her campaign staff that she "supports women's access to reproductive healthcare and equal pay for women" and she "promises to always fight for equal pay and equal rights for women."
Swearingen has been a strong advocate  not only for women's rights but also minority rights in government. She has campaigned against the incumbent for the West Virginia Senate seat before and lost by a meager amount of votes. Now, she is running on a campaign of equity and freedom.
"Paula Jean is devoted to addressing the racial injustice in our country, especially as it intersects with the most vulnerable and marginalized in our society," Swearingen's campaign staff stated. "Paula Jean knows how important it is to address systemic racism in this country by giving all people an equitable playing field — that's why she is devoted to making sure that everyone has access to healthcare, ensuring environmental justice, promoting economic opportunity for all and fighting to protect the rights of women and our society's most vulnerable."
Sen. Shelley Moore Capito, the Republican incumbent for the U.S. Senate from  West Virginia, was contacted for her input on this matter, but she has not yet responded.
An example of a lack of feminine rights in our country occurred only a few weeks ago when women in an Immigration and Customs Enforcement Detention Center in Georgia were forced to have hysterectomies without their full consent. Immigrants in the detainment center were reportedly told they had a problem with their ovaries, such as cysts or menstruation problems, and went to the center's doctor for a check-in. However, the practitioners have now been accused of unnecessarily removing their patients' fallopian tubes entirely, rendering them infertile.
When asked about this situation, Swearingen stated that "the allegations of forced hysterectomies and other inhumane practices are abhorrent violations of human rights. We must get to the bottom of this situation and end the trauma being done in the name of this country right now! I am disgusted."
"It's honestly horrendous and disgusting to even see," said Daniella Flores, president of the John Carroll Latin American Students Association, regarding the Irwin County Detention Center allegations. "It's very abusive, it's very disgusting to watch, and it's because some of those people look like our family. … There is so little citizens can do, yet so much to speak out about."
These reports have caused a national uproar as people have demanded intervention at ICE centers for this reason and others. The Irwin County Detention Center in Georgia, where this situation occurred, was contacted for a comment, but they have yet to respond to this issue.
The battle for gender equality and women's rights for minority groups still wages on by day in the courtrooms and by night with protests. Many Americans are working to dismantle misogyny and xenophobia in order to uplift gender equality and racial pride.
Hannah Newsome, a member of the John Carroll Latin American Student Association, summed up the situation: "If you have to face the recoil of the political system, you should have more of a role in it."
Election feature: young people as voters
This article is part of The Carroll News Elections Series, written by the students of the Fundamentals of Journalism class. For more information on these series, check out this introduction!
John Carroll University sophomore Katy Zoller got involved in gun violence prevention after the Parkland shooting in 2018, when a gunman opened fire at Marjory Stoneman Douglas High School in Parkland, Florida, killing 17 people and injuring 17 others.
 "It seemed like the adults were not going to change anything. They kept offering thoughts and prayers, but thoughts and prayers won't save a life. I realized that I had a voice and that I can make a change, especially after seeing other students using their voice and making change," Zoller told a group of students from the Fundamentals of Journalism class at John Carroll University. 
So Zoller started a Students Demand Action chapter at John Carroll during her freshman year. Ever since then, she has been the president of the organization, engaged in planning events and meetings throughout the year. Students Demand Action is the high -school and college campus version of the national organization Everytown for Gun Safety, which was started in 2018.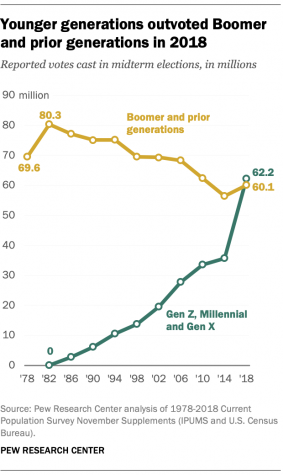 Zoller is an example of a young person who got engaged in the democratic system through an issue she cared passionately about. This is an increasing phenomenon among members of the millennial and Generation Z populations. And it could bring about a sea change in American politics. That's because until recent years, young people have not voted in large numbers. 
According to the Pew Research Center, "Millennials and Gen X together cast 21.9 million more votes in 2018 than in 2014." This demographic matters more to candidates and political parties than it used to because more of them are voting.
Gun violence was an important issue for young voters in the midterm elections in 2018. And in this election, Students Demand Action is working actively by calling and emailing young people to encourage the youth vote. During their meeting on Oct. 8, the JCU chapter got together to call and write to state representatives to direct attention to the issue of gun violence. Students could also participate by designing graphics to be used on SDA's Instagram page or learn more about the impacts of gun violence. Care packages that included snacks and T-shirts were sent to participating members for extra motivation and comfort during the pandemic.
According to recent polls, Generation Z is becoming one of the most active voter groups, so candidates are paying more attention to their interests, especially climate change. Candidates for the Democratic presidential nomination, such as Bernie Sanders and Elizabeth Warren, have taken account of this and included the Green New Deal in both of their campaigns. Introduced in 2018 by Rep. Alexandria Ocasio-Cortez of New York and Sen. Edward J. Markey of Massachusetts, the Green New Deal is a plan that aims to be more environmentally conscious by reducing our carbon footprint and saving natural resources. The plan also seeks to fight back on economic inequality by creating new jobs.
But gun violence and climate change are not the only issues young voters care about and are looking for government action on. 
"Right now, I think young people are concerned about college loan payback, starting their careers, climate change, equality, and dealing with COVID," said Colin Swearingen, a political science professor at John Carroll University.
The Carroll News reached out to Janine Boyd, who is the House Representative of District 9 here in Ohio, through Twitter and Instagram to see what issues she believed were important to young people but was unavailable for an interview. 
For the upcoming election, Students Demand Action was seeking what Zoller calls a "gun sense candidate." Their research led them to the conclusion that Joe Biden is the best presidential candidate for this cause. They are a bipartisan group, Zoller stressed, making it clear that they are not anti-gun, just anti-gun violence. But this has led them to work on behalf of the Democrats in this election. 
The younger generations voting for Trump are more enthusiastic, however, according to Forbes Magazine, which said that "44% of Trump voters are 'very enthusiastic' about voting for him, as compared with only 30% of Biden voters about their candidate."
Leave a Comment
Election feature: LGBTQIA+ protections
This article is part of The Carroll News Elections Series, written by the students of the Fundamentals of Journalism class. For more information on these series, check out this introduction!
According to Gallup, roughly 4.5% of Americans identify as members of the LGBTQIA+ community. As this number rises, it is paramount to protect this community. As the United States nears an election, it's important to know what voters and candidates believe the government should do to protect the LGBTQIA+ community. 
Salomon Rodezno is the director of the Center for Student Diversity and Inclusion at John Carroll University. Rodezno, a member of the LGBTQIA+ community, participated in a Zoom interview on Oct. 5 with members of the Fundamentals of Journalism class, where he stressed that he was speaking personally, not on behalf of the CSDI. 
Rodezno said he finds it very important, in the upcoming elections, to make sure that proper measures are taken to ensure the safety and equality of the LGBTQIA+ community. He  believes that problems with protections for the LGBTQIA+ community begin at the top. 
"We need a president who accepts everyone who is a part of America," said Rodezno. "The current administration is a direct attack on diversity and education." 
As recently as this past July, Ben Carson, who was appointed by President Donald Trump as Secretary for the Department of Housing and Urban Development in 2016, formally announced a rollback of a previous rule that protected transgender people from discrimination by homeless shelters and other housing services that receive federal funding, according to the National Center for Transgender Equality.
In February of this year, the Department of Justice filed a court brief in the Western District of Kentucky expressing the government's view that anti-LGBTQIA+ discrimination is not of sufficient importance to the government to overcome objections of private businesses that wish to deny services to LGBTQIA+ people and offer a federal opt-out to local non-discrimination laws, reported the National Center for Transgender Equality.

The 2020 Republican Party Platform also does not mention the term LGBT once on the official party's platform, which is the same platform as 2016.
The Democratic Party, in contrast, vows in its 2020 platform to "enact the Equality Act and at last outlaw discrimination against LGBTQIA+ people in housing, public accommodations, access to credit, education, jury service and federal programs." 
The Democrat's platform also pledges to "work to ensure LGBTQ+ people are not discriminated against when seeking to adopt or foster children, protect LGBTQ+ children from bullying and assault and guarantee transgender students' access to facilities based on their gender identity."
But there is more work to be done. While Rodezno is not running for office, he still presented some very strong policies and ideas for how to protect the LGBTQIA+ community.
Rodezno specifically mentioned protections against discrimination in the workplace. In some places, he said, being a member of the LGBTQIA+ community can affect job security. According to Rodezno, some members find it difficult to find jobs and sometimes have to go "back into the closet" to find work. 
Some landlords discriminate against members of the LGBTQIA+ community, he added, and sometimes gay people find their loan requests denied because of their sexual orientation or gender identity.
Different states have different levels of protection for the LGBTQIA+ community, and the levels range from full protections to virtually nothing. Ohio falls somewhere in the middle, as adoption and parenting are legal across the board for LGBTQIA+ people, but the state only officially recognizes protections for employment and leaves protections up to cities and counties for housing and public accommodations. Ohioans who are openly transgender cannot serve in the military and may not change their gender on their birth certificate. 
Rodezno sees enacting universal protections across the states as a key part of institutional reform. The federal government currently guarantees some civil rights to the LGBTQIA+ community, such as equal age of consent, anti-discrimination laws in employment, adoption and the right to change legal gender.

Another point Rodezno said is that more people must become educated on the issues faced by the LGBTQIA+ community and other minorities. 
"When people who are not affected by an issue come to have an understanding of that issue, that is when the ball can get rolling. When people who are not affected have a sense of their belonging and safety disrupted, they may understand better." 
Rodezno also emphasized "putting on shoes" that do not align with your identity, or in common terms, putting yourself in someone else's shoes.
The LGBT Center of Greater Cleveland hopes that Ohioans will do research on House Bill 160: The Ohio Fairness Act. HB 160 would pass further protections for the LGBTQIA+ community for housing, workplace and public accommodations. 
Republican Congressman Anthony Gonzalez and his Democratic challenger in Ohio's 16th District, Aaron Paul Godfrey, are important to people like Rodenzo, who spoke of Americans needing candidates with great rhetorical skills and concrete plans. 
Gonzalez was asked to comment on HB 160 and LGBTQIA+ protections but did not respond. Godfrey, however, was very cordial and agreed to an interview about protections for the LGBTQIA+ community.
"I think it is very important," said Godfrey. "This is an issue that is similar to women's rights where in the South you may need to cross state lines to get an abortion. It is similar for LGBTQ+ rights, as states have a hodgepodge of rules that depend on what state you live in. A lot of people, especially [college aged], … don't always see these as big issues because culturally your generation grew up with LGBTQ+ classmates, friends and family. It is legal, and to people who grow up around it, that naturally means it's normal." 
Godfrey thinks education ties in with protections. 
"At the end of the day, a lot of states are held back by regressive state assemblies who don't want these things to be legal and will do everything in their power to prevent people," said Godfrey. "We don't have as many protections as we could have, and every time a new protection is brought up, it is immediately shot down by conservative members who are barely qualified. Just look at Amy Coney Barrett. She has had three years as a judge, and now she is going to be a Supreme Court justice, and frankly, that is insane. 
"Education is important because [educated] people are more aware of how unequal things are," Godfrey added, "and that awareness would bring more pressure on these legislators to take actions and make things as fair as they should be."
As Godfrey and Rodezno said, it is important for Americans to educate themselves. As we get deeper into election season, all we can do is continue to inform ourselves on issues that affect not just us, but those around us. And, of course, vote!
Leave a Comment