As of Sept. 19, 504 devastating mass shootings have already scarred the American people, Gun Violence Archive. 504 stark reminders of the undeniable crisis that continues to grip our nation.
New research by Rev. Maurice N. Emelu, a professor of digital media in the Tim Russert Department of Communication at John Carroll University, shares insights into how the media coverage of these tragedies shapes public perception.
In July of 2023, Emelu published "The U.S. Cable Televisions' Framing of Mass Shooting: a Grounded Discovery of Competing Narratives," in Frontiers. As of today, his article has garnered over 3,019 views, a noteworthy accomplishment, as Frontiers is the third most-cited and sixth-largest research publisher and open science platform.
Emelu began to study media frames of mass shootings after he returned to Nigeria in 2022 to speak on a mass shooting at the St. Francis Catholic Church where over 50 people died. He found the news coverage in Nigeria more informative and direct than in the U.S., making him question if different policies and ideologies influenced how such events were reported. He wondered if the same tragedy in the United States would be covered differently.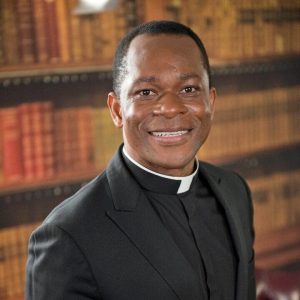 This article brings to light three significant revelations: firstly, the media overwhelmingly prioritized framing the narrative around people's immediate reactions while giving considerably less emphasis to the security aspect; secondly, contrary to public perception, coverage of gun violence and mental health issues was notably subdued; and thirdly, news outlets demonstrated adaptability by altering their frames across various platforms to cater to distinct audience preferences.
The research analyzed the media coverage of the 2017 mass shooting in Southerland Springs, TX which resulted in 26 people losing their lives. The study analyzed 290 news reports from three U.S. cable television stations (MSNBC, CNN and Fox News) across three platforms (Twitter, YouTube and websites).
The article categorizes news reports into nine different frames (interventions, issue-based, victims, community, shooter, empathy, incident, reactions and security). These frames capture the general emphasis of the news coverage, telling us what angle the outlets took. Across all three news outlets, his data shows that a total of 760 frames were used across the 290 selected reports.
The study only looked at news reports from the first week following the shooting as previous research shows that coverage peaks during this timeframe and fades after a month or so.
"You don't [get to] tell me that their family members, their memories were just wiped away after a month. You don't [get to] tell me that they become subjects for political fights after a month, " stated Emelu.
The intervention frame was the most prevalent media frame, the three news outlets used it a combined 126 times. The intervention frame, as Emelu simplified it, encapsulates reports that highlight "…people's immediate actions as a response to the problem of mass shootings in the community or wherever it happened." This frame represents community efforts to improve their situation by solving the problem before them.
This does not mean that each news outlet shaped their stories in the same manner. CNN framed these stories through the response of law enforcement, Fox News looked at the President and First Lady's responses while MSNBC followed a similar politician-focused angle.
On the other hand, the least used frame was security. In his research, Emelu defines this frame as a report that presents "…the news story around security and safety issues as a social problem that requires a response."
CNN used it seven times, Fox News only used it three times, while MSNBC did not use it at all. While it is unclear why exactly this frame was not frequently used, Emelu would argue that it could be an effect of the political affiliation of the news outlets.
"Every time there is a shooting, the only thing that journalists are doing, the only thing the news is doing is gun, gun, gun, gun, gun control. But this data rejects that claim," stated Emelu.
Emelu's research also concluded that contrary to public opinion, guns are not the major focus of most of the media coverage. Out of the 122 reports that use the issues-based frame, 42.73 percent focused on the issue of gun debate. When the frame was issue-based, guns dominated reports. Yet, those reports only accounted for 4.67% of all the frames that emerged. Out of the 290 reports analyzed only about 14 focused on gun policy or law. Emelu advised me that this data shows "… that the gun issue as an issue of the content of the report…is not as prevalent as we perceive it to be."
Emelu also emphasized the unfortunate debate around the issues that cause mass shootings. He noted that "one side says his mental health, another says it is guns, [but] the most important issue [is] that somebody died here. We're losing lives here, as some people are sick in the head."
The study also found that mental health and gun policy combined for only 5.73% of all frames that appeared. For the Sutherland Springs shooting, mental health issues represent less than 10% of the reports that used the issue-based frame.
However, how the story is framed is not consistent across media platforms. The frames used by the three news outlets vary across platforms. From X to YouTube and websites, the presentation of the information is not always consistent. Emelu encourages people to consult numerous sources and to remember that "there is platform-specific discrimination in the way even a particular news reports the news."
For example, his research found that across all three news channels, the utilization of the shooter frame was 9.7% on Twitter, 20.5% on YouTube and 8.9% on their websites. Moreover, he explained that this variation among platforms is also in each news outlet that was analyzed.
Evidently, the findings in the article "The U.S. Cable Televisions' Framing of Mass Shooting: a Grounded Discovery of Competing Narratives," shed new light on media coverage of mass shootings and raise important questions about their motivations when it comes to selecting which frame to use. Emelu is already in the process of expanding this research to include more shootings and news outlets; he already has another article under review.
Emelu stated that he hopes the audience he reaches will learn to have more empathy for one another. He noted that people need to "…remember that we are all humans, irrespective of our political perspectives."
Emelu's research originated from a deep personal relation to the issue but nonetheless unearthed fascinating findings and data that warrant a new approach to media coverage of mass shootings. Research, like Emelu's, is crucial to help change the narrative around how the news reports and reflects on mass shootings.
Rev. Dr. Maurice Emelu is the Director of the Digital Marketing & Communication Strategy Graduate Program and an Assistant Professor of Communication at John Carroll University. His expertise spans digital media, culture, storytelling and design and frame analysis. He is also a priest, the Founder of Gratia Vobis Ministries, a first-generation US citizen from Nigeria and an accomplished scholar with a Ph.D. in new media aesthetics and religion. Emelu has a background in journalism and the cable industry, holds multiple degrees and has received prestigious awards such as the 2022 Television Academy Foundation's Alex Trebek Fellow and the 2022 EDUCAUSE scholar award.