Ohio Republican announces retirement in aftermath of impeachment vote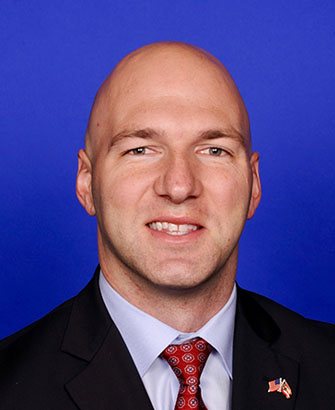 In the aftermath of the insurrection at the Capitol on Jan. 6, a second set of Articles of Impeachment were brought before the House of Representatives against President Donald Trump for allegedly helping to incite the riots. One week later, he became the first president to ever be impeached twice. However, unlike the first time, the second impeachment had bipartisan support in Congress: 10 Republican House members voted to remove Trump from office in a moderately stunning rebuke. Notably, this list included a local name: Rep. Anthony Gonzalez, congressman for Ohio's 16th congressional district and former NFL player. Almost nine months later, the 37 year-old Gonzalez, only in his second term, has announced he plans to retire in 2022.
Gonzalez gained prominence in Northeast Ohio while playing football at St. Ignatius High School. In 2007, after playing wide receiver at Ohio State under famed coach Jim Tressel, Gonzalez was drafted by the Indianapolis Colts and played five years in the NFL, including a Super Bowl appearance in 2008. After retiring from football, Gonzalez obtained his MBA from Stanford. In 2017, Gonzalez announced his plans to run for Congress. He was endorsed by many in the football world, like former NFL quarterback Peyton Manning and Browns' owner Jimmy Haslam. He won the GOP primary and general election handily. Once in Congress, the politically moderate Gonzalez remained a safe, if low-profile, Republican vote up until the second impeachment.
In a statement released on Twitter Thursday, Gonzalez said his decision to retire was influenced by "…toxic dynamics inside [the GOP]…" and the overall stress on his family. Additionally, Gonzalez also referred to Trump as a "cancer on the country". In response to the news, Trump released a statement declaring, "1 down, 9 to go!". Trump had longe-since endorsed Gonzalez's primary opponent, former White House aide Max Miller.
"It's sort of a test of the power of Trump to retain control of the Republican Party," said Elizabeth Stiles, professor of political science at John Carroll. "[Gonzalez] is a relatively young guy. I think he's calculated he can't be reelected, or to do so would be detrimental to his family." Stiles also agreed with predictions that the other Republicans who supported impeachment would be on their way out as well. "As long as Trump is so strongly supported by his base, then I think this is definitely just the first shot."