"Did you always have plans of working in the NFL?"
I posed this question to Scott DiBenedetto, a former Cleveland Browns Scouting Assistant and Coaching Analyst.
"Probably not right away," mentioned DiBenedetto. "I didn't necessarily know how to get in and that's the biggest thing: it's all connections."
And for DiBenedetto, those relationships really made the difference.
DiBenedetto's story began in East Amherst, NY. Born and raised in the northern suburbs of Buffalo, DiBenedetto was a devout Buffalo Bills fan with a passion for football.
"We got season tickets in 1999 or 2000, right at the beginning of the drought and we went every week no matter what," summarized DiBenedetto. "It honestly was a big part that shaped my interest in working in the NFL because you always want to be a part of that crew that can make something happen and turn things around."
Through high school, DiBenedetto cherished memories with his childhood friends, especially on the football field at Williamsville North High School.
"I went to a Catholic school through eighth grade, so I never went to school with those guys until I got to Will North".
But, it seemed as if his group of friends picked up right where they left off. DiBenedetto's initial roots in Buffalo helped foster his desire to be around the game of football, which is why he made the ultimate decision to continue his personal and professional career at John Carroll.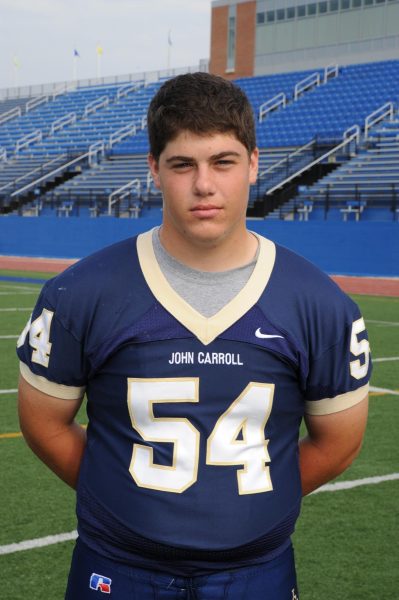 "I was going to look at the school no matter what, but it came down to if I wanted to keep playing football," reflected DiBenedetto.
So, the Buffalo native packed up his belongings and made the three-hour trip to Cleveland, eager to not only continue with his drive for football but also to make strides toward his future.
As a finance major, DiBenedetto's course content was geared toward logistical understanding, but it seemed as if John Carroll's education provided something more cumulative.
"I wasn't focused on scouting or evaluating players when I was at school, but being a finance major, just the classes you have to take, they give you so much knowledge in that area."
But, the varsity athlete still wasn't set on aiming for the world of professional sports until his junior year.
"It was honestly a combination for sure… classes, football knowledge, and John Carroll's pipeline to the league was something that I always knew of too."
After some reflection and consideration, DiBenedetto pursued the professional sports path, starting his career as a Training Camp Operation Intern for the Bills. From then on, DiBenedetto was eager to make connections that would propel his career forward.
However, the young and aspirational leader was left to consult the drawing board after his initial years in Buffalo, as further chances for employment were sparse in a league that is built on the foundations of competition.
"I remember making multiple cover letters, switching out addresses for a long time, so you can't get discouraged when you hear 'no.'"
As DiBenedetto preached, he didn't let initial denial dismantle his dreams of making an impact in the NFL. When the young professional did earn a chance with the Browns, he took the offer with excitement and anticipation.
"It's an awesome opportunity if you get the chance to work in any league… I went through 1-15 and 0-16 in Cleveland and there were some really dark and sad times, but it always came back to getting paid to watch and talk about football," reflected DiBenedetto.
What remained universal for DiBenedetto was his commitment, passion, and genuine dedication to the game of football. What changed for DiBenedetto was his confidence and understanding of others. His role was intensely analytical, but he noticed growth in the personal realm too.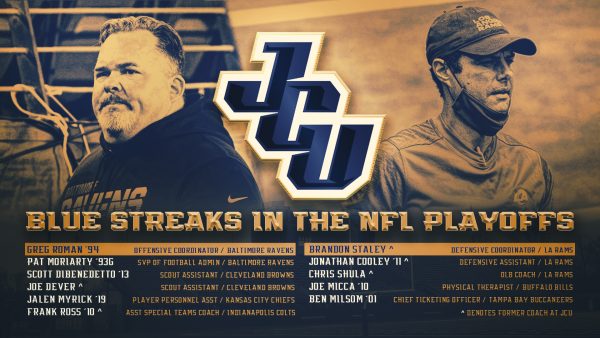 "Obviously I'm not as tuned in as the Head Coach or General Manager, but there were times when I felt like I had great knowledge to pass along just because I was able to interact with the company and build and cultivate relationships. And that's a very important thing moving forward in life".
DeBenedetto's path has seen different trajectories and has allowed for some important decision-making. His experience, journey, and willingness to provide insight into the world of sports leave young, aspiring professionals with a sense of hope for the future.
"It's gonna be fun, no matter what".
DiBenedetto's story shows how prominent John Carroll's NFL Pipeline really is. With passion, dedication, and willingness to continue to develop your craft, John Carroll assists in paving the way to a range of professional sports organizations.