Lions Dominate Packers on Thursday Night Football F 34-20


The Lions continue to prove why they're the favorites in the NFC North, storming into Lambeau field and walking away with a win in the frozen tundra for the second consecutive year. Running back David Montgomery had himself a day, rushing 32 times for 121 yards and three touchdowns, while Jared Goff added 210 passing yards and a touchdown on his own. Packers Quarterback Jordan Love struggled, going just 23/36 for 246 yards, with just one touchdown and two interceptions.
Bills Make Statement With 48-20 Rout of Dolphins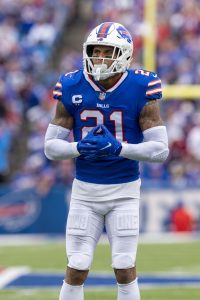 Many fans and analysts had this game circled and the Bills were up for the task. No one on the Dolphins defense could stop Josh Allen as he completed 21 of 25 passes for 320 yards and four touchdowns. His favorite target, Stefon Diggs, was fed early and often as he totaled 120 yards on six catches and three touchdowns. Unfortunately for the Bills, star corner Tre'Davious White was carted off the field with a torn achilles and will miss the rest of the season. The Dolphins certainly got a reality check and must rebound when they return to Miami to face the Giants and the Panthers in the next two weeks.
Broncos Get First Win of Season Over Lowly Bears in Chicago 31-28

In what was dubbed the "toilet bowl,' the Broncos overcame a 28-7 deficit in the third quarter to stun the home crowd at Soldier Field. Justin Fields showed massive improvements as a passer, throwing for 335 yards and four touchdowns. However, Fields coughed up the ball on a costly scoop and score, ultimately throwing the game-sealing interception. The Broncos still have a lot of work to do and many people's opinions on this team likely will not change after beating the only team that's worse than them. The Bears season is completely lost, with the goal of having two top-five picks looming large.
Bengals Offense Struggles Again, Embarrassed By Titans 27-3

Despite the struggles of the Titans secondary this season, Joe Burrow and the Bengals offense couldn't muster anything, putting up three points for the second time this season. Burrow was just 20-30 on passes for 165 yards and a lost fumble. How much is Burrow's calf affecting him? No one really knows and we will continue to be out of answers in that department as long as Burrow plays, which he stated he will on numerous occasions. Tensions are definitely rising among Bengals players and time is running out for the Bengals to turn it around.
Chiefs Hang On 23-20 vs. Jets on Sunday Night Football

In a game the Chiefs had no business winning, they still won. The Chiefs had an embarrassing performance at MetLife Stadium on Sunday night. Despite jumping out to a very early 17 point lead, they nearly gave all of that up before the first half ended. Patrick Mahomes threw some of the worst interceptions of his career, Zach Wilson of the Jets clearly outplayed him and many fans are outraged about the officiating throughout the game. But of course, the story of the night is Taylor Swift who received camera features about 3,000 times throughout the telecast. I'm pretty sure the entire world is aware that she is dating Travis Kelce, no need to beat a dead horse here.
Giants Blown Out in Primetime Again, Falling to Seahawks 24-3 on Monday Night Football

The Giants are the only team that has played three prime-time games this season. They lost all of those. Not only did they lose all of those contests, but they were flat-out embarrassed in all of them, losing by a combined score of 94-15. The offensive line for the G-men is as bad as I have ever seen, allowing Daniel Jones to get sacked 11 times. Special teams weren't much better, committing six penalties and muffed a punt. The Seahawk's defense stepped up, thanks to a huge night from first-round pick Devon Witherspoon, who had a 97-yard pick-six to completely shift the momentum in the game. The Seahawks have a golden opportunity to continue their momentum against the struggling Bengals while the Giants turn around with two very difficult road games in Miami and Buffalo.