Same Old Browns: The ballad of a disappointed teenager
My name is Jack O'Rourke, and I am 18 years old. An avid sports fan, I have been watching the Cleveland Browns for as long as I can remember. 
My dad's wallet has suffered through buying his oldest son jerseys of Browns legends, such as Brady Quinn, Colt McCoy and Brian Hoyer. 
The Browns' last winning record was in 2007 when Derek Anderson and Kellen Winslow led the team to a 10-6 record. Sadly, that 2007 season was my first semester in kindergarten, and I am now in my first semester in college. 
Through the pains of receivers like Mohamed Massaquoi, Greg Little and Corey Colman, I have been exhilarated to see the Browns add legit receiving threats, such as Odell Beckham Jr., Jarvis Landry and Rashard "Hollywood" Higgins. 
After years of watching Trent Richardson, Isaiah Crowell and Willis McGahee, Browns fans have been treated to the two-headed monster of Nick Chubb and Kareem "The Dream" Hunt.
Having rolled off wins against the likes of the Bengals, Washington, Dallas and the Colts, things have decidedly been "coming up Millhouse."
With my newfound excitement, I knocked out my weekend homework on Saturday afternoon because I was ready to watch a hot 4-1 Browns team storm into Heinz Field to take on the veteran Pittsburgh Steelers. 
By halftime, I was continuing my usual pastime of taking out the garbage and muttering curses directed at Browns players while replaying Minkah Fitzpatrick's pick-six in my head.
Now, I am not here to say the season is over — we need some perspective. If you would have told me the Browns would be 4-2 in mid-October before the season started, I would have been a very, very happy guy. 
But, as I watched the Pittsburgh Steelers beat the Browns at Heinz Field, something the Steelers have done every year since 2003, I had one phrase floating around my head.
Same old Browns.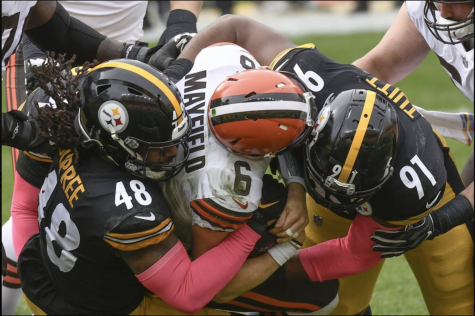 The Browns have a legitimate chance to beat up on a lackluster schedule and finish the season in the range of 10 wins and a playoff berth, but this team is the same old Browns — just not ready to contend with division foes like the Steelers and Ravens. 
Injuries to Nick Chubb and Baker Mayfield certainly did not help the cause at the big Ketchup bottle on Sunday afternoon, but this team needed to do anything besides get their doors blown off. If the Browns had lost a 10-point game, nobody would have been that upset. The massacre at the hands of the Browns' most hated rivals was the exact opposite of what the doctor ordered. 
While my homework was good and done, my typical halftime rituals of the fall areas back as any American tradition. 
As all Cleveland Browns fans did, I sat and watched commercials of our quarterback in spite, as I repeated the rhetoric that Baker Mayfield needs to stop doing commercials. 
It is at this point I wonder what will come of the 2020 incarnation of the Cleveland Browns, a team that is sitting at 4-2 but has struggled against legitimate contenders up to this point. 
It is tough for fans because we finally have what we believe to be a decent, competent football team, but against the only two good teams the Browns have played, the Orange and Brown have been outscored 76-13. 
Games against the Bengals, Jaguars, Giants and Jets SHOULD guarantee at least an eight-win season, but the Browns have quickly been thrown off their high horse and have re-entered the all-too-familiar place at the drawing board.