Mori Digital Art Museum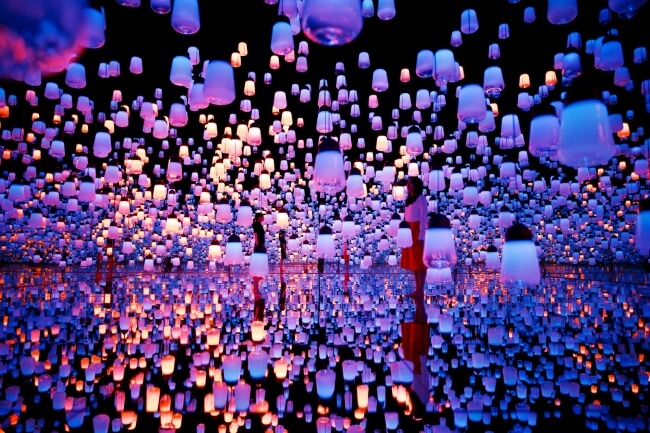 Eight years ago, two men by the names of Kevin Systrom and Mike Krieger launched a social networking app. It was similar to Facebook, except it was intended to latch onto a smaller niche — photo sharing. Friends could follow each other and share their camera rolls, while showing instant gratification through "likes." It started out small, as most do, but it spun to heights they could have never imagined. That app is Instagram.
One of the many unintended consequences of Instagram are interactive art exhibits. These exhibits are not just for artists to show off their work. Their sole purpose is for Instagram. People, literally, pay money to attend them and take pictures to share on social media.
Arguably, the most remarkable of these exhibits is Tokyo's Mori Digital Art Museum.
This 360-degree immersive experience takes people room-to-room, each being unique and jaw-dropping.
The first room is the "Borderless Wall." Artwork moves freely, from front to back, and it seems to resemble the forest from Pandora in Disney's "Avatar." The inspiration is to connect humans with nature by immersing oneself in the beauty of serenity.
The second room is the "Athletics Forest." Its duty is to connect humans with their body, through a series of luminescent obstacles. One could imagine that it would make a great place for yoga.
The third room is the "Future Park." Picture a giant aquarium and an indoor playground with awesome lighting. The whole point is to inspire education and collaboration. This exhibit is constantly changing, such as the current slide into a pool of fruit.
The fourth room is the most "Instagrammable." It is called the "Forest of Lamps," and it serves no purpose other than just being awesome. In a mirrored room, the variation of colored lamps seems to be infinite.
The last room is perfect for millenials. Somehow, each visitor makes a cup of tea and a flower blossoms inside of it. The technology behind this is a mystery to the plain eye, but it sure makes for a great finale.
Do yourself a favor and run a quick google search on the Mori Digital Art Museum. You'll be scrolling for hours and might even find yourself booking the next flight to Tokyo.