Trump signs temporary budget bill to reopen government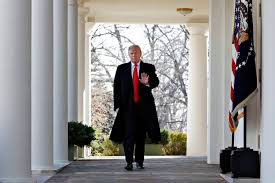 President Donald Trump signed a bill on Jan. 24 to reopen the government for three weeks, ending the longest government shutdown in United States' history.
Trump signed the bill in submission to the growing pressure and disruption that this government shutdown has produced between federal agencies and furloughed federal employees, according to The Associated Press.
In a televised address from the White House Rose Garden, Trump stated he would sign a bill that would fund closed agencies until Feb. 15.
During this time, Trump hopes to persuade lawmakers to finance his border wall, according to The New York Times. Both the Senate and House of Representatives approved the deal unanimously, with Trump signing it into law late Friday night last week.
Trump's action comes after hundreds of thousands of federal workers missed two paydays, and airports across the nation simultaneously coped with increasing delays due to staff shortages, according to The Associated Press.
Trump continues to push for the border wall and may shut down the government again, unless he gets funding in the budget for it.
"If we don't get a fair deal from Congress, the government will either shut down on Feb. 15, again, or I will use the powers afforded to me under the laws and Constitution of the United States to address this emergency," Trump said.
While Trump has said that he could declare a national emergency in order to fund the wall, this action will come with plenty of legal obstacles, should he choose to do so, according to The Associated Press.
Though many Americans are pleased to have the government reopened, some wish that Trump had continued fighting for his signature campaign promise, according to The Associated Press.
In response to these critics, who objected to the passing of the bill, Trump tweeted, "This was in no way a concession. … It was taking care of millions of people who were getting hurt by the shutdown with the understanding that in 21 days, if no deal is done, it's off to the races!"
The end of the government shutdown may be perceived as a victory for the Democrats,  who rejected any bargaining regarding border security until Trump reopened the government.
"The president thought he could crack Democrats, and he didn't, and I hope it's a lesson for him," Senate Democratic Leader Chuck Schumer said.
Regarding her members, House Speaker Nancy Pelosi stated, "Our unity is our power. And that is what maybe the president underestimated."
With this deal, a bipartisan committee of House and Senate lawmakers has been formed to discuss border spending.
In facing these future border wall discussions, Senate Majority Leader Mitch McConnell hopes for "good faith negotiations over the next three weeks to try to resolve our differences."
While Schumer has stated that Democrats oppose giving money to Trump's border wall, they do hope to agree on other border security measures.
Editor's Note: Information from The Associated Press and The New York Times was used in this report.