Republican budget bill in Senate unlikely to gain traction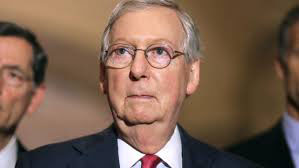 Hang on for a minute...we're trying to find some more stories you might like.
Senate Republicans proposed a bill Tuesday that would provide funding for the federal government, which if approved and accepted by the House and the president would end the longest government shutdown in American history.
Convening the Senate, Majority Leader Mitch McConnell said his 1,300-page spending bill would, if passed, "break through this stalemate and would reopen government swiftly and deliver on a number of other policy priorities."
The bill includes $5.7 billion to fund the construction of a wall on the border with Mexico, a controversial measure that is likely to meet opposition by most Democrats and some Republicans in Congress, according to The Associated Press.
Another contentious issue is protection for "Dreamer" immigrants from deportation, with congressional Democrats saying the bill provides them inadequate guarantees against deportation.
While the shutdown continues, close to 800,000 federal workers seem likely to receive another paycheck marked "$0.00," according to The Associated Press.
"Open the government, let's talk," said House Speaker Nancy Pelosi, who opposed funding for a border wall.
"The (Dreamers) had their protections …. The president took it away and now he is saying, 'I'll give you this back temporarily if you give me a wall permanently,'" she said, according to The Associated Press.
"It's not a compromise," said Senate Minority Leader Chuck Schumer. "It's more hostage-taking."
During a televised speech Jan. 19, President Donald Trump offered three years of protection against deportation for immigrants brought to the country illegally as children. He attempted to end the Obama-era program in 2017, though it remains as appeals go through the federal court system.
McConnell stated he will only allow federal budget bills to be introduced to the Senate if they receive the approval of Trump, according to The Associated Press.
"The proposal outlined by President Trump that we will consider here in the Senate is the only proposal, the only one currently before us, that can be signed by the president and immediately reopen the government," he said.
Hogan Gidley, a White House spokesman, asked in a Fox News interview whether Trump has signaled full support for the bill said this is "a big if," according to The Associated Press.
"We don't know what the final bill would look like. But the president has been clear about what he wants," Gidley said.
No Democratic senator has publicly expressed support for Trump's televised proposal.
The Republican plan is a compromise in line with Trump's proposal. In order to garner bipartisan support, it adds $12.7 billion in supplemental funding for regions affected by natural disasters, such as central California, affected by wildfires, according to The Associated Press.
The proposed bill would also provide three years of protections against deportation to around 325,000 immigrants who fled countries affected by natural disasters or violent conflicts and have Temporary Protected Status. They are from El Salvador, Honduras, Nicaragua, Haiti and several other countries.
Legislation to reopen the government has been passed independently by House Democrats, who allocated $1 billion for border security and immigration enforcement, but no money for a border wall. McConnell blocked these bills from being introduced to the Senate.
Editor's Note: Information from The Associated Press was used in this report.