Gun violence in urban communities
It's just another typical day in the neighborhood. The sun is shining, birds are chirping, and then without warning, tragedy strikes. Sounds of nature are quickly drowned out by the banging of gun shots followed by screams of terror and shock. For most people, this is a hypothetical scenario. However, this is a reality for some.
Gun violence disproportionately affects underserved urban communities. While gun violence knows no boundaries, neighborhoods where poverty is most concentrated bear the brunt of homicide by gun, crime and associated trauma. African American children and teens are 14 times more likely than white children and teens to die by gun violence, according to a Wall Street Journal analysis of crime statistics by Jon Hilsenrath.
During the aftermath of the 2018 mass shooting at Marjory Stoneman Douglas High School in Parkland, Florida, surviving students started the March For Our Lives movement and called for universal background checks and other gun control measures. The movement propelled serious gun control debate to a national stage, according to CNN. A year later, "Nancy Pelosi and Rep. Mike Thompson introduced House Resolution 8, the Bipartisan Background Checks Act of 2019, a new law mandating universal background checks that closes the loopholes in gun sales." Now, the fate of the bill rests in the hands of the Senate.
Nearly two years after Parkland, the gun violence epidemic rages on. Urban areas with predominantly African American populations are still plagued with tragic gun deaths. In fact, the Wall Street Journal conducted an analysis of crime statistics among the nation's 50 largest cities, based on public research completed by individual police departments about crime in their cities. Then, the University of Chicago's Crime Lab helped fill in some blanks and reviewed the Wall Street Journal's data. The results of this statistical analysis found that reported homicides were up 24% so far this year. Shootings and gun violence also rose, even though many other violent crimes, such as robbery, fell.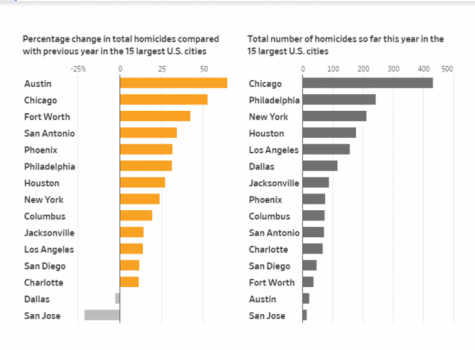 Naudia Loftis experienced the emotional trauma that these issues induce, and she has decided to act as an advocate for social change. During an interview, Loftis expressed her passion for advocating against gun violence. Following the deaths of members of her own family and in the aftermath of the death of 12-year-old local Clevelander, Tamir Rice, Loftis got involved in efforts to create new safe spaces for youth. She did internships with the foundation during her years as a John Carroll student, and is currently working for and on the board of the Tamir Rice Foundation.
When asked about her thoughts on current cases of gun violence, such as the Breonna Taylor case, Loftis couldn't help but reflect on her own experiences. "With cases like Breonna Taylor and even Tamir Rice where settlements are done for the families, people seem to misinterpret that as justice for the family. … And that is not the same thing as justice because justice is the people being made accountable for what they did wrong, not giving somebody a large sum of money."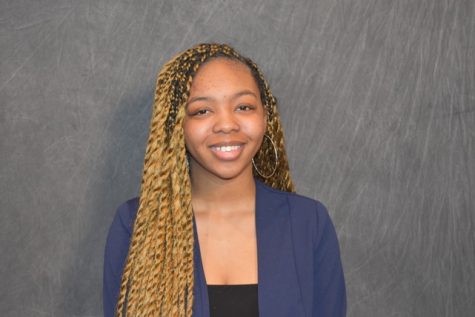 Although Loftis felt that the Breonna Taylor case could have been handled better, she stated that the most positive takeaway was the awareness it produced. Of course, this was another tragic instance involving gun violence, but Loftis expressed her happiness for the coverage that Taylor's case has received so far, which has led to discussions surrounding gun violence, gun control and police brutality during the presidential debates.
"This is something I feel like is really important," Loftis said. "Yes, put these people on the spot and ask them, 'What are you going to do about this?' and 'Do you think Breonna got the justice that she deserves?' because that is what people need to hear right now with everything that's been going on."
Students Demand Action, a John Carroll University student organization that advocates for gun reform, concurred with Loftis about the coverage of current gun violence cases leading to further awareness of the issues that plague major metropolitan areas. During an interview with Katy Zoller and Gabby Lambesis, the co-leaders of Students Demand Action, the two stressed the importance of voting.
Zoller insists that voting for gun-sense candidates is crucial for our nation's gun control reform. Zoller stated that the importance of voting rests in "people coming out and voting for candidates that can truly keep our communities safe."
According to Zoller, "Every single day, 100 people are killed by gun violence." For some, this may just be another number, just another consequence of an unwinnable battle. Yet, Zoller believes that change is not only powerful but possible.
These same beliefs are held by civil servant William Vodrey. Currently, Vodrey works as the appointed magistrate for Cleveland Municipal Court, but he ran as a Democrat in the recent election and won a judge's position in the Cuyahoga County Court of Common Pleas. Although Vodrey explained how judges, magistrates and judicial candidates are "not allowed to say that they rule this way or that way because then this would lead to bias," Vodrey was not opposed to giving his personal opinion on the subject of gun violence, particularly as it pertains to the Cleveland area.
"Cleveland has unfortunately seen a surge in violent crime in recent months. … Often that includes gun violence, and it's very regrettable, and it's certainly something that we can be doing a lot more about," he said. "But, this White House and this Senate in particular are remarkably hostile to any gun-control measures and gun-safety measures. … The Democratic-controlled House has passed dozens and dozens of legislation, including, I believe, an assault weapons ban, and the Senate has taken absolutely no action on it."
Despite the Senate's current refusal to pass bills pertaining to gun safety legislation, people should not be dissuaded from speaking out against the injustices that are constantly occurring. Zoller shared a quote by SDA's founder Shannon Watts: "Gun violence prevention is a marathon, not a sprint."
In essence, the means to change can only come to fruition through the actions of people who are tired of accepting the status quo and those who are determined to work tirelessly to make a positive impact on their country — no matter how long it takes.
Leave a Comment