Bibb vs. Kelley for Cleveland mayor
Since 2006, Frank Jackson has served as the 57th mayor of Cleveland, Ohio. His four terms make him the longest-serving mayor in the history of the city. However, Jackson declined to extend that record, as he announced his retirement in May. His decision resulted in the first open mayoral election in Cleveland since 2001. A crowded primary soon emerged in the heavily Democratic city, with seven candidates making the ballot. The primary was held Tuesday, and Clevelanders voted on which two candidates would appear in the general election in November. Around 10:30 p.m. Tuesday night, the two finalists emerged: nonprofit executive Justin Bibb of Mount Pleasant and Cleveland City Council President Kevin Kelley of Old Brooklyn.
By the time all the votes were counted, Bibb climbed to the top by a decisive margin, gaining 27.%. Kelley fought tooth and nail to earn a moderately distant second with 19.4%. In his victory speech, Bibb emphasized his humble beginnings as a first time candidate, saying, "I believe that now, not yesterday, not tomorrow, but now is the time for bold, new, dynamic, visionary leadership." In contrast, Kelley emphasized his experience as city council president, saying, "…We are going to create a Cleveland where every neighborhood counts!" Both Kelley and Bibb had long been considered frontrunners, but had to fend off their widely-acknowledged co-frontrunner, former U.S. Rep. and former mayor of Cleveland Dennis Kucinich, who finished in third with 16.5%. In addition, Bibb and Kelley also defeated former Councilman Zack Reed, current Councilman Basheer Jones, Ohio State Sen. Sandra Williams, and attorney Ross DiBello.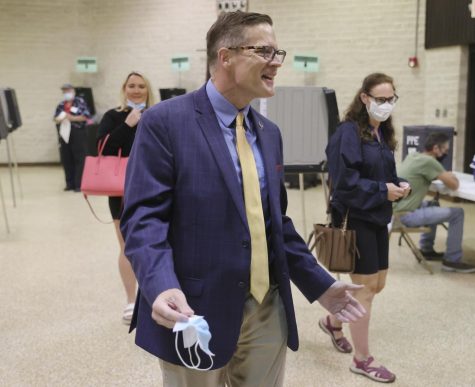 JCU College Democrats member Max Malley '24, a Kucinich supporter, said of the results, "I can't deny that the results came as a surprise. Every indicator I was aware of showed Dennis claiming one of the top two spots in the runoff. The energy was there, so we assumed…". Concerning the victories of Bibb and Kelley, Malley predicted an interesting matchup. "I think that, more than anything, the Bibb v. Kelley match-up will provide for a good story. This election will be hard to ignore for the rest of the season because of the energy that Bibb has inspired, along with the money that Kelley will spend to bring his vision to Cleveland."
Remarking on Bibb's impressive victory, Malley told The Carroll News that Bibb is "a candidate with no elected experience who is in this position because of the energy he has inspired among the electorate up against the experienced City Council President who first sought office before Bibb was even in high school."
The general election will be held on Nov. 2, and the winner will be inaugurated on Jan. 2, 2022.