Ranking Panic! At The Disco's albums following the group's disbandment
On Jan. 24, pop rock band Panic! At The Disco's frontman, Brendon Urie, announced the group would dissolve following the end of their current European tour, following what Urie called "a hell of a journey." One of the reasons Urie cited for ending the band is to spend more time with his family, as he is expected to welcome his first child in the coming year.
"It is a sad day for the emos," Aliyah Shamatta '24 told The Carroll News. "This band definitely had a couple of good albums and shaped many of our music tastes. Although they fell off at the end, it was a great ride."
Panic! was formed in 2004 and reached prominent success with their album "A Fever You Can't Sweat Out" which features the notorious "I Write Sins Not Tragedies," a once ballad for young adults turned eternal meme. Since then, the group has risen and fallen in popularity, as well as accumulated a nasty train of controversies including but not limited to Urie's alleged racism, why writer Ryan Ross left the group in 2009 and the hidden meaning behind various lyrics in their hit songs. 
As a recovering Panic! At The Disco fan, I would like to celebrate both the life and demise of this group by rating their seven studio albums from worst to best in a totally objective manner with my high school concert experience only mildly tainting the records.
7. "Viva Las Vengeance" (2022)
This album is the obvious choice for last place. I could not even make it through all of the songs so I can't even articulate my distaste properly for this record. The lyrics in the title track read as if they were plugged into an AI generator under the prompt "quirky teen angst." It also becomes more and more evident with each track that Urie's vocal chords have significantly deteriorated since his heyday with each high note sounding like a record scratch. Overall, this album has no skips because it has no plays to begin with. If you are an old fan, do yourself a favor and preserve the memory you currently have of both Panic's music and pop culture presence for old time's sake.
6. "Pretty. Odd." (2008)
This is undoubtedly my most controversial placement on this entire list. The "Pretty. Odd." era is regarded by many fans as Panic! At The Disco's best work. After all, this is the sophomore (and what many qualify as the best) album that Ryan Ross wrote songs for in the band's entire discography. Yes, the lyricism of the songs are great. (See "Northern Downpour" with the mention of the "fragile Capricorn"). However, the music behind the lyrics is simply not my style. While I do enjoy folk tunes to an extent nowadays, it does not fall into the taste that 2014 Laken had on the bus on the way to middle school. I am not saying the album is bad by any means, however, it just is not for me.
5. "Pray for the Wicked" (2018)
I know, "Pretty. Odd." should not be ranked below "Pray for the Wicked." The songs on this album are not the best and the music video for "Hey Look Ma, I Made It" is absolutely terrifying, both with and without the weird looking Muppet version of Urie. However, this album has a special place in my heart because it launched the tour that I saw in 2019. While it was nothing compared to Fall Out Boy's performance that I watched the previous year, it still was absolutely breathtaking to watch a man that I listened to for upwards of five years strut in high heels and play the piano 200 feet in the air. Because of those memories, "Pray for the Wicked" had to break the top five in my rankings without any merit behind its charts.
4. "Too Weird to Live, Too Rare to Die!" (2013)
Talk about a societal reset. This album had major songs that impacted scene and emo culture for years to come, so much so that I still jam out to a few songs from this album at least once a week, including "This Is Gospel," "Miss Jackson," and the absolutely pivotal "Nicotine" which got me through multiple high school break ups. The songs, while obviously lacking Ross' presence, still held the attention of listeners with catchy tunes and heartfelt and tangible lyrics. This album also marks the start of an era of acceptance with the hit "Girls / Girls / Boys" becoming an anthem of equality for the rest of the 2010s.
3. "Vices and Virtues" (2011)
While there are some relatively underground tracks on the extended album like "Oh Glory (Demo)" and "I Wanna Be Free," the tracklist more than makes up for it with hits like "Hurricane," "Sarah Smiles," and "Trade Mistakes." The album is also the last with Ryan Ross' expertise ("A lonely speaker in a conversation, her words are swimming through his ears again," true genius). Many of the tracks, while still more punk than its predecessor "Pretty. Odd." have the classic Panic feel that fans now adore. You can also begin to hear Urie's more recognizable sound that died with "Death of a Bachelor.
2. "Death of a Bachelor" (2016)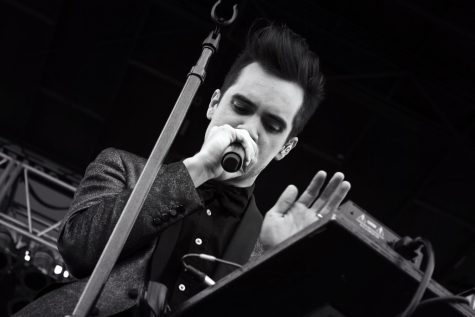 Speak of the devil and it shall appear, literally. Urie became Satan in the "Emperor's New Clothes" music video. Not only does this video accurately represent the edgy artistry on the rest of the album, but it also served as a sequel to the "This Is Gospel" video which had the band's fanbase in tears. Another music video mention should go to "LA Devotee" which features a very young, very starstruck Noah Schnapp. The creativity in these videos carried over to almost all of the tracks including "Don't Threaten Me with a Good Time," "Golden Days," and "Hallelujah." The only thing that holds this album back from greatness is "Impossible Year," a slow and forgettable song which I find unbearable.
1. "A Fever You Can't Sweat Out" (2005)
The first and the best of Panic! At The Disco's work, "A Fever You Can't Sweat Out" is hands down the greatest album the group has ever produced. Unlike its bookend counterpart, "Viva Las Vengeance," there are only hits on this album. Of course you have "I Write Sins Not Tragedies," which anyone can recognize within one second of its play time. However, no one can forget about recently revived bangers like "Camisado" and "Nails for Breakfast, Tacks for Snacks." This album also helped usher in the movement of punk bands using absurdly long names for their songs, which has since died along with the genre's charm. Although I was three when the album came out, I wish I would have been thirteen so I could truly feel the passion behind this young band from Las Vegas. The words weave in and out of the instrumental tracks like a tapestry and I am left wishing for a way to turn back the clock.