Minimalism at its finest:The ACTORS FROM THE LONDON STAGE perform "King Lear"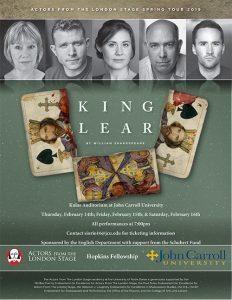 Only eight chairs are visible on the stage in Kulas Auditorium. As you get closer to the stage to find a seat, you see a few more items: There are bells next to the chairs and other materials on the ground at the front of the stage. The lights dim and five actors walk out — five actors from all over England who will tackle one of the world's best-known tragedies, each playing three or more roles in this performance of William Shakespeare's "King Lear."
The ACTORS FROM THE LONDON STAGE, one of the oldest Shakespearean theater companies in the world, came to John Carroll last week. Each year, a new team of actors is called from some of the best acting companies in London to perform all around the world. In the United States, they spend a week at each university they visit, often visiting up to 15 institutions in one year. They conduct workshops with classes throughout the week and top off the week with a few performances of Shakespeare.
Since 2007, AFTLS has come to John Carroll five times. The visit this year was coordinated by Jean Feerick from the English department. Silvia Iorio, a graduate student pursuing her MA, acted as the marketing and publicity manager.
"I was a senior when they came in and did a workshop in my class," Iorio said, excitedly recalling the last AFTLS visit to JCU in 2016. "At first we didn't know what was going to happen. We didn't know what they were going to have us do. But they were so engaging, fun and very approachable."
This year, the actors spent a week at John Carroll and conducted workshops in various classes, teaching students acting methods and techniques.
"Having an actor in our class was such a fun experience!" Francesca Mancino, an English literature major, said when an actor came into her tutor writing class last week. "We did lots of activities that involved storytelling and eye contact which will help when working in the Writing Center."
At the end of the week, the actors performed three showings of "King Lear" in Kulas Auditorium using "minimalist theater," which means they used minimal props and the only sound effects were the ones they made with bells, a drum, whistles and a tarp.
Tricia Kelly, who played King Lear, described the experience. "It can be a daunting task since there are only five of us," she said. "Often we will play two different roles in the same scene, and also change clothes during scenes. But these quick changes are quite enjoyable for the audience."
The actors relied on small changes in attire, body language and attitude when switching from role to role. Because there are only five actors, the roles were also gender neutral. For example, two of the male actors, Jonathan Dryden Taylor and Richard James-Neale, played Goneril and Regan, Lear's daughters, and, like Tricia, the other woman, Ffion, played many of the male roles, as well as Lear's other daughter Cordelia. Fred Lancaster played only male parts, but tackled eight roles.
After seeing the play on opening night, Paige Perla, a senior English literature major, said, "I was impressed with their ability to establish the different personalities of each character so vividly in the span of a couple seconds."
Kelly expressed, before the performances, her hope that those who had never seen a Shakespeare play before would find it a powerful and enjoyable experience. "There's a huge difference between reading Shakespeare and performing it," she explained. "These plays were written to be performed."
By scaling down on effects and technology, and thereby eliminating distractions, the AFTLS hope that their contemporary audiences will be able to see the story clearly, at its core, through the power of language.
"It's a play that seems like it is very popular right now," Feerick said. "It deals with questions of aging and mortality in a chaotic world. So many of the themes in the play, I think, are very relevant today."