Students completely return to campus
"It's amazing seeing everyone back as a community and it's great being able to interact with classmates in person again."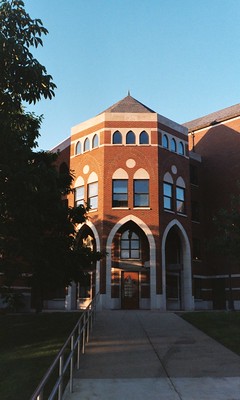 John Carroll University students returned to campus for in-person classes on Aug. 30. The office of the Dean of Students sent out an email on July 15 regarding fall semester plans with consideration to COVID-19. 
The email stated, "Faculty will not be offering in-person and on-line courses simultaneously. A COVID-related illness (including quarantine and isolation periods) will be treated like any other illness and missed class time will need to be arranged with the instructor." In this initial email no mask mandate was in place yet. 
After all remote accommodations were made for online learning, some wondered why the University has axed online options all together, especially when it comes to those isolating due to COVID-19.
"To be clear, all online/remote accommodations have not been discontinued," Provost and Academic Vice President Steven Herbert said. "We have courses that we have routinely delivered remotely and asynchronously in the past, before the pandemic, and they have continued. We also have programs that are being delivered remotely and/or asynchronously now, though those are mostly at the graduate level.
"As we move back to in-person instruction, we seek to privilege the type of instruction (in person and synchronous) that John Carroll is known for and has built its reputation on. It is much more difficult for both faculty and students to live in a HyFlex environment – some students on Zoom/remote and some in the classroom – than one or the other mode.  Thus, we have privileged the in-person mode. I note, however, that as faculty are accommodating students as we navigate limited absences due to COVID or other legitimate reasons, some faculty are choosing to offer remote options on a course-by-course basis and for specific, time-bound reasons – essentially, at the Instructor's discretion," Provost and Academic Vice President Steven Herbert said.
On Aug. 6, another email announcement was sent by the JCU Dean of Students with updated mask requirements. The message stated that "face masks are required for both vaccinated and unvaccinated individuals within all campus buildings." At this point, the university was strongly encouraging full vaccination of students and faculty but not yet requiring it.  
What followed was an email sent out on Aug. 27 by the COVID-19 Task Force mandating proof of vaccination by Nov. 15. It stated, "In light of the announcement from the U.S. Food and Drug Administration (FDA) fully authorizing Pfizer and BioNTech's COVID-19 vaccine for individuals 16 and older, all John Carroll University students, faculty, and staff will be required to present proof of full vaccination by Monday, November 15, 2021."
The University acknowledged not all community members would be in agreement with this protocol. The announcement stated that the University, "understand[s] that some of you will not welcome this requirement. Our decision is motivated by our strong sense of community and our mission to care for others."
Medical and faith-based exemptions will be considered upon request and must be submitted by Oct. 14. 
For more information about JCU requiring the COVID-19 vaccination for all students, staff and faculty, read more here. 
Despite the ever changing circumstances, students are happy to be back on campus as they return to some form of normalcy. 
"Being back on campus allows us to create more memories that will last us well beyond our time at Carroll,: said Christian Litwinowicz '22.  "The excitement of freshman year is rejuvenated as we start a full year on campus for the first time since then." 
Many others in the class of 2022, Litwinowicz hasn't had a full academic year on campus since his freshman year.
A return to campus for the fall semester establishes unity and connection between students," Nick Padd '23 expressed. "It's amazing seeing everyone back as a community and it's great being able to interact with classmates in person again."
Isabelle Marinchick '24 said returning to campus is a whole new experience. "This is my first time being on campus because I was online last year. It's been great so far! I love how many events and extra curricular activities John Carroll has. It's so easy to get involved and meet new people." 
Students acknowledge the start of a new academic year will be different compared to the campus return last spring semester. The JCU COVID-19 Task Force has assured the community that there will be updates on safety precautions.
Contact the Student Health Center via email, [email protected] for more information about how students can turn in their vaccination cards.