Stolen food at the In Between frustrates students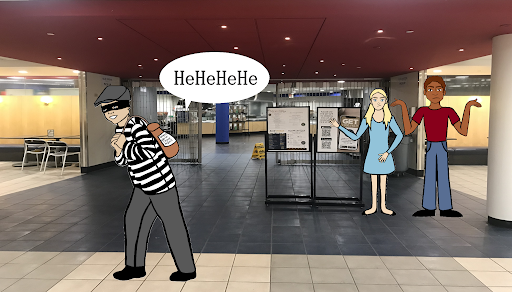 As John Carroll University students are settling into their fourth week of school, something not so settling is rumored across campus. The word is out that theft has been occurring at the Inn Between. Students who order from the 'Tween have reported their food being stolen from the pickup shelves before they arrive.
Adrianna Zura '25, is one of the students who had her food order stolen from the Inn Between. "When I realized my food had been stolen, I was very upset because I was not only ordering for myself but for a couple of my friends as well, so this situation actually affected a whole group of people," Zura told The Carroll News. "I also sympathize for the Inn Between employees because they work so hard for us every day and have a lot of late nights. Now, the students who are stealing food orders are creating even more work for the employees."
Each student on the residential meal plan is provided with $100 dining dollars per semester as well as ten meal swipes per week for places such as the Inn Between, The Cubby, and/or The Den. 
Because of this, students and staff are left wondering what the motive is for stealing other people's food. Some have been connecting this issue to the new "devious lick" TikTok trend.
Another possible cause for recent theft could be the wait time students experience at the Inn Between. Around anywhere from five to seven o'clock in the evening, the Inn Between is particularly busy. This often leads to a wait of approximately forty-five minutes for food. "I'd say that the wait time is definitely a factor. People just don't want to wait for their own food," Josh Adams '23 told The Carroll News. There may be no way to figure out why this is happening, but we can find ways to prevent theft in the future.
Students may ask what they can do to prevent their food from being stolen. Well, the most important step is to arrive at the Inn Between a few minutes before your food is supposed to be ready to ensure you are present when it's brought out. Also, make sure you are picking up the correct order from the pickup shelves. It is possible that people have taken someone else's order simply because they picked up the wrong bag by mistake.
The Inn Between pickup shelves have now been moved back so that they are in front of the counters of each food station. This helps the employees keep a better eye on the food orders and prevent suspicious activity. 
"Ever since we moved the shelves back, we haven't had anyone come up here saying their food isn't there. We haven't had to remake anything for anyone," said an Inn Between employee. "The shelves being back here means that the thieves would have to come all the way up to our counters to steal someone else's food. It's just too risky for them." 
As of now, there have been no recent reports of stolen food. However, if theft continues, students may be required to show their student IDs in order to receive their food.
The Carroll News reached out to the student government dining committee but received no response.