Blue Streaks outlast Otterbein on Senior Day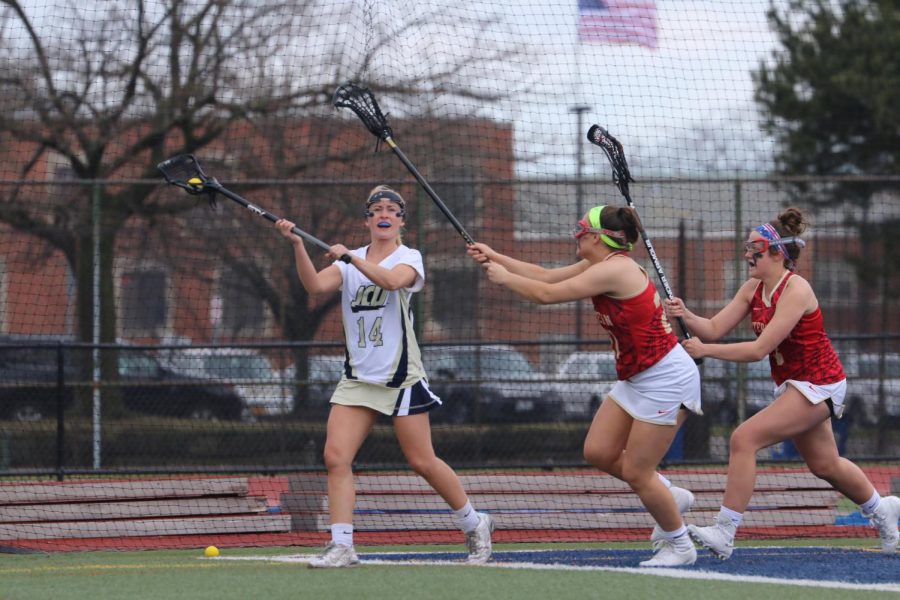 Sean Freeman, Staff Reporter
April 3, 2019
A sizzling senior day propels John Carroll to their third straight win and their seventh in nine games. Handling Otterbein with ease, the Blue Streaks cruised to a 22-6 victory, defeating their second Ohio Athletic Conference opponent to advance to 2-0 in conference play. JCU remains tied for the top spot in the OAC with Mount Union, ranking just one game behind the Purple Raiders in overall performance.
Seniors Alexis Guage, Brooke McQuinn and Sydney Lang strutted in their career-highlighting match. Lang was the centerpiece of the John Carroll defense, locking down the Cardinal attack with two ground balls and a caused turnover. Guage took home a hat trick and two assists, recording the second-most points throughout this 2019 campaign. There has only been one game this season where she was unable to garner a point.
Midfielder Brooke McQuinn had yet another stellar outing, dominating the draw controls for JCU by earning possession 12 times throughout the game. The rest of JCU followed McQuinn's lead, winning 23 of the 30 draw controls in the contest, much to the delight of head coach Rachel Dell.
"What really controlled the entire pace of the game was our draw circle play. All the players who took the draw or played the circle was why we played so much offense today," said Dell.
McQuinn added a goal, assist, ground ball and caused turnover to her game stats.
Meanwhile, the rest of the Blue and Gold cast made their marks, led by the efforts of junior Colleen Grombala. Her ridiculous eight-point performance guided the Blue Streaks to a ferocious nine goal jump in the first ten minutes. By the end of the first half, the Blue and Gold were in full control, riding a 16-2 advantage heading into the final 30 minutes.
Winning the shot battle 38-10, Blue Streaks sophomore Carly Ross and junior Sarah Cilano contributed hat tricks for the first time this season, and for Ross, the first time in her collegiate career.
Freshman Alex Heishman, while contributing one goal to the JCU effort, kept her goal streak alive, now having scored in every collegiate game of her career through nine games.
Rounding out the defensive stand was excellent goalkeeping from junior Elyssa Zablo and sophomore Kaleigh Kotula, both allowing three goals with a combined three saves between both players. The Blue Streaks only permitted nine total shots on goal, causing 10 of Otterbein's 15 turnovers in the process.
John Carroll will travel to Berea, Ohio this Wednesday, April 3 for a match against Baldwin Wallace and will take on the Capital Crusaders this Saturday in Bexley, Ohio at 1 p.m. as part of their tour.