Libyan conflict escalates as migrants flee and oil prices fluctuate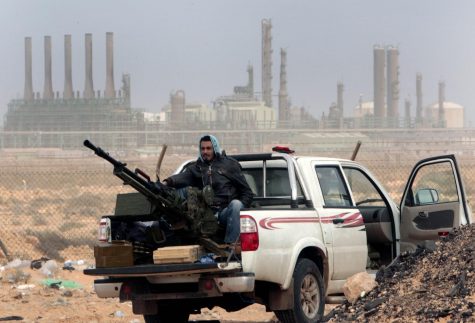 Both the World Health Organization and the United Nations are scrambling to curb the effects of recent battles between the Libyan Government and the Libyan National Army. The LNA has continued its siege of Tripoli after a battle at the capital's only airport and acquisitions of lands in the oil rich south.
The WHO has claimed that the LNA's repeated attempts to capture the capital of Tripoli have killed 47 people over recent days as well displacing 2,800 people, according to the U.N.
Mohamed Salem al-Sharwe, a taxi driver in Tripoli, told Reuters, "War is war: I am not afraid of the Libyan National Army, but I am afraid of the destruction that will never be reconstructed."
The attacks by the LNA against the U.N.-backed government comes off the heels of planned peace talks between Prime Minister Fayez al-Serraj and the LNA's General Khalifa Haftar. These peace talks, organized by U.N. envoy Ghassan Salame, were meant to take place April 7, according to The New York Times. Al-Serrai has accused Haftar of betraying him and attempting a coup.
Haftar has become popular in the eastern territories of Libya for his quashing of Islamist militant groups. Haftar has been a major player in Libyan politics for more than 40 years and was instrumental in the rise of former dictator Muammar Gaddafi.
U.N. Human Rights Chief Michelle Bachelet warned the LNA that the recent airstrike on Mitiga Airport violates human rights, according to the BBC. However, a spokesperson for the LNA has claimed that no civilian planes were targeted. U.N. envoy to Libya, Ghassan Salame, told The New York Times that the attack on Mitiga is "a serious violation of humanitarian law." Militant groups in Libya have had a history of human rights offenses, with the WHO documenting more than 40 attacks on health services from 2018 and 2019.
The developing conflict in Libya has already had international ramifications. According to Reuters, oil supply has been substantially low for an extended period of time, causing the global benchmark for oil prices to rise $71.34 per barrel. This is the highest oil prices have been since November of last year. In addition to the issues in Libya, U.S. sanctions on Venezuela and Iran have constricted international oil supply.
Norbert Ruecker of Swiss Bank and Julius Baer told Reuters, "Russia already signaled its willingness to raise oil output from June. Fuel remains costly in emerging markets, with soft currencies adding to high oil prices." With Russia's promise to raise output, oil prices are already declining.