1 of 1 Sports Cards and Memorabilia: a story of an Ohio man living his dream
As a kid, Steve Chada remembers opening sports cards nearly every weekend with his dad. 
Like many young children, Chada enjoyed the photos on the cards, learning about the players and the excitement of expanding his collection. 
As he grew older, he learned more about using the cards as a sort of investment, understanding changing values depending on team success, player popularity and condition of the card. 
When he started college at Bowling Green State University in Bowling Green, Chada stepped away from the hobby. With friends, girls and classes to occupy his time, collecting and investing in the hobby had to take a back seat. 
Shortly after his graduation in 2013, Chada worked for an insurance company. Eventually, he got back into his hobby, collecting sports cards in his spare time.
Chada decided to take his hobby to the next level while engaging with the surrounding community.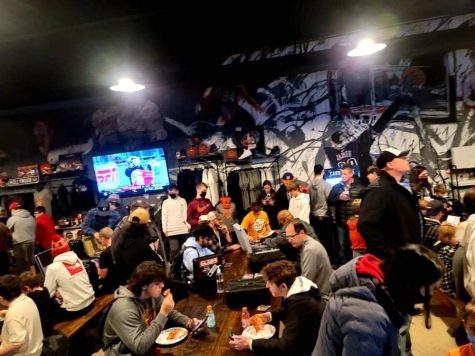 He began his Instagram account, adopting the brand "1 of 1" through his livestreams and posts. Chada was so invested in growing his online platform that he would frequently open packs of cards on real-time Instagram Live videos from 8 p.m. until 3 a.m. just to go to bed for a few hours before waking up to start the cycle again in the morning. 
He maintained this routine of working his day job, opening the cards and selling valuable ones to collectors via  Instagram, for a few years.
Chada was among the first sports card collectors to surpass 10,000Instagram followers. After a few conversations with his then-fiancé, Chada decided to take this hobby-turned-business full-time, submitting his two week's notice to his company. 
That day, instead of honoring the two weeks, his CEO decided to let Chada go that same day. Despite years of positive relationships among the two, the relationship suffered. 
Before he left, Chada remembers the CEO asking, "What are you going to do now? Go play sports cards with your dad?" In an interview with The Carroll News, Chada explained that this doubt motivated him daily to continue his passion.
For the next few years, he spent hours every day growing his Instagram brand. He maintained his Instagram Lives and continues to do them for his 50,000 followers. Around this time, he also branched out to Facebook. 
For a few years, Chada ran his 1 of 1 brand entirely on Instagram and Facebook, opening and selling cards on the social media platforms, operating his business from a small table in his wife's shoe closet.
With no physical store, no business loans and a whole lot of ambition, he became so successful that he hired a few employees full-time. Before long, he spoke with his parents, who had been working for the store, about opening a brick-and-mortar store. 
Chada found a potential storefront in Strongsville, Ohio and jumped on the opportunity. Opening the store, he committed to the business. The muralist for the Los Angeles  Lakers was flown out to paint an 80-foot mural, local residents were commissioned to make custom-made furniture for the store and 1 of 1 finally had a home base that was larger than a few feet wide. 
The company continued to utilize social media after the storefront opened, posting advertisements and leaning into multiple tools on Facebook. In fact, their social media pages boomed during the pandemic. 
With the cancellation of in-person sporting events, Chada speculates, many fans turned to card-collecting as a way to get their fix or learn about sports cards as a potential investment opportunity. 
Through social media, Kareem Hunt's agent reached out to 1 of 1 before the Cleveland Browns vs.Kansas City Chiefs game during the 2020-2021 NFL playoffs. 
Hunt's agent had seen the company's posts and wanted to bring Hunt out to the store to do a signing with Chada'scustomers.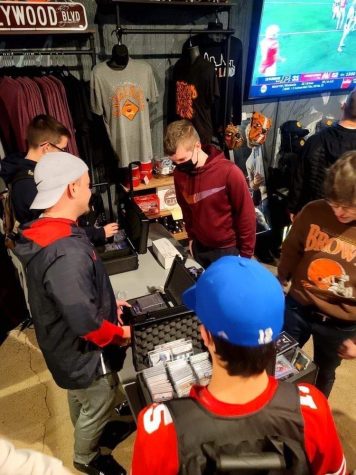 Needless to say, Chada jumped at the opportunity. 
While at the store, Hunt interacted with the employees, customers and the community. Before leaving, he signed a helmet with the inscription, "Corvette Corvette… Browns 48, Steelers 37… Clapped 'em." 
The first phrase was in reference to Pittsburgh Steelers' wide receiver JuJu Smith-Schuster gaining a wider audience on the internet by posting TikTok videos dancing on their opponent's logo before games. The second was in reference to an Instagram Live where Pittsburgh Steeler Chase Claypool expressed his belief that the Kansas City Chiefs would beat the Browns in the playoffs the next week. 
Photographs of the helmet blew up on the internet, being posted to Bleacher Report, Barstool and ESPN. That same day, Chada reported a nearly 10,000 follower increase on Instagram and a significant increase in Facebook engagement. 
It wasn't long until the agent for Rashard Higgins reached out as well. After some discussion, 1 of 1 now has the exclusive signing rights for Higgins' events. Either Higgins signs only at this store, or the brand's logo must be placed on memorabilia he inscribes. 
Chada is now close friends with both agents, frequently texting about life, the store and the season. 
This year, Higgins partnered with the store to give back to the Cleveland community. In November, the pair hosted a turkey trot and Thanksgiving food drive for a local church. 
Community members showed up to the store in droves, donating over 200 turkeys. Their kindness was rewarded, though with nearly half of the members of the Cleveland Browns team showing up to the events. 
Superstars like Hunt, Higgins, Jarvis Landry, Odell Beckham Jr. and more talked with Chada, took pictures with fans and found other ways to give back to the community.
What began as a childhood hobby eventually grew into a great opportunity for a then young Chada in his twenties. 
Before Chada knew it, this passion grew into something bigger; an opportunity to give back to the community. Now, Chada lives his childhood dream by working with family and friends, surrounded by sports cards and as friends with his favorite teams. 
A story of hard work, perseverance and dreams, Chada turned a hobby from a shoe closet into a unique store and a tangible chance to give back. It changed his life, and Chada maintains his appreciation for the community he found, "I'm thankful everyday…", said Chada. "I always remember that I started on a printer desk in my wife's shoe closet."
Aiden Keenan is a senior at John Carroll University and is the photography editor for The Carroll News. He can be reached through email at [email protected] or on Twitter @AidenJKeenan.