Channel 5 with Andrew Callaghan is the journalism we need and deserve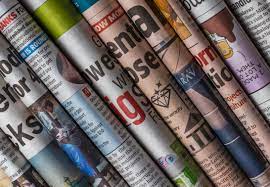 With technology use increasingly becoming a staple of our modern lives, anyone can be their own reporter, journalist, or photographer simply by carrying a phone around and documenting their lives through audio, videos, photos or social media. As such, people are enabled more than ever before to tell stories.
One such storyteller is journalist Andrew Callaghan whose vox pop interview-style YouTube series "All Gas No Brakes" brought him and his crew to fame. On Mar. 9, 2021, Callaghan and his show runners consisting of Nic Mosher and Evan Gilbert-Katz moved to a new YouTube channel named Channel 5 following a disagreement with their production company.
Although I engage regularly with print journalism, I have not consumed traditional television news by my own volition in the last five years (except for major events like Presidential debates, wars, major Senate hearings or Capitol raids); I see it often as daily droning. Attention can be spent better elsewhere.
My decision is in part due to the fact that the control of some broadcast journalism is monopolized, where hundreds of stations can be owned by a single entity, forced in a way to bend to their parent company's political bias or opinion. Take here an example of Sinclair News Network's scripted speech about fake news read by dozens of anchors to their audiences. When this sort of boring dystopia exists right in front of us, I sympathize with anyone who's tuned out from the television.
Following the monumental change the world and specifically the United States underwent following lockdown regulations and COVID domination in 2020, Americans were left with plenty of questions and shifting worldviews. Capturing many of these events was Andrew Callaghan and co. whose raw interviews on thought-provoking political topics alongside satirically driven episodes provided for a fresh, defamiliarized take on street reporting. By throwing himself and his crew right into the oddities of the world, into the veil of controversial discussion, into deep Americana, Andrew and his crew are creating a series of unforgettable vignettes into the societal landscape and complexities of the early 2020s.
While Andrew and his team worked on "All Gas No Brakes," they lived nomadic lifestyles culminated by the reality that their home had become a roving RV — a glorified cross country news van. With such a strategy, the crew was able to move relatively quickly around the states, hitting events and protests, book clubs and Talladega race days.
Some of their episodes include covering "Burning Man," "The Raid of Area 51," "Talladega Superspeedway," "Florida Man," "Flat Earth Conference," "Minneapolis Protest," and "Proud Boys Rally." The character of the episodes ranges from surrealist stories centered around eccentric personalities to a myriad political crises and events happening throughout 2019 into 2020 such as the murder of George Floyd. Currently, their work follows much of their same pursuits where they've basically picked up on Channel 5 where they left off from "All Gas No Breaks." Considering their show began in 2019, there could not have been a better roller coaster to ride with the conglomerate of world shaking events happening every other Tuesday these past years.
I remember when I realized why "All Gas No Breaks" was important. The crew created a video covering the Portland Protests; this video acts as a clear demonstration that shows what separates their journalistic style from others. Callaghan and his crew file in and search for conversations and voices between protestors and police, anarchists and Black Lives Matter activists, successfully showing different sects of protestors and highlighting as many voices as possible. Coupled with moments of humor interspersed with dives into serious topics and ideology is core to their style's identity — the crew even go so far as to get tear gassed among the protestors.
Carrying on the tradition of gonzo journalism, where reporting is written without claims of objectivity, Callaghan (sort of acting as the humorous protagonist during his interviews) offers the stage to his interviewees and brings honest, pertinently crafted questions. The experience one gets from viewing can be described as the presentation of an event with an aim of objective reality being presented. Andrew's opinions are rarely shared, so it seems the effort is to seek an unbiased representation of conflict with as much realism as they can. While humor is present (as with much of good storytelling), it's not necessarily an explicit parody of events, but rather a genuine, presentational inquiry concerned with the core questions of who, what, when, where and why?
The style is not filtered by a network megalith that leans to one side of the spectrum but rather offers clear insight into the nooks of society that the American public and the world may wonder about. It avoids Big Media's cloud of judgment on certain groups and points of view big media may have clouded with their own presentation or agenda.
More recently following the Mar. 2021 rebrand, Channel 5's episodes have included, "White Lives Matter Rally," "Miami Spring Break," "Crip Mac," "Q Shaman Prison Interview," and "The People's Convoy." By being able to cover such diverse aspects of American life, Channel 5 is providing its viewers with quality, respected journalism. At time of writing, their most recent episode, "War in Ukraine," shows their visit to Lviv, Ukraine, where they interview refugees and civilians — some children — fleeing from the Russian invasion.
In the first third of the twenty-first century, we are in a Fourth Turning: an age full of crises twisted with the particular struggles of overstimulation and misinformation. I believe that storytellers and journalists like Andrew Callaghan, Nic Mosher and Evan Gilbert-Katz will be essential to capturing our reality in this chaotic age, providing us with thought-provoking spaces to question our own beliefs and create community across our polarized nation.