Pollution still heavily affects Cleveland neighborhoods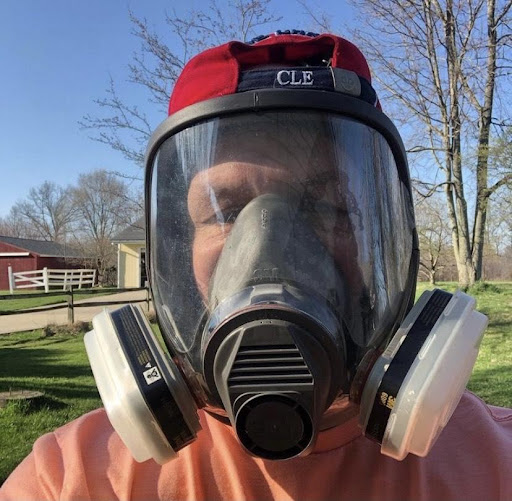 This article was orginially an assignment intended for the PH-117/COM-351 Linked Course.
Just about a mile away from the steel mills on the east side of Cleveland, long-time resident Toni Panovec recounted memories from her childhood in the 1960s Slavic Village neighborhood where homes were covered in dust and soot lined the streets. 
Closer to the mills, the houses were covered in a sheen of smoke and dirt. Prior to the enforcement of regulations from the Environmental Protection Agency (EPA), Panovec recalls shaking out air-dried laundry to ensure that no dust had accumulated.
"There was always dust on different things — on the windows, on the doors, and things like that," Panovec says. 
Across the now-demolished Clark Avenue Bridge were two large steel mills on either side. As a child, Panovec and her family would travel across the bridge to her aunt and uncle's house. 
"When we drove over there to see my aunt and uncle, it was, you know, you had to hold your breath, because it was very smoky and you could smell sulfur a whole lot," she remembers.
Prior to environmental regulations on industries from the EPA, life was much different. The implications of air pollution and overall air quality impacted the citizens of Cleveland in more ways than one. 
According to an article by Ioannis Manisalidis and a team of researchers published in the journal Frontiers in Public Health in 2020, mobile and stationary sources of air pollution account for about 80% of the total air pollution in this country. Mobile sources include motorized vehicles, such as automobiles, planes and trains. Stationary sources include industrial facilities and businesses. 
Industrial facilities still rely on fossil fuels such as oil, gas and hazardous materials that are not only harmful to the environment but also to human health. Fossil fuels are produced from decomposed plants and animals that have accumulated over the course of millions of years, according to the National Geographic Society.  
Pollutants can be classified based on chemical makeup as well as size. Particulate matter, or PM, are intricate chemical structures contained in respiratory droplets, which can enter the lungs causing severe damage. According to an article by Angelica I. Tiotiu in the International Journal of Environmental Research and Public Health in 2022, the three most detrimental PM sizes are PM10, PM2.5, and ultrafine. 
Research supports that air pollutants can enter lung tissue based on different chemical characteristics. PM10 particles are able to infiltrate the airway; however, they will most likely be expelled through the "mucociliary escalator" — a self-cleaning mechanism in the throat, according to the aforementioned article published in Frontiers in Public Health.  Smaller particles, such as PM2.5, can infiltrate deeper into the lungs causing an increased health risk. Ultrafine particles can actually infiltrate the bloodstream and contribute to harmful health effects. 
Air pollutants have been linked with asthma, chronic obstructive pulmonary disease and lung cancer. Additionally, PM10 and PM2.5 have longer half-lives, which contributes to their suspension in the atmosphere and increased impact on air pollution. This often creates the hazy cast that can be seen in a lot of urban, highly industrialized areas.  
Dr. Kristie Ross, division chief of pediatric pulmonary medicine at University Hospitals Rainbow Babies and Children's Hospital in Cleveland, Ohio, also identifies PM2.5 as a major culprit. During an interview, Ross claimed, "PM2.5, in particular, is probably one of the most important things identified as a risk for lung disease, among a lot of other lung diseases."
When asked for her perspective on the prevalence of asthma and other lung diseases in relation to children's living environment, she said there are neighborhoods in Cleveland that are considered to be hot spots for childhood asthma. She believes there is certainly an overlap between hot spot neighborhoods and sources of air pollution, including the steel mills.
Passionate about the environment, Ross authored a 2012 article in the Journal of Pediatrics about PM2.5 , but said, "…all of these air pollutants are very correlated," explaining that, "Areas that have high PM2.5 might also have high ozone or high nitrate exposure and they can be difficult to sort out."
When asked if we are doing enough, post-EPA regulations, Ross stated, "We did have some backsliding with the prior administration and oversight of EPA. EPA lost some of its tooth — hopefully that is getting better." 
She went on to say she thinks there is more acceptance than there used to be about the impact of climate change on human health and senses more urgency to address it. 
The implications of hazardous materials and particulates can have detrimental impacts on respiratory health for industrial workers in particular. According to a 2018 journal article by Ling Wang and Kenneth Rosenman in Preventing Chronic Diseases from the Centers for Disease Control (CDC), 12.2% of industrial workers who worked in manufacturing acquired asthma at some point. 
This was certainly the case for current Howmet Aerospace environmental trainer Roger Buttrick, who oversees the removal of caustic material from the plant. 
According to its website, the company manufactures metal parts for aerospace and transportation purposes. Howmet Aerospace was previously Alcoa Corporation which made aluminum-based products. It is also where Buttrick started in 1990 working with steam-driven hammers. As part of his work, Buttrick worked with oil-based lubricants until, sometime between 1996 and 1998, his department switched to using a water-based graphite lubricant. 
Buttrick was immediately wary about this new lubricant produced by Dylon Industries. "It's a lubricant, and I think that they were trying to go with a cheaper method and they tried to convince us that, 'Hey it's just water and graphite, okay?' and we knew, right then and there, that doesn't sound right."
Just a short two months following the switch, Buttrick recounts, "I would sit between the furnaces and cough to where I could not catch my breath." 
He immediately reached out to the medical department of the company but was met with limited explanations as to why the new lubricant would be problematic. This prompted Buttrick to visit his physician, who put him on an inhaler, "…because I was losing my breath so much and he attributed it to an asthmatic reaction." 
Countless grievance filings with Buttrick's union, United Auto Workers Local 1050, as well as fillings with the Environmental Health and Safety department at Alcoa proved fruitless for a long time. 
"Oh, it was hell, because they didn't believe you, you know, and they tried to steer you away from making any complaints at all, which I did not abide to," Buttrick said.
Buttrick continually documented his asthmatic symptoms with his doctor, "…in case something happened to me, as far as long-term asthma, lung problems, cancer or anything of that nature."
Eventually, after involvement with the Occupational Safety and Health Administration, Buttrick was supplied with various respirators designed to filter out particulate matter, according to OSHA standards. Buttrick was even given a device by the Environmental Health and Safety department at his company, that strapped onto his back to track the amount of particulate matter in the air over a few full workdays, to determine if the levels were exceeding approved standards. 
According to Buttrick, "They said it [the levels of particulates] was well below OSHA standards, and their standards [Alcoa's]." Alcoa finally removed the water-based graphite lubricant from the hammer shop, and shortly after, Buttrick's asthmatic symptoms ceased. Alcoa did not respond to a request for comment. 
The industry is much different than the 1990s and is certainly different than the 1960s, and there is a systemic shift for companies to adapt to the current climate crisis and reduce their carbon emissions. While the efforts to protect industry workers' health have improved in the last several decades, the full extent of the environmental impact of decades of few or no regulations cannot be fathomed. Panovec may not see a film of dust anymore on the homes in her neighborhood, but the detrimental effects of air pollution on our climatic system remain pressing.