Humans of JCU: Jasen Sokol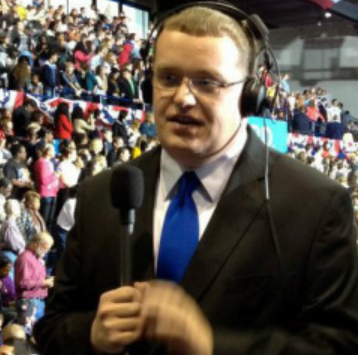 Whether it's on the airwaves of the radio or on the baseball diamond announcing the next batter, there is one voice that often stands out from the rest. To many, the familiar voice of Jasen Sokol, general manager of WJCU 88.7 FM, rings through the air and leaves an impact wherever it is heard.
Sokol's journey to John Carroll was not the most straightforward path. Before coming to John Carroll in the Spring of 2020, Sokol started his broadcasting career as part of Baldwin Wallace's Radio Station, WBWC 88.3 FM. It was here where Sokol really dived into radio, especially sports broadcasting. After spending 6 years hosting a talk show on WAKR 93.5 FM in Akron, he wanted to make a return to Cleveland. When the opportunity came up to be the new General Manager for WJCU, he took it. 
Coming to John Carroll allowed him to "be able to pay it forward after everything that people had done for me and that college radio had done for [him]" Sokol told The Carroll News. 
In his spare time, he also supports various minor league sports teams as a Public Address Announcer or as part of the game day experience team. The teams Sokol supports include the Cleveland Monsters, Lake County Captains, Toledo Mud Hens, Toledo Walleye as well as the Akron Marathon and All-American Soapbox Derby. 
"I picked them up because they were fun, but also, to kind of have a side hustle, a little bit extra income on the side, but have kept it all because of how much fun it is." Sokol told The Carroll News, "I think it's also helped me stay relevant with what's going on out in the so-called 'real world' because I'm still interacting with professional broadcasters on a regular basis. I'm still behind a mic 130 days a year, I'm still doing a lot of those same things that I was doing when I was in the professional world."
While the side hustle might be fun and bring in extra income, that's not why he does what he does. To Sokol, it is more about the impact he gets to leave on others. 
"We get to entertain people and kind of create, we talk about in-game presentations, creating those moments for people" Sokol told The Carroll News, "If we can create those moments for people, it's a pretty cool deal." He is also grateful to have the support of Dr. Margaret Finucane as he continues to help inspire people outside the university.  
Back here at John Carroll, Sokol is immensely proud of the station and its growth. From having a genre show DJ's  are nationally recognized for their work (best of luck coming up to Zachary Sinutko '24, Emily Davala '24, and Collin Kennedy '24) to highlighting the continued growth of the sports department, he credits a lot of the growth of the station overall to taking what the station is already good at and trying to make it better and do more of it. 
Sokol shares his passion for college radio and sports with every student that enters through the door and sits behind a microphone. Aliyah Shamatta '24 noted this enthusiasm as she became involved in the station, telling The Carroll News "Jasen has given me a ton of opportunities in the station and has encouraged me to become more involved both within radio and elsewhere on campus."
When it comes to giving advice, Sokol is fairly straightforward about how he delivers it. However, just because it is not elegant does not mean it is any less important. 
As for any advice he has for current students, Sokol stated, "Take the opportunities, make the mistakes, find out what works, find out what doesn't work because that's just as important. And you're gonna end up where you want to be."
So the next time you hear WJCU in the caf, or at Rocket Mortgage Fieldhouse this winter, listen to the voice tell you that there is one minute left in the period, and keep an ear open. You just might recognize that voice.