BREAKING: Truck catches fire next to Rodman
In the early hours of a rainy Friday, Nov. 11, morning, JCU sent a campus-wide email and text alert with the off-putting subject: "Vehicle Fire On Campus." JCUPD Chief Brian Hurd reported that at 8:48 "a Facilities staff member called JCUPD  and reported that a truck was on fire in the drive between Rodman Hall and the O'Malley Center. JCUPD contacted the University Heights Fire Department, who had already been contacted and were enroute."
The alert, sent out at 9:40 am, announced that the University Heights Fire Department responded to the incident at 8:50 A.M. UHFD confirmed Shaker Heights Fire Department also responded to the scene.
Video quickly surfaced on social media of a fully engulfed semi-truck in the delivery area between Rodman Hall and The O'Malley Center. Video and eyewitness accounts indicate the truck was a Sysco food distribution truck, likely making a delivery to the Saxby's coffee shop in the basement of St. Ignatius Hall (formerly the Admin Building). Chief Hurd confirmed that the semi was indeed delivering food to campus.
UFHD later reported that "workers were in the cargo area of the vehicle at the time of the fire and none were in the front cab. No civilian or firefighter injuries [were] reported."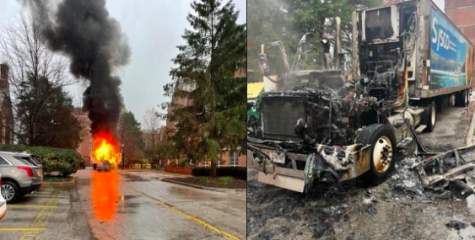 Updated: Nov. 15 at 7:36 p.m.
— Trevor (@tpolomsky28) November 11, 2022