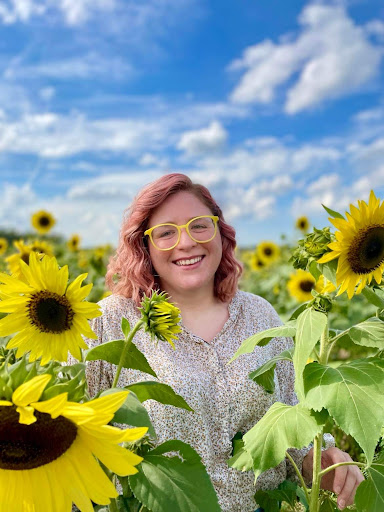 In the vibrant tapestry of any academic institution, there are individuals whose dedication and passion shape the very essence of campus life. Frankly, it is easy to focus on the current student population at JCU when thinking of its place in the community. After all, the university would not exist without those who attend its various course offerings and events. However, these very students are not able to seize the opportunities they face without a strong support system behind them.
At John Carroll, there exists a hidden force, quietly shaping the university's culture and ensuring that every student's experience is one of safety, respect and growth. Without this figure, multiple resources the campus community relies on would be lost. This is where Emily Sherwood, JCU's Director of Community Standards and Student Wellbeing and Title IX Coordinator, works her magic.
Sherwood is ever present on campus, enforcing the appropriate rules and regulations that keep John Carroll safe while also focusing on the welfare of each student who enters her door. For the past few years that she has been at JCU, she has focused on improving student security and sanctuary.
"It's about what's going to keep students safe, that is always number one," Sherwood told The Carroll News. "But then, I really like to think about 'how do I give students agency in decisions? How do we show care and love for students?'"
Through her daily work, this takes on multiple forms. From student conduct to wellness intervention to working on Title IX cases, Sherwood's day is filled with hours upon hours of helping those who both want and need her support.
"My title is very long and I expect no one to remember it," Sherwood elaborated. "There's the community standards piece, which is when students violate expectations in some way. I handle that process. With the Student Wellbeing piece, I help students navigate tough stuff. I chair our Care Team. I meet with students when they're navigating all the hard things. With Title IX, I also deal with our sexual misconduct process and gender discrimination."
Before taking on these various roles at JCU, Sherwood was on a different path in life. Originally hailing from Uniontown, OH, she attended the University of Akron for political science, being particularly drawn to international relations. Later, she attended Case Western Reserve's Law School where she graduated first in her class. At Case Western, Sherwood took on a graduate assistant role in their residence life department. This is where, she says, she capitalized on her love for working with students.
"I applied for a ResLife job right away, that should have been a big signal where I was headed," she stated. "I worked for residence life for all three years of law school."
During this time, Sherwood also held multiple internships including prestigious positions at the Embassy of Gabon and at Human Rights Watch. However, she was continuously drawn back to her work with undergraduates.
"I realized while I was there, I kept emailing my supervisor for ResLife to be like 'here's what I want to do for the RAs professional development,'" Sherwood said. "I kind of was like, 'oh, I may like doing this better.'
"I think you can help people in [the political science] field, but it's very systemic. And it's like big advocacy with little chips at things over time. Whereas, in student affairs, you get to help people very directly. To me, that was more fulfilling. The student development process is really awesome."
Following a successful academic career, Sherwood served as a Hall Director for two years at the University of Michigan. From there, she migrated to another position as the Assistant Director of Housing Student Conduct and Conflict Resolution where she learned more about the concept of restorative justice. In June of 2021, Sherwood took on the role she currently has at John Carroll, albeit adding the Title IX aspect of her responsibilities later into her tenure.
"I volunteered to take on the Title IX process," she stated. "I think it's something I've always been interested in. When I was focused on human rights, I was focusing a lot on sexual exploitation, women's rights and sexual misconduct. It's always been an area of interest for me, even when I was in that legal field. On top of that, JCU was so supportive. I wasn't scared to take on more work; the people above me are so supportive."
Aside from her family and her baby nephews, she is motivated by watching students grow around her, even with those she has fleeting interactions with.
"I feel proud of them in the least patronizing way possible," she said. "I'm just helping facilitate that and ask the right questions to help them get there. I also know I'm one piece of many in that puzzle. Getting to be even a small piece of that is so cool. They're a human who's bringing unique qualities and characteristics and they deserve to learn and grow."
Along with uplifting others, Sherwood also says that she has seen herself set and achieve goals as she has navigated her career at John Carroll. This includes expanding her confidence enough to take on the Title IX role and putting her mental health first through her hobbies of kickboxing and therapy.
In the near future, Sherwood wants to increase student awareness of the resources her office offers. This includes informing those on campus about measures to support their peers and how to navigate difficult situations that may arise throughout their collegiate career.
As for long term goals, Sherwood says she could see herself pursuing a position as a Dean of Students. However, she wants to continue working with students as much as possible.
"I've always felt most fulfilled when I've been helping students last three years," she said. "I care a lot."
This care has not gone unnoticed. Mackenzie Jackson '25 told The Carroll News that she has been personally impacted by Sherwood and the light she provides to the community.
"Emily Sherwood brightens up every single room she walks into," Jackson told The Carroll News. "She makes all the students she speaks to feel comfortable and heard."
This sentiment was also echoed by Maya Kumar '24, a member of the student conduct board who works closely with Sherwood to uphold community standards, saying that Sherwood is also a beacon of positivity.
"Emily truly cares about each student at JCU as an individual and is a member of our community," Kumar stated. "Along with being a valuable resource on campus, she never fails to brighten up my day. She listens whole heartedly and wants to make sure that everyone feels seen."
When looking back at her past, Sherwood says it is important to do the things that scare you "within reason" as these instances are often opportunities for growth.
"I think one of my favorite experiences was my second flight ever which happened a month after my first flight ever," she stated. "I flew to China and South Korea and it was one of the best experiences I've had. Taking a job outside of my degree was super scary. I feel like all of those really scary decisions were some of my best decisions. Do the stuff that scares you because it probably means that you're going to grow a lot."
For those interested in learning more about what Sherwood or the Office of Student Affairs does as a whole, you can either stop by her office in the student center or find additional information here.