5 Outdoor places to visit this fall
Tailgates. Sweatshirts. Falling leaves. There's no time like fall on campus. Looking to get away this weekend for a run, hike or game of football? Look no further than these parks for your next outdoor adventure.
Cleveland Metroparks Zoo
The visitors are not the only ones who enjoy the cooler weather. According to Emily Fagan-Zirm, a guest services associate in zoo admissions and John Carroll sophomore, the animals are more active at this time of year due to more comfortable temperatures. In addition, the annual Boo at the Zoo festival features trick-or-treating, train rides and a carousel for younger visitors.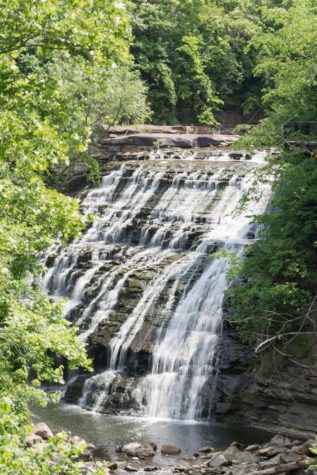 South Mastick Picnic Area
Located in the tri-city region of Fairview Park, Rocky River and North Olmsted, this picnic area is a great place to begin a day of outdoor adventures in the Rocky River reservation. From the picnic area, visitors can venture onto the trails and enjoy picturesque views of the winding river against the backdrop of colorful leaves. On the bridle trail, you can witness cross-country teams picking up speed and kicking up mud as they train for their next race, then decelerating so as not to scare the horses that live in the stable nearby. 
Euclid Beach Pier
Experience the downtown skyline like never before at this scenic lakefront park. Visitors can gaze at the choppy waves from the 150-foot pier and spot remnants of the amusement park once located on the shores. With Adirondack chairs situated on the pier, Euclid Beach is sure to be a thrill for casual observers in addition to outdoor enthusiasts.
Buckeye Trail, South Chagrin Reservation
Between the ravines and stone ledges of the South Chagrin Reservation sits a beautiful section of the statewide Buckeye Trail. Beginner and expert hikers will enjoy winding trails amidst the autumn foliage. While you are there, you may come face-to-face with the white-tailed deer that take refuge in the gorgeous forests that surround the trail.
Cain Park
Located just two miles from campus, Cain Park is the ideal destination for students seeking an afternoon outing in a compact yet beautiful environment. It features a paved trail for running or biking and lawn space to toss a Frisbee or football in addition to an amphitheater and arts gallery for seasonal programming. This vibrant park in a thriving city is not to be missed this fall.