Pun-derful homemade gifts for giving season
Christmas time is fast approaching, and the hunt for the perfect Christmas gift has begun. If you are anything like me, you love searching for and making gifts. In the words of my personal hero Leslie Knope: "Giving Christmas gifts is like a sport to me. Finding or making that perfect something." 
Scouring the internet, breaking out the hot glue and wrapping everything with a perfect bow is what I live for in December. To some, it can be a de-stresser after the semester concludes. However, Christmas shopping is overwhelming and stressful for others. Lucky for them, there are crazies like me to help.
I would spend my entire paycheck on gifts for my loved ones if I could, but my college expenses would not thank me. There are inexpensive, adorable options that still send the message of thought, time and love without breaking the bank. My personal secret to cheap, festive gifts is simple: heartwarming puns. Before I lose you, allow me to give my top three gifting-made-simple hacks: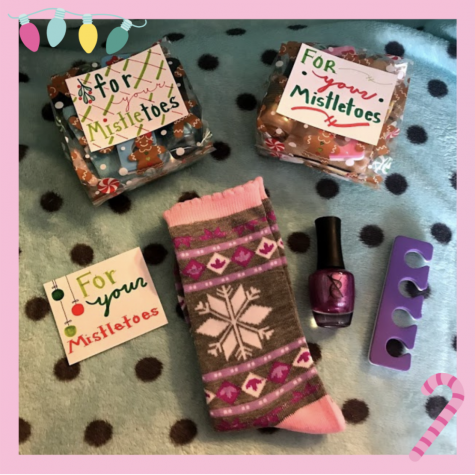 For Your MistleTOES
The first step is choosing your theme. Once you have a perfect slogan, buy or create small things that correlate to the theme in some way. For this gift, I included socks, nail polish and toe-separators because they perfectly fit the pun.
The trick to saving money when compiling these small, thoughtful gift packages is to buy the items in bulk from retailers. Then, you have enough to give to everyone on your list at a discounted price. Think of these gift packages like the gift bags a family distributes at their child's birthday party:
TeeHee Women's Great Value Multi Pair Crew Socks (12 pair): $16.99
Toe Separators Set – Premium Pedicure Tool Kit (24 PCS) Super Soft & Durable Two Tone ZMOI: $5.99
SXC Cosmetics Nail Polish Set – 12 Metallic Shades, 15ml/0.5oz Full Size, Perfect Nail Lacquer Gift Set Regular Use & Nail Art Design:  $10.95
Amscan Gingerbread Large Christmas Cello Bags, 20 pieces: $8.99
Hand-drawn Cards: Free
Total Spent: $42.92
Number of gifts: 12
Amount per person: $3.58
People have loved this gift in the past, and they recognized the hard work I put into it. They especially appreciated the handwritten card with a joke. This package is perfect for anyone who needs some well-deserved relaxation.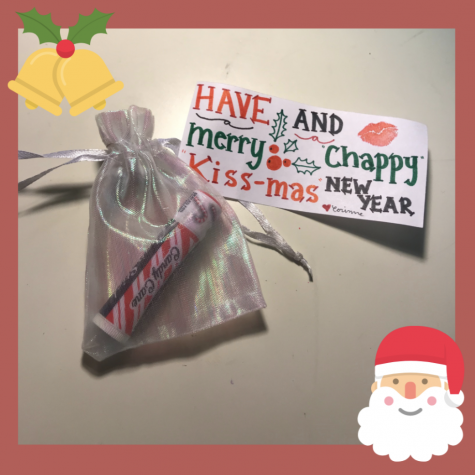 Merry KISS-mas and a Chappy New Year
This cute gift is perfect for the frigid winters because everyone's lips could use some balm. To make the gift more substantial, you can add more than one chapstick or even some Hershey kisses:
SumDirect 100PCS 3×4 Inches Organza Gift Bags with Drawstring-White (You can use the extras for future projects): $9.99
ChapStick Limited Edition Candy Cane, 12-Stick Refill Pack:  $34.99
Hand-drawn Cards: Free
Total Spent: $44.98
Number of gifts: 12
Amount per person: $3.45
People who received this gift have appreciated the sentiment, and it gave them a chuckle. To make this gift cheaper, switch out the limited edition candy cane chapstick for a standard flavor. I like to give these packages to co-workers and friends.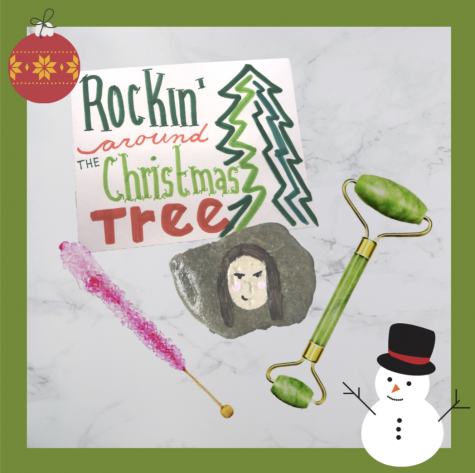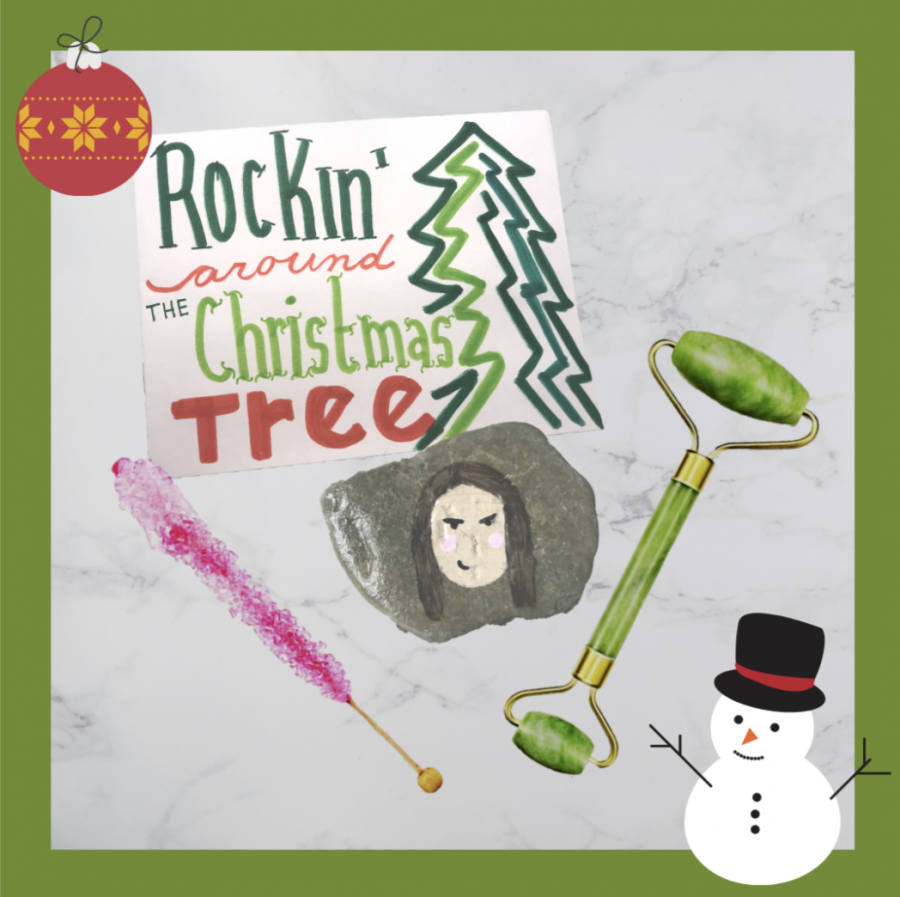 ROCKin' Around the Christmas Tree
Nothing says Merry Christmas like a big rock, and it doesn't have to be a ring. For this gift, I painted the face of my friend onto a rock and paired it with a jade face roller and rock candy. If art isn't your thing, you can decorate your rock with some glitter, colors or patterns you think the recipient would enjoy:
3 Pieces Jade Roller for Face, Jade Stone Facial Roller Portable Jade Roller Massager Tools for Eye Face Neck Body Anti-Aging Slimming and Firming Massage (Green) $10.99
Rock Candy Lollipops Pops Candy Suckers, Variety Color Assortment, Individually Wrapped, 6.5″ (3-Pack): $6.99
Rocks: FREE
Primary Colors Acrylic Paint Set 4 pcs by Craft Smart: $10.50
Total Spent: $28.48
Number of gifts: 3
Amount per person: $9.49
I gifted this to a close friend last year, and she has kept the rock on her bookshelf ever since. This idea is great for best friends, moms or anyone else you think might enjoy the thoughtful sediment. I mean sentiment.
Hope this eases some of the stress of the season and gives you lots of pun-derful ideas for Christmas. Happy Gifting!
All items from this article can be purchased on Amazon
Similar items can be purchased through local small business and creators