88th minute goal ends Blue and Gold's season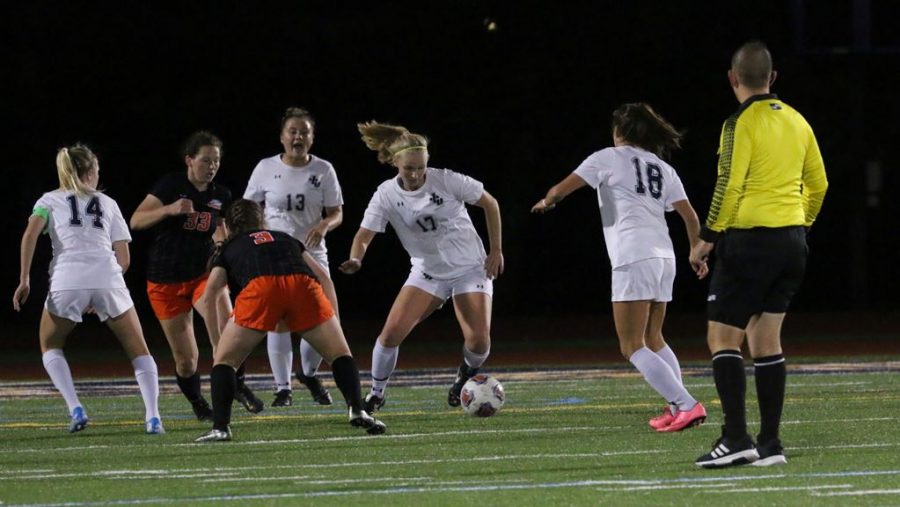 For 12 consecutive seasons, the John Carroll women's soccer team qualified for the Ohio Athletic Conference tournament, but they have never won it. 
This year, they came close, but an 88th-minute goal by their opponents prevented their OAC Championship dreams. 
The Blue Streaks took the field on Nov. 5 against Baldwin Wallace. This was the first game in the OAC tournament, and the women fought hard to stay in contention. 
Scoring opened up when senior Jaclyn Audino passed the ball to freshman Grace Monnin, who was able to dump the ball into the net. 
Following this goal, everything fell into place for the Blue Streaks as they went on to score two more goals, winning the first round game 3-0.
JCU had 17 shots compared to Baldwin Wallace's five, and had a remarkable eight corners. Sophomore goalkeeper Danielle DelGuidice had just one save all night, allowing for an easy night while in the net. 
Monnin, sophomore Kennedy Newhart and junior Claudia Lenhart each had a goal for the night which scores allowed the Streaks to win comfortably. 
The Blue streaks continued their tournament destiny as they headed to Ada, Ohio to play Ohio Northern. They knew that this was going to be a tough game; the Polar Bears were 16-2-2 on the year. 
Throughout the game, the Blue Streaks looked strong. However, the Polar Bears eventually put more pressure onto the Blue Streaks, which resulted in a goal in the 88th minute. Ohio Northern then advanced to the championship game to play Otterbein. 
"The OAC tournament allowed for the opportunity to host at home which was great," head coach Michael Marich said following the Blue Streaks' loss. "The girls responded great allowing for them to have one of their best performances of the entire year.
"The program took a lot of steps forward this year. Although a big portion of the roster will be returning, a lot of the key starters are graduating. This then allows for this year's juniors to have a leadership role on and off the field in 2020."
The Blue Streaks end the season with a record of 10-7-3. They played best at home, closing out the season with a 6-3-1 record at Don Shula Stadium.