Blue Streaks Prevail vs. Muskies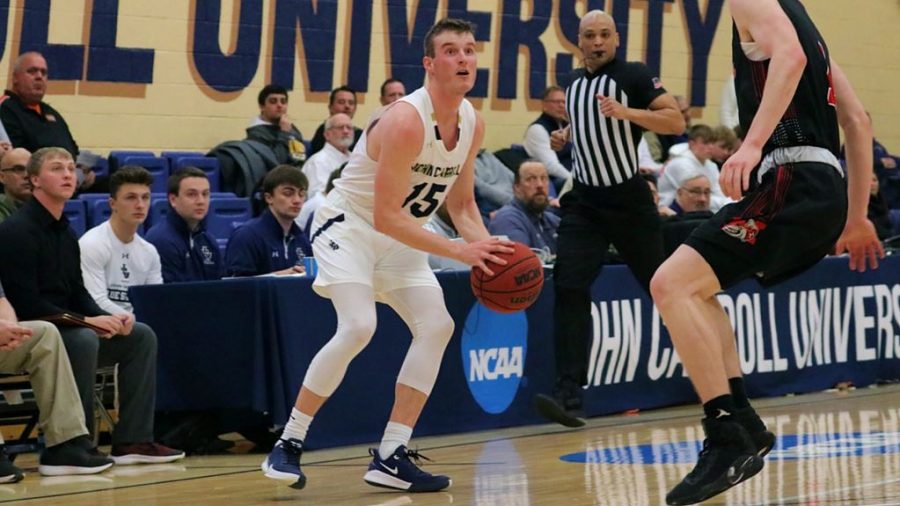 Isabella Eke, Staff Reporter/Sports Copy Editor
January 29, 2020
After losing their last two games, the John Carroll men's basketball team desperately needed a win. They received just what the doctor ordered.
The Blue Streaks defeated Muskingum 100-88 on Jan. 29, 2020. After a fluctuating first half, the Blue Streaks found their rhythm in the second and pulled through with their fifth Ohio Athletic Conference win of the season. 
Through the first half, JCU and Muskingum went back and forth in their turn of gaining points. JCU scored two, then the Muskies came back and scored four. It remained that way the entire half until JCU inched ahead 43-42 at the break.
After halftime, JCU came back looking stronger than ever. However, Muskingum did manage to extend their lead to nine, but JCU came back to tie the game. Senior Ryan Berger, put the Blue Streaks on top of the Fighting Muskies with a two-point layup, allowing the start of a 12-0 run for JCU. 
Both Berger and sophomore Emmett Chambers took turns scoring, pushing the Blue Streaks lead to 76-66. Along with Berger and Chambers, senior Jimmy Berger and junior Jackson Sartain had big effects on the game. 
Sartain ended the game with 20 points while Jimmy Berger finished with 19., Sean Flannery caused a ruckus by scoring 15 points and playing 34 minutes — the most of any John Carroll player.  Although they were not the standouts, their efforts were noted in helping JCU beat Muskingum. 
Towards the midway point of the second half, Ryan Berger helped JCU gain their biggest lead of the game. He made a 3-point shot to push the score up to 81-68. The Fighting Muskies were starting to waver and lose their rhythm, as JCU took advantage. The crowd was a big help as well, as the student sections roared every time a Berger twin made a basket.
Although Muskingum lost, Marcus Dempsey was their star player, scoring a game-high 35 points. However, they added to their losing streak, pushing it to seven games, dropping their record to 7-10 overall and 2-8 in the OAC. 
The Blue Streaks move to 12-5 overall and 5-5 in the OAC. Their next game will be on the road in Alliance, Ohio, against Mount Union University. That result was not available at press time and can be found on JCUSports.com