The perfect face masks for those stressful college nights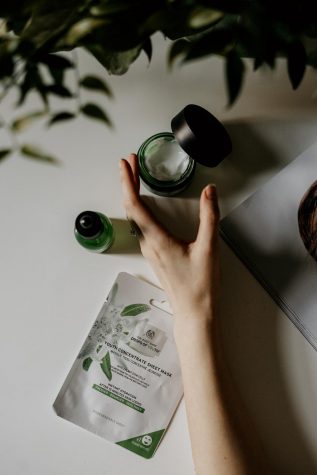 Skin care has been on the rise over the last few years: Sales of skin-care products grew up to 13% just in 2018, according to the NPD Group website. New and improved products have made it to the shelves, promising you perfect and clear skin, no matter your skin type. Products can often even pinpoint specific problems, like acne and blackheads.
Among those skin-care products are face masks. There are a type of skin-care product that you can apply in different forms, such as a sheet or clay mask.
These masks are used for specific skin issues. For example, those with dry skin might buy a face mask to help hydrate their skin. In another example, those with very oily skin may buy a mask to help balance out the extra hydration.
But, what mask would work best for you? If you're looking to treat yourself, here are five face masks that will do just that. All of these masks are available at Ulta Beauty.
TONYMOLY: Master Lab Hyaluronic Acid Mask Sheet
For those who are struggling to keep their skin hydrated through the cold Ohio winter, you're in luck! This sheet mask is filled with hydrating ingredients like hydraluric acid, which keeps the skin moisturized and minimizes fine lines and wrinkles, as described in the article "7 Surprising Benefits of Hyaluronic Acid" by Healthline. This will help you keep your skin fresh and moisturized throughout the bitter winter.
Origins: Clear Improvement Active Charcoal Mask to Clear Pores
If you have skin that's frequently covered in blackheads or blocked pores, this Origins mask may work for you. According to the mask description on Ulta Beauty's site, one specific active ingredient in the mask is bamboo charcoal  which Ulta Beauty describes, "[a]cts like a magnet to draw out pore-clogging dirt, oil and impurities." This mask promises to clean out your pores to leave your skin nice and clean.
TONYMOLY: I'm Real Aloe Mask Sheet
If you struggle with acne or dry skin, this mask might work for you. Another product from TONYMOLY, this mask contains aloe vera, which is a natural ingredient that your skin will drink up. Aloe vera is not only good for your sun burns, but it keeps your skin hydrated and helps clear up acne as stated in an article  by Jeanette Sanchez for Baylor College of Medicine. You can say goodbye to dry skin!
Feeling Beautiful: Dead Sea Minerals Facial Anti-Stress Mask
If your skin tends to be on the oily side, then you may want to look into this clay mask. According to the Ulta Beauty site, this mask is filled with nutrients and helps balance out the extra moisture while clearing out your pores. A key ingredient in this mask is kaolin, which reduces oily skin detoxifies pores. Kaolin also helps reduce acne and inflammation according to an online article by Aidan Moran for Teadora Beauty. Your skin will be clear of blemishes.
Mario Badescu: Super Collagen Mask
This last suggestion is another clay mask, specifically targeted for dry skin and fine lines. Clay masks tend to dry skin out, but this one will keep your skin nice and hydrated because one of the main ingredients is collagen. Collagen adds any needed moisture into the skin while also reducing fine lines and wrinkles, as explained in the article "What To Know About Collagen," by Medical News Today. It also improves skin elasticity while keeping your complexion radiant and youthful.
All of these masks will make any stressful night more relaxing.