Did the federal government really botch its COVID-19 response?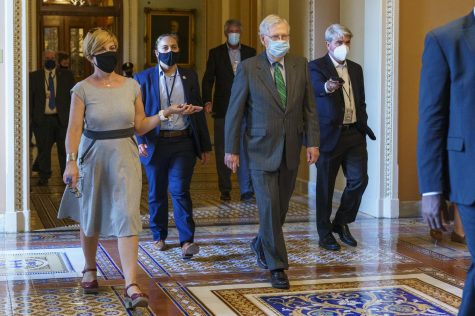 For weeks, members of the media and prominent Democratic Party leaders have promulgated the narrative that the federal government has completely mishandled its response to the COVID-19 pandemic. Staunch critics have included figures such as House Speaker Nancy Pelosi and CNN anchor Chris Cuomo. They, like many others, provide little substance to their arguments. 
In March, Pelosi attacked President Donald Trump by stating that "his denial at the beginning was deadly, his delaying of getting equipment … to where it is needed is deadly, and now the best thing would be to do is to prevent more loss of life, rather than open things up so that, because we just don't know," as quoted in The Hill. This analysis from Pelosi came after she encouraged San Francisco residents to visit Chinatown after Trump closed the border to China (and it came before she visited a hair salon in San Francisco while breaking California state protocols for indoor businesses). 
We have also seen members of the media like CNN's Chris Cuomo criticize the government's actions and condemn social gatherings while simultaneously contradicting those notions with their actions. In Cuomo's case, after testing positive for COVID-19, he had broken quarantine orders by gathering with others in public. A bicyclist confronted him on the matter after spotting the journalist, and Cuomo proceeded to yell in the man's face.
These incidents highlight the overarching mentality of "do as I say, not as I do" held by many of our nation's leaders and journalists as they participate in blatant hypocrisy. Regardless of their actions, are these attacks being brought against the federal government's response warranted? 
Within the narrative that the federal government completely botched their COVID-19 response is the idea that the United States has done exceptionally badly compared to other countries. Critics have accused the federal government of purposefully limiting COVID-19 testing with the intent of lowering our positive case numbers. This is factually incorrect. 
According to Our World In Data, the United States has conducted over 83 million tests, the most by any country, with a population of 328 million. The next closest figure is India, which has conducted over 39 million tests but has a population of 1.3 billion. Some may argue that although the United States' absolute total does lead the world, when you look on a per capita basis, we are further down the list. As of Sept. 7, the United States performed the third most COVID-19 tests per one million population according to Statista. 
To mitigate the risk of the virus spreading and to provide aid to those who have contracted it, the federal government urged private businesses to shift their production towards things such as masks, ventilators and hand sanitizers. As a result, the federal government touts more than 100,000 ventilators, allowing any patient in need of that resource to have access to it. 
From an economic perspective, the federal government has done a great deal to protect thousands of businesses around the country. The Paycheck Protection Program, a major component of the federal stimulus package, helped save millions of jobs. This program relieved the stress many business owners faced as they witnessed slashed revenues due to lockdowns. The stimulus package included other resources, such as direct payments to individuals and enhanced unemployment benefits. 
Following the expiration of the stimulus package, the White House, Senate Republicans and House Democrats attempted to broker another deal. Unfortunately, disagreements over various components like unemployment benefits led to stalled talks. Senate Republicans urged for a lower unemployment bonus at $200 per week as opposed to the $600 originally allocated in the first stimulus package. They argued that although $600 per week was appropriate at the onset of lockdowns, businesses are now opening back up and people no longer require the additional $400. 
The unemployment benefits that an individual can acquire from the federal government are in addition to any benefits these individuals receive from their state governments. As a result, thousands of workers were being paid more while staying home than they would be paid at work. 
When attempting to get the economy back up on its feet, House Democrats disincentivized individuals to return to work by advocating for a greater stimulus package, which exacerbates these efforts. This then, of course, led Democrats to criticize Republican leaders for not finalizing another stimulus package. Instead of making this an issue about helping the American people, members of the Democratic Party turned negotiations into a game of political chess. 
"It's not about your rights, it's about your responsibilities as an American," said Democratic presidential nominee Joe Biden, who has promised to order a national mask mandate if elected. Not only would this be nearly impossible to enforce at the federal level, but it is also unconstitutional if pursued via executive order. State and local governments do have the authority to institute such mandates. This fact alone embodies the federalist system our government functions under: those closest to the people (state and local government) are best equipped to deal with matters on the ground. 
Much of the Democratic National Convention and the Democratic Party platform has criticized Trump's response to COVID-19, claiming that it has been a colossal failure. All the while, they have yet to unveil a plan that does not consist of lip service and vague, unspecific alternatives to the Trump Administration's plan. 
There is no question that COVID-19 has had a devastating impact on American society. We, like many nations around the world, were unprepared to handle the virus. Albeit the United States continues to wrestle with COVID-19, to pretend the federal government's response was a complete failure and uniquely bad in comparison to other nations is an unfair and unjustified characterization. The rhetoric coming from the Democratic Party is nothing other than a political mechanism being used in an attempt to propel Joe Biden into the White House.