From COVID to PRIDE: How Cleveland Celebrates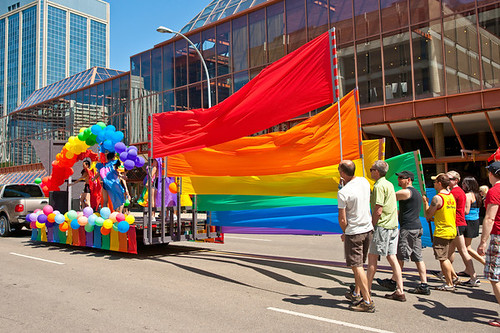 Pride in the CLE, the LGBT Community Center of Greater Cleveland's annual festival, has been delayed like many other pride festivals due to COVID-19. 
As the pandemic has developed, festival organizers have had to adapt, leading to a two-day split event. The first day, Sunday, Sept. 12, will involve a "pride ride" where participants will drive festively decorated cars through the Gordon Square neighborhood. The porches of local businesses and community members along the route will be decorated as well.
The second half of the festival will occur on Friday, Sept. 25. Presented by KeyBank, Wonderhouse Films and Near West Theatre, the night will be hosted by Cleveland Drag Star Veranda L'Ni. The evening will feature bands Apostle Jones and Kyle Kidd & Co, and "will include local artists, musicians, local leaders and more virtually [on the second night] to enjoy", according to LGBTCleveland. 
Pride in the CLE has not been the only festival to take actions like this. Some pride committees have made the decision to shut down their host foundations completely.
The Delta Foundation of Pittsburgh, a non-profit advocacy organization, puts on Pittsburgh Pride every year to spread awareness of LGBTQIA+ issues and to provide the community an outlet for their pride. 
The Delta Foundation of Pittsburgh dissolved the organization as a result of canceling Pride 2020, which has led to dire financial consequences. Pittsburgh Pride, which brought in 250,000 people in 2019, supplied 90% of the budget.
"Because of COVID-19, it is uncertain what the future holds for all large-scale events, such as Pittsburgh Pride, which is the third-largest special event in Pittsburgh," according to the Delta Foundation's website.
Some cities in Ohio, such as Toledo, have been able to host in-person events, such as "Pride on the Inside" on Aug. 22. Hosted by Drag Stars Deja D. Dellatero and Amber Stone, this event brought community members to three LGBT-owned establishments, featured two hours of live music and concluded with a two-hour video special about Pride.  Social distancing regulations were enforced in order to keep all attendees safe. 
Toledo Pride also hosted "Toledo Pride at the Drive-In," which played the LGBTQIA+ films "Birdcage" and "Love, Simon." The Drive-In also included a Pride Recap of 2019 alongside the 14-minute short film "Happy Birthday, Marsha!" This film tells the story of iconic transgender artist and activist Marsha "Pay it No Mind" Johnson, who ignited the 1969 Stonewall Riots in New York City. 
For more information on Pride in CLE, visit https://lgbtcleveland.org/pride-in-the-cle/