Brian Russell of JCU Club Hockey hopes to lead the Blue Streaks one last time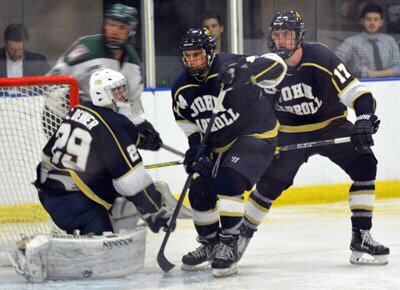 Jesuit-run schools in Northeast Ohio love their ice hockey. John Carroll University, Saint Ignatius and Walsh Jesuit all boast storied programs with excellent results on and off the ice. Few players have been as successful and spent as much time under Jesuit education than fifth-year senior and John Carroll Hockey Club Captain Brian Russell. Russell, a defenseman hailing from Westlake, has spent every winter since 2012 lacing his skates for a program with a Jesuit identity.  
"It would mean a lot to me to have this season," said Russell. "Hockey is something I have been around my whole life. The bond with this group of guys is special, and I wish I would've known last year that it may have been my last.
"I want one more chance to compete because not everyone gets to play competitive sports as long as they want. I just want one more chance to play, and really I just want one more chance for every JCU athlete in their final season. I think we all kind've hope for a farewell tour and the chance to play with our brothers and sisters and to have a final reflection on our athletic careers."
It is safe to say that one of Russell's teammates hopes he gets one last go at things as well.
"I've played with Russell for three years now, and he is the type of guy you want to be with on and off the ice," said senior Mike Ulishney. "He is fun but also a great leader, and he has been a great teacher to all of us. I look forward to getting one last run with him."
"The connection this hockey team has is great," said Russell. "I've played multiple sports growing up, and no sport has that same bonding amongst teammates as hockey. Everyone knows they can lean on each other. In hard times, when we can't always see our real families and elderly members of our families, it means a lot to all of us to be with close buddies. This truly is a second family."
While Russell is a humble leader, he is voracious on the ice. As a former Saint Ignatius Wildcat, Russell became the owner of two OHSAA state championship rings and amassed 53 points from the blue line during his last two seasons. Russell was also a reliable captain for Ignatius head coach Pat O'Rourke, who did his graduate work at JCU.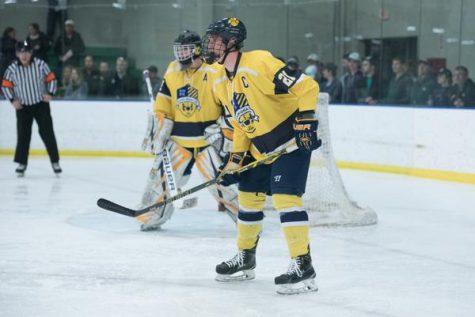 "Brian Russell is one of my favorite players I've ever coached. He was a great player on the ice but even a better person off the ice," said O'Rourke. "A quiet young man who led by example more than by shouting. Brian was named a captain his senior year and helped us win a state title that season.  
"Throughout his career at Saint Ignatius, Brian was asked to play both forward and defense, and he never complained. His versatility was a weapon for us, and Brian could play either position with aplomb. I was happy that he chose to attend JCU and glad that he continued his hockey career there as well. I have nothing but fond memories of this young man and, as I said before, it has much more to do with his easy smile and kind-hearted nature than it does with his (considerable) talents as a player."
As an underclassman, Russell was a heavy contributor to JCU's back-to-back CHMA champion teams. Through four seasons, Russell has passed the century mark in points, including a stand-out 32 points in 33 games as a junior. 
"Brian leads by example," said Scott Shantery, the JCU head club hockey coach. "We've never once questioned the effort that he brings to the table. He asks questions and helps the younger guys. He can play the powerplay and kill penalties with equal skill. 
"Tracking his minutes this past season, he was playing between 26 and 31 minutes per game. Those types of minutes show how much he means to this team. He rarely complains, and he is smart. He knows the systems we run, and he knows what is expected of him. He can also help relay things from us to the younger players."
While Russell is a top-tier athlete, he also is a scholar. Russell is a stalwart on the CHMA All-Academics team having a GPA above 3.5 and securing a spot on the John Carroll dean's list multiple times. Russell was also honored as an emerging club sport leader during his junior year.
"I simply cannot put into words what this school means to me," said Russell. "I've been able to have relationships with other students and teachers in the classroom and that creates such a positive discussion. You cannot just sit in the back of the class. You have to participate. I could've gone to a number of business schools, but the teacher-student relationship at Carroll is what I appreciate most."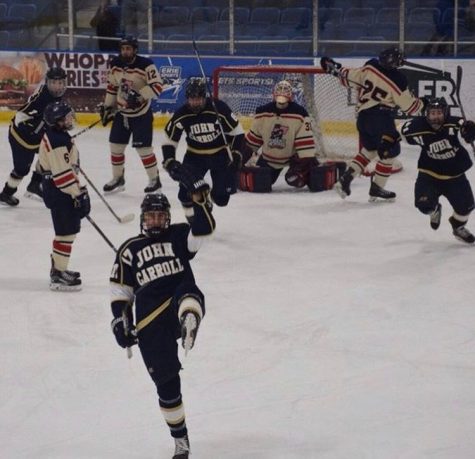 With the strike of the COVID-19 pandemic, there's a chance one of the most unheralded legends of Blue Streak club athletics has played his final game. Russell's defensive play and ability to produce from the blueline have been huge factors in the success of the rising JCU hockey program. Being the leader that he is, Brian is slow to talk of his impressive individual accomplishments and role on conference championship teams. However, Russell did reflect on the possibility of never playing again for the Blue Streaks. 
"I love the game," said Russell. "I want to be remembered as someone who shows up to the rink and wants to get better and will do whatever it takes to help make his teammates better. I hope I've given back to the younger guys for all the people who have taught me and made me a better player and person. I want to be remembered as hard-working but also loose because hockey is supposed to be fun. No matter what personal troubles you are having, for the two to four hours you're at the rink, you're there to have fun, work and play competitive hockey."
If you are familiar with professional hockey, come playoff time you will commonly hear the phrase "old guy without a cup." Fans that do not have a horse in the playoff race will typically throw their support behind a star that is close to retirement and has not yet lifted the ultimate trophy. Tear-jerking moments such as seeing star NHL veterans  Ray Borque and Alex Ovechkin lift the cup could turn any dry eye into a glossy one. 
Should JCU hockey have its season during the second semester, the Blue Streaks veteran core and infusion of youth will turn heads at the ACHA National Tournament for Division I Club. Blue Streak fans will have their own version of the "old guy without a cup." While every player on this team is truly special, tears will flow and smiles will be had if that humble defenseman can lift the biggest trophy club hockey has to offer.