Grand Jury Releases Verdict in Breonna Taylor Case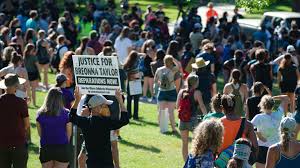 Brett Hankinson, one of three Louisville police officers responsible for the death of Breonna Taylor, was indicted on three counts of wanton endangerment on Sept. 23. The other officers involved in the killing, Jonathan Mattingly and Myles Cosgrove, were uncharged, according to the Associated Press.
Breonna Taylor, a black 26-year-old emergency response technician was killed on March 13 when police executed a raid on her apartment for suspected drug activity. No drugs were found in the raided apartment. The three officers used a battering ram to break down her door in the middle of the night, even after law enforcement had located the primary suspect they were searching for elsewhere, according to the New York Times.
The jury indictment of wanton endangerment for Hankinson was not for Taylor's death but for endangering a neighbor with his shots. Wanton endangerment indictments carry a sentence of up to five years. FBI authorities are conducting an investigation into potential violations of federal law that occurred during the raid.
Outraged by the verdict, protestors who spent months calling for justice against the officers took to the streets of Louisville, Kentucky. The protests were largely peaceful, but tension between officers and demonstrators escalated in a series of confrontations.
Police in riot gear clashed with protestors lined up at Jefferson Square Park in downtown Louisville, firing flash bangs, a concussive disorienting device, into the crowd. The square quickly cleared before 9 p.m., in accordance with a countywide night curfew issued Wednesday by Louisville Mayor Greg Fischer. Protestors who refused orders to disperse have been arrested for curfew and unlawful assembly offenses.
According to AP News, Louisville Police Chief Robert Schroeder said two officers were shot and wounded during the protests Wednesday night. One of the wounded officers underwent surgery, but both are expected to recover. As of Sept. 24, the suspect in those shootings, Larynzo Johnson, 26, was charged with 14 counts of wanton endangerment and two counts of assault on a police officer. He was arrested Wednesday and is scheduled to go to court on Friday, Sept. 25.
Kentucky Gov. Andy Beshear authorized a limited deployment of the National Guard in response to the protests. One AP reporter observed military vehicles and National Guard members roving downtown Louisville. On Thursday, Beshar addressed the protests, saying, "The answer to violence can never be violence."
Protests erupted across the U.S. in major cities like New York, Philadelphia, Chicago, Washington D.C. and Atlanta as protestors flocked to the streets in contempt of the grand jury's decision, continuing the nationwide protests that began following the death of George Floyd on May 25 in Minneapolis.
Kentucky Attorney General Daniel Cameron agreed with the jury's verdict, stating that though the officers had a no-knock warrant, the investigation determined that they still  announced their entry prior to entering Taylor's apartment building. The City of Louisville has since banned "no-knock" warrants, according to AP News. 
Cameron asserted that the officers were acting in self-defense, as Taylor's boyfriend, Kenneth Walker, fired his gun at the officers, thinking they were intruders. Walker's shot struck Mattingly in the leg, and the officers fired over 20 rounds in response. Taylor was shot five times and died on the hallway floor. 
Cameron expressed his grief, saying, "My heart breaks for the loss of Miss Taylor." However, he conceded, "Criminal law is not meant to respond to every sorrow and grief."
The protests have sparked national debate on the topic of police brutality and the issue has become a significant discussion point for the presidential election this November.
Democratic presidential candidate Joe Biden and vice presidential nominee Kamala Harris are calling for police reform. According to AP News, Biden said, "We do not need to wait for the final judgement of that investigation [the FBI investigation] to do more to deliver justice for Breonna." He proposed improvements to police reform by addressing the use of excessive force, banning chokeholds and remodeling no-knock warrants.
Harris shared similar sentiments on Twitter, "We must never stop speaking Breonna's name as we work to reform our justice system, including overhauling no-knock warrants."
On Wednesday night, President Donald Trump tweeted that he is "praying for the two police officers that were shot (in the protests on Wednesday)." In a tweet aimed at Beshear, Trump also stated, "The Federal Government stands behind you and is ready to help," in reference to the protests following the jury's verdict, according to AP News. 
Earlier in the day, Trump responded to a question about whether he thinks justice was served in the Taylor case by asserting that he "[I] love the Black community." He continued to say that, as president, he has done "more for the Black community than any other president, with the possible exception of Abraham Lincoln." Regarding the verdict, he said he did not know enough about the grand jury's decision to comment specifically.