Political Science professor Colin Swearingen receives Culicchia Teaching Award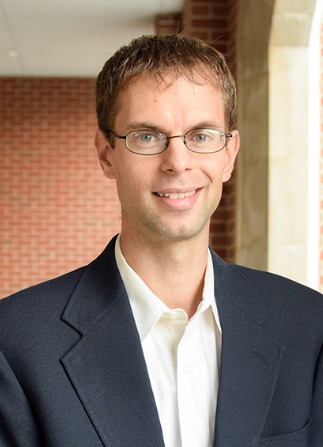 Colin Swearingen, associate professor in the Department of Political Science, received the 2020 Lucrezia Culicchia Award for Teaching Excellence in the College of Arts and Sciences on Sept. 30.
Swearingen said he is honored to join the list of previous award winners, which include professors Tracy Masterson (Psychology), Kristen Ehrhardt (Classical and Modern Languages and Cultures) and Yuh-Cherng Chai (Chemistry).
"It was honestly humbling," Swearingen told The Carroll News. "I mean looking at the list of previous winners was really fun. It just goes to show how many great faculty we have. 
"I also see some of the things that they do in their classes that are different, that are outside the box," he added. "That's really what I think is fascinating about trying to do the best we can as teachers and trying different ways to relay the content so that students are able to understand it but also thrive with that information."
Swearingen worked previously in Oklahoma as a research analyst and Geographic Information Systems coordinator for the Oklahoma House of Representatives before he started teaching at John Carroll in 2012. At JCU, he takes part in leading a trip to Honduras every year. Swearingen said both experiences have influenced his teaching methods heavily. 
"Those two events [working in Honduras and Oklahoma] fundamentally shaped who I am as a teacher," Swearingen said.
He believes experience is important because it adds credibility to professors. Swearingen said that both of his experiences present two different elements of his identity as a professor. Oklahoma gave him experience in politics while Honduras allowed him to work with students from a variety of backgrounds and majors beyond the social sciences and humanities.
An important aspect that Swearingen considers before teaching any class is student engagement with the material. 
"I know that any moment in time somebody can connect with the material in a way that they've never done before," he said. "Having someone that is really able to capture your imagination on the topic, and it doesn't have to be Political Science, it can be anything."
Swearingen added that his expectations for students drive him to push students to their full potential, especially in his classes.
"That's the expectation that I have as a faculty member, that students are here at John Carroll to get what they need to be successful in life, and I'm going to try to push them to do that. That means that sometimes classes are going to be tough, and expectations are high."
Swearingen has been praised for his teaching techniques by students, faculty and alumni. 
"Dr. Swearingen absolutely deserved this award," said alumna Meg Frankenberger '20. "Anyone who has ever taken a course with Dr. Swearingen knows first-hand that they're not for the faint of heart. Dr. Swearingen makes you work harder than you've done before, but you get so much out of it, and he really makes himself available for questions or concerns."
"I am beyond thrilled that Dr. Swearingen was awarded the Culicchia Award for Teaching Excellence. No one deserves this award more," MaryGrace Downey '21 said. "He is definitely one of my favorite professors at John Carroll, and I know many other students feel the same way. Dr. Swearingen always knows how to make his students involved and interested in his classes, whether that be an intriguing discussion on current events or a life-like simulation where every student is a member of Congress."
Swearingen said his greatest joy working at the University is hearing from students, even through a simple email. He said he's received emails from all kinds of students, those who majored in Political Science and those who only took one class.
"Some of this is going to sound cliché but it's true," Swearingen said. "I really do enjoy not only teaching students, but I also enjoy hearing from them after they graduate. 
"I love the fact that students can go to a place like John Carroll … and they can take classes from so many different faculty in a variety of topics and realize that these areas, whether its Political Science, Sociology, English, even Philosophy," Swearingen added. "There are people that are just completely captured by what goes on in those classes, and they say 'This is what I want to do, this is what I'm passionate about.' And I think that's what John Carroll's about fundamentally."
Leave a Comment