No Trevor Lawrence is a bigger loss for Notre Dame than it is for Clemson
Since the moment Georgia escaped Notre Dame Stadium with a 1-point victory on Sept. 9, 2017, the Fighting Irish have had their sights set on this upcoming weekend.
Clemson and Notre Dame are two of college football's premier programs, and they are both primed for a College Football Playoff run. It hasn't been long since the Dabo Swinney-led Tigers and Brian Kelly's Fighting Irish shared the same field. In fact, the last time they did was less than two years ago in the CFP.
On Dec. 29, 2018, Notre Dame and Clemson squared off in the CFP semifinal. The Fighting Irish, who lost 30-3, looked like newcomers on the CFP scene — because they were. That game was Notre Dame's first appearance in the CFP, and it came against a Clemson team that went on to win the National Championship nine days later.
Then-freshman starting quarterback Trevor Lawrence of Clemson went on to cement himself as the best up-and-coming passer in the country that season. Meanwhile, Notre Dame has tried to build upon its first playoff debut. Part of that process was finding the opportunity to avenge the loss against Clemson two seasons ago. And now they have one.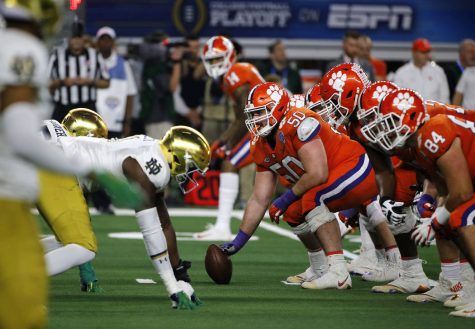 Notre Dame Stadium has become a fortress. The Fighting Irish have won 22 consecutive games since losing to No. 3 Georgia in 2017. Since Clemson and Notre Dame agreed to play this season back in May of 2017, there is no doubt Notre Dame has something to prove.
However, a win on Saturday, Nov. 7, would come with a big asterisk.
Lawrence's Heisman-hopeful season was halted on Oct. 29 due to a positive test for COVID-19. As a result, Lawrence is self-isolating for 10 straight days. Lawrence would actually clear quarantine by Saturday, but that won't be the case. As ESPN noted, Swinney ruled out Lawrence this Saturday due to "a battery of cardiovascular tests designed to identify symptoms of myocarditis" that will not be completed in time for the game.
So, Clemson will be without Lawrence, who is the odds-on favorite to become the No. 1 pick in the 2021 NFL Draft. But, that's a bigger loss for Notre Dame than it is for Clemson. And here's why:
To be the best, you have to beat the best, and Clemson will not be at its best come Saturday night without Lawrence. Sure, backup-turned-starting quarterback D.J. Uiagalelei, who was ranked the No. 1 quarterback prospect in the country, is primed to be the future of the program, but he is no Lawrence. Not yet, at least. 
Notre Dame comes into this week ranked No. 4 in the latest AP Poll, with many more doubters than believers. Clemson, on the other hand, is ranked No. 1 — a spot they haven't left all year. However, the Tigers are not the same team without Lawrence under center.
Last week against Boston College, the Tigers were in a 28-10 rut. Like they almost always do, Swinney's Tigers rallied in the second half to keep their undefeated season intact. They scored 24 unanswered points on their way to a 34-28 victory. In the second half, Clemson held the Boston College offense to 66 yards. 
It was a big win for Uiagalelei and the Tigers. However, Clemson won with its defense last Saturday, not its offense.
Bryan Bresee forces the safety!

Watch the ending live on ABC or here: https://t.co/lu6NuCdXJ2 pic.twitter.com/RZo6EPhMze

— Clemson Football (@ClemsonFB) October 31, 2020
Notre Dame hasn't had a premier win with the potential magnitude of Saturday's game since the No. 20 Fighting Irish went into The Big House and upset No. 3 Michigan 17-10 in 2005. Beating Clemson would be far-and-away the biggest win in the Kelly era. 
Upsetting No. 1 Clemson on Saturday would significantly increase Notre Dame's chances to be one of the final four teams standing at the end of the season, but doing so without Lawrence does not hold the same significance.
The sense among Notre Dame fans is they want Lawrence to play. How can you blame them? The Fighting Irish have spent the last three decades chasing National Championships and program-altering wins but have come up short more often than not. Of course, Fighting Irish fans want to beat Clemson at its best and, minus Lawrence, that isn't possible. 
Thus, even though Clemson will miss Lawrence on Saturday, they won't miss him as much as Notre Dame. Even if the Tigers lose to Notre Dame, they get Lawrence back next week and still have a strong shot to play in the ACC Championship game. A loss for Notre Dame still keeps their CFP hopes alive, but there is no doubt the committee will not value a win against an Uiagalelei-led Clemson team the way they would if Lawrence played.
Notre Dame being a 5.5-point underdog at home against a Clemson team that will start its backup quarterback is all you need to know about the national perception of Notre Dame. An upset win against the best team in the country would still hold value, but not nearly the same as if Lawrence were on the field this Saturday.