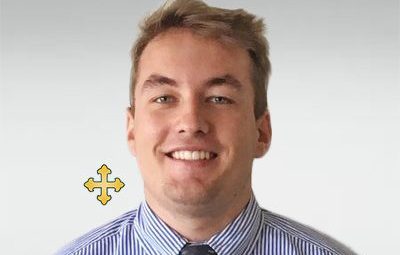 Meet Kyle Kelly, our sports editor! Kyle is a digital media and sports administration double major. Kyle is a first-place winner (2019) in Sports Column Writing for the SPJ Region 4 Mark of Excellence, and also a finalist in the Sports Writing category (2020).
Kyle loves his job as a sports information assistant for JCU Sports, where he writes and broadcasts. He also does freelance work for Cleveland.com, The News-Herald and BuckeyesNow on Sports Illustrated. In his free time, he loves to watch sports and play fantasy football. Outside of sports, he is a huge country music fan and has seen Florida Georgia Line, Kane Brown, Luke Combs, and over 60 other country music artists live in concert.
In 10 years, Kyle would like to be an NFL beat writer for the Cleveland Browns. He hopes to pursue a goal of working as an NFL insider at either ESPN, The Athletic, or Sports Illustrated.
You can contact Kyle at
[email protected]
Kyle Kelly, Sports Editor
Nov 18, 2020

Dustin Johnson makes history with November win of Masters

(Story)

Nov 11, 2020

There should be no asterisk on this year's Masters

(Story)

Nov 05, 2020

No Trevor Lawrence is a bigger loss for Notre Dame than it is for Clemson

(Story)

Oct 28, 2020

NCAA Division-III Management Council recommends an extra year of eligibility for student-athletes

(Story)

Oct 20, 2020

A lifetime job, replacing a legend and fighting a pandemic: Q & A with new Sports Information Director Joe Ginley

(Story)

Oct 07, 2020

The best Browns game of my lifetime

(Story)

Sep 30, 2020

The NFL faces biggest opponent yet with COVID-19 spread with the Titans

(Story)

Sep 30, 2020

Tanner Barton brings energy, fun to JCU Swimming & Diving Program

(Story)

Sep 22, 2020

DeChambeau defies odds with U.S. Open win

(Story)

Sep 16, 2020

I can't wait for this pandemic to be over

(Story)

Sep 10, 2020

Staley next in line for Carroll's pipeline to the NFL

(Story)

Sep 09, 2020

Remembering Chris Wenzler

(Story)

May 11, 2020

Mark Fino retires as John Carroll Swimming & Diving head coach

(Story)

Feb 25, 2020

Blue Streaks advance to OAC Semifinal

(Story)

Feb 25, 2020

First win precursor to 2020 season

(Story)

Feb 25, 2020

High scoring fairs in favor of Kenyon

(Story)

Feb 25, 2020

John Carroll routes Capital in OAC quarterfinal; Will play No. 21 Marietta on Thursday

(Story)

Feb 25, 2020

COLUMN: More than a generational goal scorer

(Story)

Feb 12, 2020

Being their best the top goal for Fino's team going into OAC Championships

(Story)

Feb 11, 2020

COLUMN: For the Love of Football

(Story)

Feb 10, 2020

Joe Schaefer accepts job with Youngstown State

(Story)

Feb 04, 2020

John Carroll offensive coordinator Jeff Fink resigns on Tuesday

(Story)

Jan 29, 2020

COLUMN: Remembering Kobe Bryant

(Story)

Jan 29, 2020

The Berger Brothers and Basketball: The story behind JCU's twins

(Story)

Jan 22, 2020

John Carroll Women's Basketball on pace for best season in program history

(Story)

Jan 21, 2020

COLUMN: Holding Reserve on Browns new head coach Kevin Stefanski

(Story)

Jan 21, 2020

Sartain shatters 3-point record

(Story)

Jan 21, 2020

Capital snaps John Carroll's 6-game win streak

(Story)

Dec 10, 2019

COLUMN: Here's what the Browns need to do with OBJ

(Story)

Dec 10, 2019

Moran proud of JCU despite Marietta's Jason Eliis' 51-point game

(Story)

Nov 20, 2019

Centre ends JCU's historic season

(Story)

Nov 20, 2019

Blue Streaks tip off season 2-0

(Story)

Nov 20, 2019

Club Hockey fights Cancer

(Story)

Nov 20, 2019

JCU's season ends with no help from tournament committee

(Story)

Nov 20, 2019

Cross Country qualifies for National Championship after record race at regionals

(Story)

Nov 20, 2019

COLUMN: The NCAA needs a better process

(Story)

Nov 14, 2019

COLUMN: To Fire Freddie or Keep Kitchens?

(Story)

Oct 15, 2019

Blue Streaks snap three-game skid

(Story)

Oct 15, 2019

Blue Streaks 'Rising Together' for mental health

(Story)

Oct 15, 2019

COLUMN: It's not the Blue Streaks fault the score was 90-0

(Story)

Oct 08, 2019

From Lebanon to the United States, Aboumitri is finding his stride for JCU

(Story)

Oct 08, 2019

Chris Wenzler inducted into JCU Athletics Hall-of-Fame

(Story)

Oct 08, 2019

COLUMN: Legalize sports betting, Ohio

(Story)

Oct 01, 2019

Women's Soccer Goalkeepers splitting half of games

(Story)

Oct 01, 2019

No. 3 JCU upset by Messiah College

(Story)

Oct 01, 2019

Women's Cross Country On the Outside Looking In

(Story)

Oct 01, 2019

COLUMN: The Cleveland Indians were better in '19 but actually worse

(Story)

Sep 24, 2019

COLUMN: State of California makes a *necessary* leap at NCAA to pay their athletes

(Story)

Sep 24, 2019

The 24-year-quest to make it back to the dance has begun

(Story)

Jul 09, 2019

Bobby Bell hired as Head Coach of John Carroll Baseball team; Ryan Nordquist not returning

(Story)

May 03, 2019

John Carroll University Athletics unveils new logo

(Story)

May 01, 2019

Streaks of the Week (5/2)

(Story)

May 01, 2019

5-4 win brings five in a row to end season

(Story)

May 01, 2019

COLUMN: Don't even think about it, Dorsey

(Story)

Apr 12, 2019

A career to remember: John Carroll University quarterback Anthony Moeglin walking away from football

(Story)

Apr 09, 2019

Average finish at Colonial Relays for JCU men's track team

(Story)

Apr 09, 2019

COLUMN: It's a dumb rule, NCAA

(Story)

Apr 09, 2019

One stroke haunts golfers

(Story)

Mar 27, 2019

COLUMN: Indians window is all but closed

(Story)

Mar 26, 2019

Streaks of the Week (3/28)

(Story)

Mar 26, 2019

JCU women's track & field win first meet since 1996

(Story)

Mar 26, 2019

All-American Accolades Highlights NCAA D-III Championships

(Story)

Mar 19, 2019

Hayden Snow becomes first John Carroll University National Champion in 17 years

(Story)

Mar 19, 2019

Streaks of the Week (3/21)

(Story)

Mar 19, 2019

JCU women's tennis team takes down regionally ranked Oberlin

(Story)

Feb 28, 2019

COLUMN: Top-10 NBA Players

(Story)

Feb 20, 2019

Streaks of the Week (2/20)

(Story)

Feb 12, 2019

Men's Lacrosse 2019 Season Preview

(Story)

Feb 12, 2019

Streaks of the Week (2/14)

(Story)

Feb 12, 2019

COLUMN: Join the Alliance … Football

(Story)

Feb 06, 2019

Streaks of the Week

(Story)

Feb 06, 2019

COLUMN: Super Bowl LIII is a Super Fail

(Story)

Feb 06, 2019

Ryan Berger propels JCU to late season success after slow start

(Story)

Jan 29, 2019

Streaks of the Week

(Story)

Jan 29, 2019

The Blue and Gold split season series vs. Mount Union with win

(Story)

Jan 29, 2019

COLUMN: My Super Bowl Pick

(Story)

Jan 29, 2019

Three Records Shattered by JCU Women at SPIRE

(Story)

Jan 22, 2019

18-point defecit means nothing, as John Carroll forces OT vs. Rival

(Story)

Jan 22, 2019

Streaks of the Week (Jan. 16–Jan. 23)

(Story)

Dec 14, 2018

Tom Arth accepts offer to become University of Akron's head football coach

(Story)

Dec 06, 2018

Carroll News Sports "Streaks of the Week" — (12/1–12/6)

(Story)

Dec 06, 2018

COLUMN: My 2018 Heisman Vote

(Story)

Dec 06, 2018

Tom Arth the leading candidate for Akron football head coach position

(Story)

Nov 25, 2018

COLUMN: Baker is bakin' and feelin' dangerous

(Story)

Nov 15, 2018

Streaks of the Week (11/15)

(Story)

Oct 23, 2018

Carroll News Streaks of the Week (Oct. 25, 2018)

(Story)

Oct 23, 2018

COLUMN: Hue Gotta Go

(Story)

Oct 23, 2018

Blue Streaks beat undefeated Pioneers, move to No. 9 in the country

(Story)

Oct 23, 2018

Inconsistency working for Blue Streaks in 2018

(Story)

Oct 11, 2018

Streaks of the Week (10/11/18)

(Story)

Oct 09, 2018

COLUMN: The Cleveland Indians are lost and may never be found

(Story)

Oct 09, 2018

Canganelli & Thompson lead the way in 44–0 Homecoming Win

(Story)

Oct 04, 2018

Streaks of the Week (10/4/2018)

(Story)

Oct 03, 2018

Blue Streaks score 8 goals in OAC Opene

(Story)

Oct 03, 2018

John Carroll Runners Have Strong Showing at All-Ohio Championships

(Story)

Oct 03, 2018

Scello leads way with 2 goals in 4–0 win against Muskies

(Story)

Oct 03, 2018

COLUMN: Don't Give Up on Your Quarterbacks

(Story)

Oct 02, 2018

An Uphill Battle for Danko becomes History in the Making

(Story)

Sep 27, 2018

Carroll News Streaks of the Week (9/27)

(Story)

Sep 25, 2018

No. 15 John Carroll Football loses 23–10 heartbreaker against No. 1 Mount Union

(Story)

Sep 20, 2018

Carroll News Sports: "Streaks of the Week" (9/20/18)

(Story)

Sep 18, 2018

John Carroll Women's Cross Country Team finds Success at Catholic Invitational

(Story)

Sep 18, 2018

"Men of Mayhem", John Carroll Football's Defensive Line Best in the Nation

(Story)

Sep 13, 2018

Carroll News Sports "Streaks of the Week" (9/12/18)

(Story)

Sep 13, 2018

StreakCenter, the official podcast of JCU Athletics offering unique perspective on Streak Sports

(Story)

Sep 13, 2018

John Carroll Volleyball rebounding in 2018 after a rebuilding year in 2017

(Story)

Sep 13, 2018

JCU Cross Country team racing in Notre Dame University Catholic Invitational

(Story)

Sep 13, 2018

COLUMN: Out with the old and in with the new: NFL starting to shift at QB

(Story)

Sep 13, 2018

Moeglin and Kukura: A relationship between a quarterback and his running back

(Story)