Reflections from a haunted house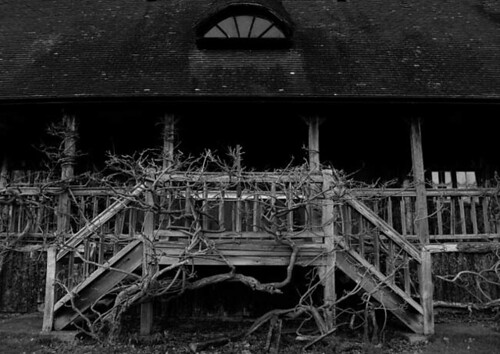 I have always considered my job to be one of the best a person can have. In fact, I get told this often when I am working, in this case, means terrifying little girls with pigtails and horrifying burly, bearded middle-aged men. People from far and wide enter into my domain to feel the most intense adrenaline possible. I must admit, scaring them gives me quite the rush as well. 
During October, I transform from a normal person into a monster for a matter of hours. I spread nightmares as I jump around corners and launch air cannons at complete strangers. Not many people can say they double as a "man-eating chicken" and get paid $50 a night for it.
That's probably because not many people can say they work at a haunted attraction. It is not a common occupation and, sadly, little children do not grow up longing to be fake zombies or rabid chainsaw slingers, especially when it is only a seasonal job. However, I would not trade my spooky profession for the world.
Every Friday and Saturday in October (and sometimes in December), I drive 30 minutes to a deep holler in the West Virginia woods where Fright Nights WV awaits me. The haunted house was crafted out of an old equestrian center, so my coworkers and I joke that the area is cursed by the spirits of horses of the past. Yet, the equine rumors are not nearly the most chilling aspect of the attraction. 
Fright Nights contains five sinister locations that customers can walk through. There is an abandoned western ghost town where skeletons lurk, a slaughter horse owned by a maniacal butcher, an asylum filled with dreadful doctors and a mansion that houses bloodied witches casting spells on all who enter. However, I work in the 5th attraction, which is known as Mr. Beard's Freaks and Phobias — Fright Nights' signature freakshow.
Mr. Beard's Freaks and Phobias has a circus-like aesthetic. Its walls are red and white, and the music is eerily similar to something you would hear at a carnival. Clowns haunt the halls, and the dusty artifacts come to life before your eyes. My position is right after the black-lit room in the freakshow, and I am sure guests know I am coming.They must hear my clucking, and the screams of those before them in line. When they first walk into the room, they see a broken and bloodied cage with a sign that says, "CAUTION: CHICKEN MAY BITE!" Above that is a whimsical sign that introduces my act: The Man-Eating Chicken. 
Yes, I know that my character does not seem scary at all. I am a regular person with the head of a chicken, what is there to fear? Well, I will not reveal my strategy but I will admit that I have made multiple adults cry out in terror, and one woman even peed her pants in fear (which left the most unpleasant smell near my cage). In fact, last season, I was awarded the title of "Scream Queen" by the owners of the attraction for my portrayal of the Man-Eating Chicken, out of all of the monsters within Fright Nights, so I have no doubt that I can be scary, although I play a poultry persona.
To be honest, it does get rather annoying being called Chick-fil-A and a myriad of cuss words every weekend, but these statements do not deter me from scaring. If anything, they motivate me to continue, because I know they are fear-based responses. I do get rather shaken up when I get punched (and it happens a lot), but I understand that this is mostly because of a person's fight-or-flight response. However, I keep going no matter what happens. After all, the show must go on.