JCU COVID-19 Task Force releases "return-to-campus" plan
Editor's note: For more information on how students are feeling about the possible return to campus, check out this story.
The John Carroll University COVID-19 Task Force on Nov. 5 released a "return-to-campus" plan  for the spring semester to ensure students' and faculty's safety upon arrival.
The official email sent to the John Carroll community said students "will return to campus for the spring semester" unless "external factors" prevent them from doing so.
"Our COVID-19 Task Force has worked hard this semester to implement a return-to-campus plan that includes an ongoing surveillance testing program, increased contact tracing capacity, and additional quarantine and isolation spaces on campus," the task force said in the email. "We are prepared and ready to welcome students back to the residence halls, dining halls, and classrooms in the spring semester."
The University will initiate a Flexible Hybrid (HyFlex) model, which will offer a mix of in-person and remote classes. Some classes will be offered entirely remotely due to faculty concerns. Students can also elect to continue learning remotely if they feel returning to campus is not the best option for them, according to the spring semester plan.
"The University is planning for the safe return of students in the spring by offering a robust testing plan of the campus community and increasing the quarantine/isolation rooms on campus for residential students who test positive or may have been exposed," Jan Krevh, member of the task force said.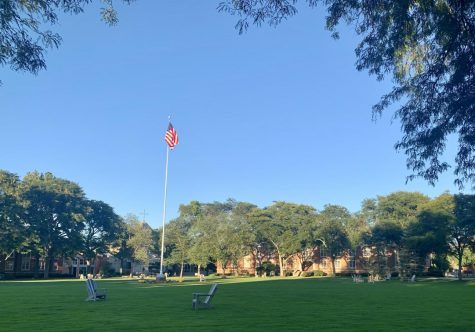 The task force acknowledged in the email that there may be cases on campus after arrival. However, they stated that they are well prepared for such occasions because they "now have the testing and resources in place to respond proactively."
The task force said even if Cuyahoga County reaches purple, the highest level on Ohio's color-coded COVID-19 Public Health Advisory System, we will still return to campus. However, if the state of Ohio or local health agencies mandate remote learning, the university will be forced to return to online learning.
Professor Brent Brossmann, chair of the Faculty Council, said JCU has been working incredibly hard to ensure a safe experience. 
"One of the clearest and loudest messages this semester is that our students want to be back on campus," he told The Carroll News. "The University wants to make that happen, but the health of our entire community – students, staff and faculty – must remain the primary concern. That's why JCU has worked so hard on surveillance testing, contact tracing, improving testing and other resources."
Brossmann added that there needs to be community involvement for the plans to work. 
"The institution can't do this alone, however," he said. "Everyone coming to campus needs to self-monitor, take precautions and remember that we are a community.  We need to work together as a community to keep everyone safe."
"Students should continue reading their JCU emails for plan updates and follow the state's recommendations, including the 3-W's — wear your mask, wash your hands and watch your distance (six feet)," Krevh said.
For updates on COVID-19 cases at JCU, visit the website here.