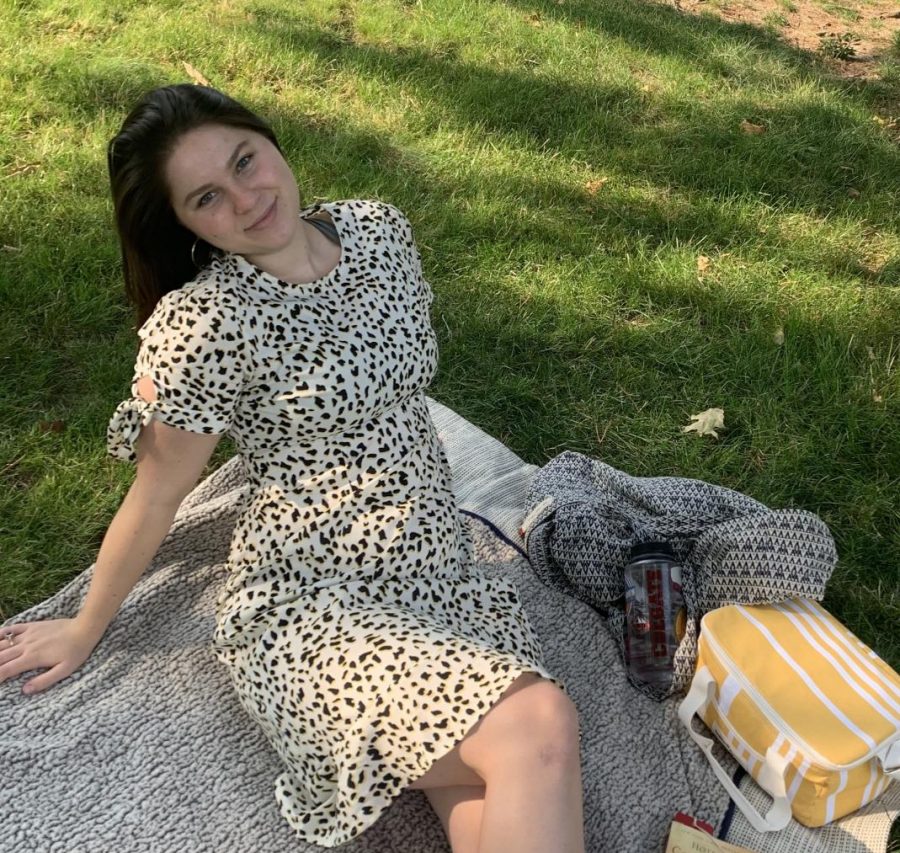 Meet Rachel Scully, one of our Campus Editors! Rachel is a senior at John Carroll University from Erie, Pennsylvania. She is a double major in Political Science and Communication with a minor in Spanish. Rachel is a former intern at The Hill with numerous stories published ranging from politics to celebrity news.
Rachel started writing for The Carroll News her freshman year in 2017. Later that year, she became the Editor of Arts & Life and continued working for the section until her senior year. She, then, accepted a role as Campus Editor.
Journalism has always been an incredible passion for her, whether it be writing, broadcasting or designing. She attended an arts school for her first two years of high school. There, she found a passion in design and writing while working with brilliant peers. Rachel later fell in love with broadcasting after attending classes at John Carroll and continues to strive for a career that incorporates all three.
Rachel spent a semester abroad in Ireland where she immersed herself in a variety of cultures while traveling around Europe.
In addition to The Carroll News, she is involved in Speech and Debate and qualified for nationals in After Dinner Speaking. Outside of school, Rachel's hobbies include backpacking, traveling, playing the ukulele and running. She plans to complete the Pacific Coast Trail or the Appalachian Trail someday.
In the future, she hopes to end up in Washington D.C. pursuing a career in political journalism.
Rachel Scully, Campus Editor
Dec 10, 2020

Readin' with Rachel: A change in holiday tradition

(Story)

Dec 10, 2020

A JCU Christmas Carroll guessing game

(Story)

Dec 09, 2020

What's the tea at John Carroll?: A somewhat investigative report

(Story)

Nov 21, 2020

November curated playlist

(Story)

Nov 19, 2020

JCU Student Government announces 2021 senators

(Media)

Nov 18, 2020

Readin' with Rachel: A career amidst the pandemic

(Story)

Nov 18, 2020

Former CSI Agent teaches JCU students about criminal investigations

(Story)

Nov 11, 2020

John Carroll Student Government announces 2021 executive board

(Story)

Nov 11, 2020

A blessing of memes to get you through the dark days

(Story)

Nov 11, 2020

JCU COVID-19 Task Force releases "return-to-campus" plan

(Story)

Nov 11, 2020

Readin' with Rachel: A paranormal experience I'll never forget

(Story)

Oct 28, 2020

Remembering the Rev. Gerald Sabo, S.J.

(Story)

Oct 22, 2020

Readin' with Rachel: My recent revisit to Childish Gambino's "Because the Internet"

(Story)

Oct 22, 2020

No fall break and a shortened spring break: What does that mean for JCU?

(Media)

Oct 21, 2020

University's draft strategic plan says restructuring is due to "falling behind"

(Story/Media)

Oct 09, 2020

John Carroll opens remodeled Corbo Fitness Gym

(Story)

Oct 08, 2020

Off campus student houses infected with COVID-19 despite campus closure

(Story/Media)

Oct 07, 2020

Political Science professor Colin Swearingen receives Culicchia Teaching Award

(Story)

Oct 01, 2020

Readin' with Rachel: Trouble in Telecommunication

(Story)

Sep 30, 2020

JCU Dining Goes Online: "It's like a mukbang but better"

(Story)

Sep 23, 2020

An Empty Campus

(Story/Media)

Sep 16, 2020

Movies You Won't See In Theaters

(Story)

Sep 16, 2020

Readin' with Rachel: It's Time to Address the Civil Unrest

(Story)

Sep 16, 2020

Art History Department to be eliminated, tenured faculty receive termination notices

(Story)

Sep 16, 2020

John Carroll Ranked No. 2 in Best Regional Universities

(Story)

Sep 09, 2020

"Chemical Hearts:" not your usual "coming of age" film

(Story)

Apr 06, 2020

How to stay sane in self-quarantine

(Story)

Apr 02, 2020

Academic pass/fail policy in the works in response to student petition

(Story)

Feb 20, 2020

Rachel's Reads: Perfectly Imperfect

(Story)

Feb 13, 2020

Facing Life's Challenges: The Story of Brent and Jeanette

(Story)

Feb 05, 2020

Rachel's Reads: Normalizing Therapy

(Story)

Jan 31, 2020

A Bumpin' 90s hip hop playlist

(Story)

Jan 30, 2020

Pound Takes on JCU

(Story)

Jan 30, 2020

Harry Styles serves style trends

(Story)

Jan 23, 2020

Rachel's Reads: No, I'm Not Sorry

(Story)

Dec 12, 2019

A rockin' holiday playlist

(Story)

Dec 12, 2019

"Jumanji: The Next Level" Review

(Story)

Dec 11, 2019

Rachel's Reads: A Holly Jolly Hardship

(Story)

Nov 21, 2019

Androgyny becomes the new standard in fashion

(Story)

Nov 14, 2019

Rachel's Reads: Finding Confidence Through Failures

(Story)

Nov 14, 2019

French Police Dismantle Migrant Camps

(Story)

Nov 14, 2019

8 Ways to Bring Hyyge to Your Dorm This Winter

(Story)

Oct 17, 2019

Cleveland Local: The Cleveland Candle Company

(Story)

Oct 17, 2019

Rachel's Reads: Through the Clutches of Cuffing Season

(Story)

Oct 17, 2019

Editors' fall favorites

(Story)

Oct 10, 2019

5 Important Body Positive Instagrams

(Story)

Oct 10, 2019

How Modern Latinx Artists Impacted the Art Industry

(Story)

Oct 10, 2019

Rachel's Reads: Laughter Makes the World Go Around

(Story)

Oct 03, 2019

A Brief History of Feminism

(Story)

Oct 03, 2019

Rachel's Reads: A Journey Out of the Closet

(Story)

Sep 25, 2019

Rachel's Reads: One Step at a Time

(Story)

May 02, 2019

A Love Letter to Ireland

(Story)

Apr 14, 2019

Letters from Dublin

(Story)

Mar 28, 2019

"Stranger Things" Season 3 Trailer Released

(Story)

Mar 22, 2019

Jonas Brothers have resurged and expanded their fanbase

(Story)

Mar 22, 2019

Letters from Dublin

(Story)

Feb 21, 2019

Letters From Dublin: February 21st

(Story)

Feb 07, 2019

Letters from Dublin

(Story)

Oct 16, 2018

Pixi Gives us a Fair Glow

(Story)

Oct 16, 2018

Readin with Rachel: Chop Chop

(Story)

Oct 16, 2018

Five Haunted Houses to Visit in October 2018

(Story)

Oct 16, 2018

Cleveland Local: Phoenix Coffee

(Story)

Oct 16, 2018

Readin with Rachel: Sleeping Without Silence

(Story)

Oct 16, 2018

Winnie Wowing Every Runway

(Story)

Oct 16, 2018

Readin with Rachel: An Exploration in the Arts

(Story)