Column: NFL Officiating needs fixed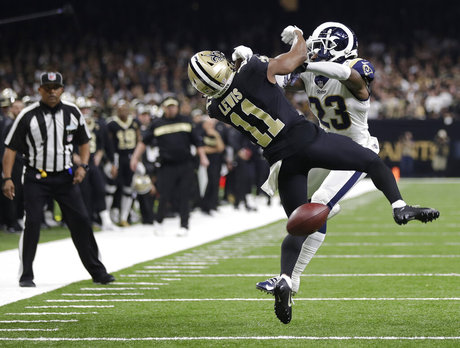 Hang on for a minute...we're trying to find some more stories you might like.
Being a referee, umpire, linesman, and official, is difficult for any sport at any level, and on the NFL's biggest stage, it's not any easier.
I can say that one time during my life I was a "referee." In the fall of 2016, during my senior year of high school, I officiated CYO Toledo third- and fourth-grade flag football, where scores were not recorded and neither team won or lost. Even then, I received comments from parents, fans and coaches that I was missing calls or favoring one team. I even remember one time I was yelled at by one coach for missing a call, and I even threw a flag later on as a makeup call. I'm human, it happens. I was paid $8.15 an hour for that gig.
Based on this long experience, I can say with some authority that on Sunday, Jan. 20, I witnessed the worst "non-call" of all time during the NFC Championship Game between the Los Angeles Rams and New Orleans Saints. New Orleans possessed the ball on Los Angeles' 13-yard line with 1:49 left in regulation — it was 3rd & 10, the game was tied at 20. Drew Brees dropped back and lofted the ball to Tommylee Lewis. Rams defender Nickell Robey completely ignored the ball, bull-ran Lewis and the play was over — there was no flag thrown.
Not only could that have been one penalty, it easily could have been pass interference, head-to-head contact, or unnecessary roughness. It was not called as any of them and the Saints were forced to kick a field goal.
Long story short, the Rams won in overtime, and the Saints essentially lost because of that "no-call."
Saints head coach Sean Payton said that he called the NFL league office after the game, and the head of NFL Officiating, Al Riveron confirmed that they had missed a mistake. Except, it was not a mistake — it cost a team an opportunity at the Super Bowl.
To say that the NFL officiating this year has been atrocious is an understatement and it was at its peak last Sunday. An NFL official is estimated to make $173,000 to make those calls. They did not make that call and it cost a team its season. I am thankful it was not the Browns because I would be at the NFL League Office doorstep.
Fix it, NFL.