Movie theaters facing uncertainty and closures
Regal Cinemas has temporarily shut down again because of COVID-19. The company released a statement saying that they will be closing all 536 movie theaters across the United States.
The pandemic has caused drastic consequences for movie theater companies like Regal Cinemas. Movie releases have been delayed for months to an entire year. According to NPR, Regal Cinemas has laid off 40,000 employees across the U.S. Regal said it will continue to monitor the situation and will communicate any plans of reopening at the appropriate time.
Meanwhile, streaming apps such as Disney+, HBO Max, Netflix, Hulu, Xfinity and Amazon Prime have replaced going to the movie theater for many people. 
However, some are deeply affected by Regal Cinemas closing. "I think it's sad because I went there all the time when I was growing up with my family," said Alexa Flauto, a first year student at John Carroll University.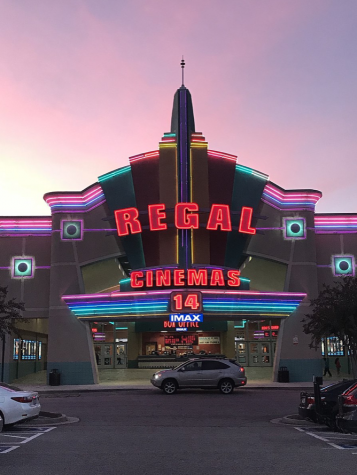 Not only do streaming apps offer hundreds, possibly thousands, of movies to watch, they also create a sense of security and comfort. People feel safe in their homes and sometimes even create their own home theaters complete with microwavable popcorn. 
However, Flauto said, "Movie theater popcorn is so much better than store bought!"
With streaming apps becoming the center of attention and the uncertainty of a future vaccine, movie theaters seem to be running out of options to stay afloat. Owen Gleiberman, a chief film critic at Variety, said in an interview, "If we have to say goodbye to movie theaters until there's a widely available vaccine, then I think it's just possible we'll be saying goodbye to movie theaters, period."
Gleiberman used New York as an example to support his statement because movie theaters are still closed, even though restaurants, churches and gyms have reopened. Gov. Andrew Cuomo addressed the issue by saying he was not going to open theaters yet because he felt, with COVID-19, they were unsafe. This widespread feeling of movie theaters being unsafe is causing theater owners and employees to wonder what their futures will look like.
"I think if that feeling dominates, then the future of movies may be dealt a devastating blow," Gleiberman said.
A possible solution to keeping movie theater companies alive is to open more drive-ins, which are a safer option that still allow people to watch movies on a bigger screen. Some companies have resorted to this, but others still need convincing.
"The problem is that the business needs rescuing now. It doesn't have time to evolve into a high-end indulgence," said Brent Lang, an executive editor of film and media for Variety.
The Cleveland International Film Festival is also trying to adapt. Debbie Marshall, the membership director and operations manager, said that the festival will be completely online in 2021.
"Our organization plans to replicate many of the aspects of  CIFF's in-person events and screenings in an online environment that provides an exciting experience and a sense of community for our audience from our couch to theirs," said Marshall.
Marshall suggested the movie industry has already been moving to a more digital platform in the last few years with the growing popularity of streaming apps. Though she doesn't know if traditional movie theaters will survive the pandemic, she is hopeful that the industry will grow along with new technologies.
"The movie theaters of the future might look very different from what we are used to, but the magic of movies and the shared experience of an audience coming together to watch a film will always be special, whether that audience is in the same room or on the same Zoom."
As of now, the future of movie theaters is unpredictable, but theater companies will continue to try to bring the classic theaters back during this uncertain time.