Three-peat for the JCU men's swimming and diving in the OAC Championships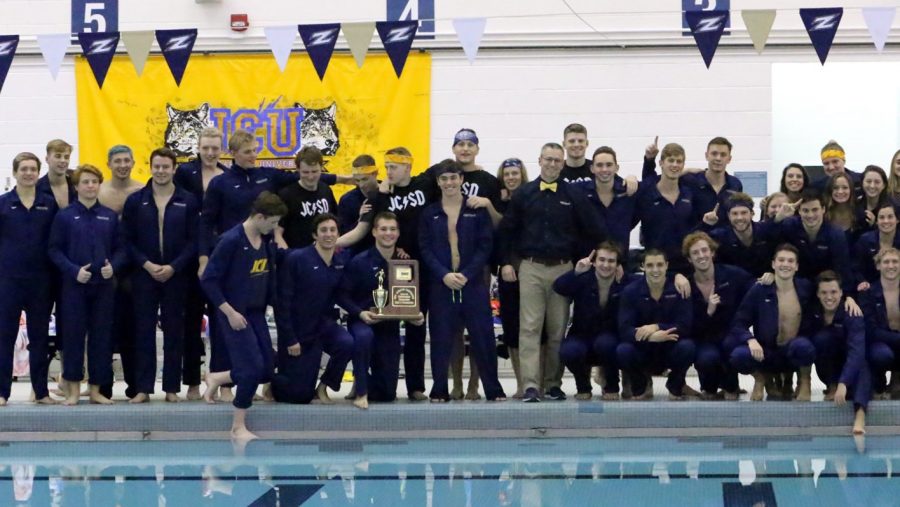 Sean Freeman, Staff Reporter
February 18, 2019
Team transformations come in many forms and typically over long periods of time. In order for a major transition to take place, a significant change is usually necessary to spurt beneficial change. With the same coaching staff and a new freshman class, the men's swimming and diving team has had a transformation like no other in just one year.
That became abundantly clear last weekend at the OAC Championships at the University of Akron's natatorium hosted by Wilmington college on Thurs. Feb 14-Sat. Feb. 15. The Blue and Gold men won their third consecutive conference championship after beating conference foes Baldwin Wallace, Mount Union, Ohio Northern, and Wilmington in the three day meet.
While taking home the Ohio Athletic Conference, Men's Diver of the Year (junior Ryan McClelland), OAC Men's Swimmer of the Year (freshman Erik Sriubas) and the OAC Men's Coaching Staff of the Year (Mark Fino, Lewis Fellinger, Liz Tamas and Teresa Prinster), the men claimed eight of the eleven conference record-breaking times smashed by the Blue Streaks. No other team broke OAC records besides the Blue Streaks.
Last year, the men scored 826.5 points, barely edging out Ohio Northern by three points. The year prior, the men scored merely 806 points. This year, the team scored 985 points, separating themselves from their nearest competitor, the Polar Bears of ONU, by 240.5 points. In the 2016-17 championship, the Blue Streaks were only able to acquire two OAC records, compared to their eight this year.  

This past weekend, JCU, across the men's and women's division, were a perfect ten for ten in the relays throughout the championship weekend. That has only happened one other time since the conference championship resumed in 1990, when Ohio Northern pulled off perfection in 2014.

Through three straight years of championships, the men have been able to steadily increase their performance and margin of victory through each competition. All under the direction and leadership of Fino, swimmers and divers have excelled and continue to highlight the dominance and prowess of John Carroll Swimming and Diving.  

This 16th victory for the program is a nice one to soak in, and it will only be exceeded by John Carroll's participation in the NCAA Championships and seasons to come.