Blue Streaks shake Allegheny, winning four straight games
For the fourth time in their last four outings, the John Carroll University Blue Streaks Women's Soccer team pulled out a win. Their latest victory came in a double-overtime 1-0 shutout against Allegheny College on Saturday, Sept. 11.
Outscoring opponents 10-1 in their last four games, the Blue and Gold came out of the gate red hot following a 3-0 loss in their first game against Westminster College. 
Danielle DelGiudice posted her third consecutive clean sheet, stopping all nine shots she faced in the winning effort. DelGiudice was named OAC Defensive Player of the Week on Monday, Sept. 13 for her dominating weekend performance. 
After the Gators dominated the second half by six shots, the Blue Streaks pulled out a gutsy win with a 107th-minute goal in double overtime. 
The John Carroll bench came up big in the weekend road win. 
Madison Zimmerman, a graduate transfer, picked the best possible time for her first goal on her new team.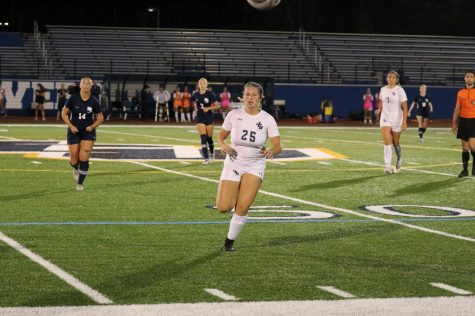 Brittany Dufalla continued her offensive outburst as she found Zimmerman, who ripped a shot to the high right side of the net. Zimmerman's tally secured the hard-fought, defensive battle for the Blue Streaks. 
The bench continued their stellar play throughout the contest, as sophomore speedster Julia Suttman placed shots on goal at the end of the first half and overtime. 
"When you come off the bench, you need to make an impact and change the game with pace and aggression," noted Suttman. "I think I came off the bench and added to the pace of the game with my speed and agility." 
Senior Maura Palmer and freshman Lizzie Woo made huge defensive clears down the stretch, chalking up a huge team win. 
"I think a lot of our team success is credited to the team chemistry that we have off the field, which is translating to how we are playing on the field," said Palmer. "Knowing everyone's strengths and weaknesses and the backline has been developing a trust between each other, so we are really connecting and playing together as one."
The Blue Streaks (4-1-0) will retake the field on Wednesday, Sept. 15 at 5 p.m. as they head on the road to face Kenyon College.