Blue Gold Club honors 2021 JCU Athletics Hall of Fame inductees
This past Friday night, six athletes and one team were inducted into the John Carroll University Athletics Hall of Fame. The ceremony also included the inaugural Blue Gold Club Wenzler Award, given to fifth-year and current men's soccer captain Michael Adelman. The inductees included Dave Hosea '76, Tony Szczesiul '86, Jason Kessen '96, Bryan Mohler '99, Brandon Mimes '08, Jamie Smrdel Kamensky '10, Lee Jennings '11 and the 2003 John Carroll Men's Soccer Team. 
Dave Hosea – Class of 1976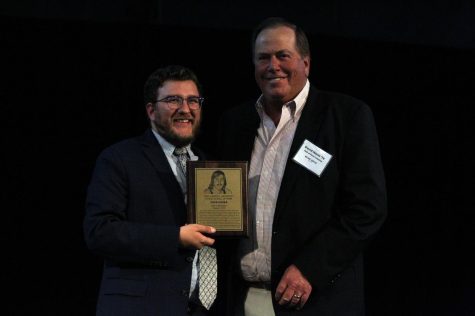 As a men's basketball player at John Carroll, Hosea was named All-PAC three times — one of only five players ever to do so. Hosea was the leading scorer and team captain for JCU in 1974 and 1975. Hosea finished his career top 10 in five categories, including field goals and rebounds.
Tony Szczesiul – Class of 1986 
During his time as a men's soccer goalie at John Carroll, Szczesiul became one of three former Blue Streaks to be named All-PAC four times. The other two were his teammates and fellow JCU Hall of Famers, Drue Carney and Rich Kramer. In his junior season, Szczesiul led the team to a 12 win season, the school record at that time. He finished with a 33-19-5 record with an average of 1.31 goals allowed in his career. Due to a previous commitment, Szczesiul could not attend the ceremonies and will be honored next year on Oct. 7, 2022. 
Jason Kessen – Class of 1996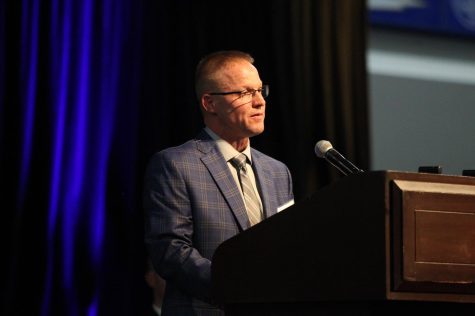 During Kessen's time as a wrestler, he was a three-time national qualifier, three-time OAC place winner, and an All-American senior year. Kessen was the OAC runner-up twice, with 150 points in 1994 and 158 points in 1997. He went 5-0 at nationals his senior year and was named the team's Most Valuable Wrestler. He finished with a career mark of 89 victories, which tied him for seventh at the time. Kessen was also named Academic All-American in 1994, 1996, and 1997. 
Bryan Mohler – Class of 1999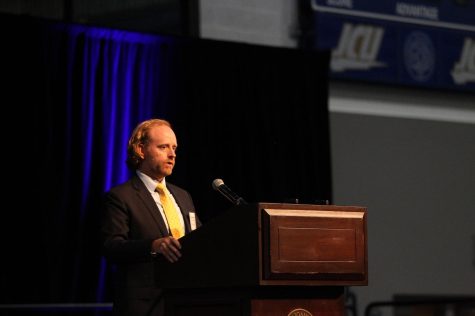 Mohler set the record for combined victories with 120, which stood for 20 years as a standout performer on the men's tennis team.  He still owns the best winning percentage in singles with .890 and was a regular No. 1 doubles player. Mohler was a seven time All-OAC honoree and five time OAC Champion. As a freshman and sophomore, he won the No. 1 doubles, as a junior, he won the No. 4 singles, and as a senior, he won the No. 3 singles as well as being a runner-up at No. 1 doubles. He helped JCU win the OAC Tournament Championship in 1997 and 1999, as well as regular season championships in 1997 and 1998. Mohler was also named a GTE Academic All-District IV first team as a senior and Academic All-OAC twice. 
Brandon Mimes – Class of 2008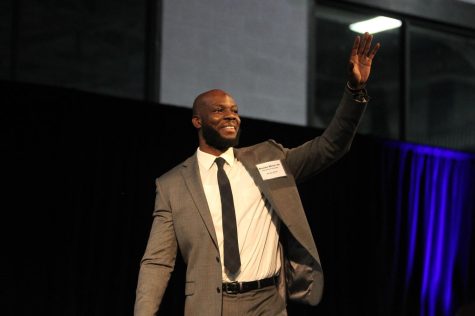 After completing four successful years of basketball at John Carroll, Mimes left JCU as a 3x OAC Champion and 3x All-OAC player. Mimes led the Blue Streaks to the DIII NCAA Tournament Final Four in 2004 and the Sweet 16 in both 2005 and 2007. In the 2003-04 season, Mimes was named an All-OAC Honorable Mention and OAC Tournament Honorable Mention and won the Team Newcomer of the Year award with current Men's Basketball Head Coach Pete Moran. In 2005, 2006 and 2007 he led the team in points and rebounds. His single season 638 points and 327 rebounds in the 2006-07 season still stands as the second most in a single season in each category. His career 1,387 points are ranked ninth all time, and his 734 rebounds are tied for third all time in program history. He was a member of the 2003-04 team that was inducted into the Hall of Fame. After graduation, Mimes served as a member of the United States Navy from 2009-2016. 
Jamie Smrdel Kamensky – Class of 2010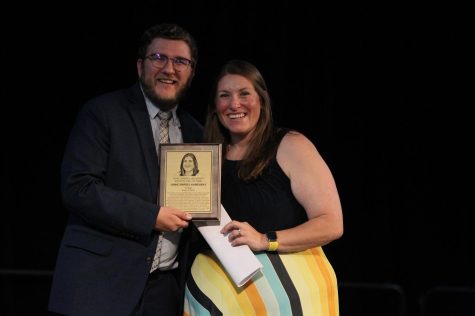 Smrdel was the first Blue Streak to be named a First Team All-American in JCU Softball history. As an amazing power hitter, Smrdel led the Blue Streaks to a breakout 26 win season in 2009, a program record. Her records include second in batting average (.465), first in slugging % (.781), OBP (.571), doubles (49), home runs (27), RBIs (150), total bases (331), walks (105), intentional walks (25), and third in hits (197). Smrdel was named First Team All-OAC in 2009,  Second team All-OAC in 2006 and 2007, All-OAC Honorable Mention in 2008, NFCA First Team All-America, and NFCA Diamond Cather of the Year in 2009. 
Lee Jennings – Class of 2011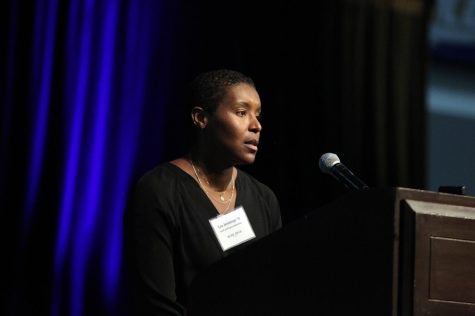 After a remarkable women's basketball career for the Blue Streaks, Jennings was a first ballot honoree this year. She was JCU's first D3hoops.com First-Team All-American and State Farm Coaches' All-America Team Honorable Mention. Jennings was also a three-time All-Region honoree and four time All-OAC player. Jennings was the team and OAC leading scorer in 2011, leading the Blue Streaks to their first ever OAC title game. She is top 10 in many major categories: first in assists (496), and assists per game (5.4), third in points (1,892) and second in PPG (19.9). 
2003 JCU Men's Soccer Team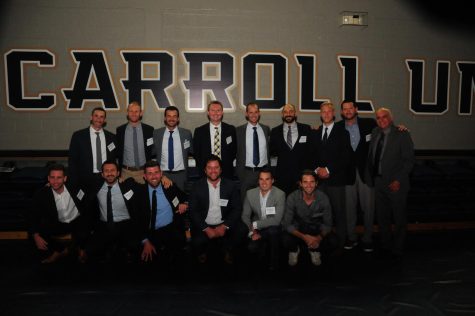 The final induction of the night was for one of the most successful teams in John Carroll's history. The 2003 men's soccer team was the first JCU Men's Soccer team to make the DIII NCAA Tournament after defeating Otterbein, resulting in winning the OAC Conference Championship. Despite a couple of injuries to key players, the team went all the way to the sweet 16 before falling to Dominican University. Chris Heslep led the team in points with 29 and goals with 11. Current JCU Men's Soccer Head Coach Dejan Mladenovic '06 was also on the team.
Blue Gold Club Wenzler Award: Michael Adelman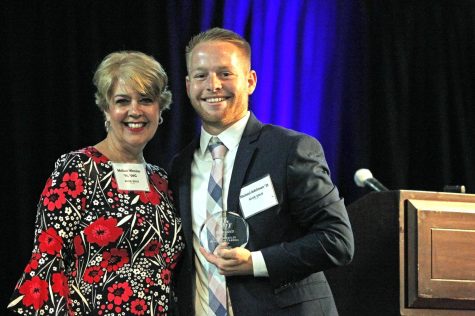 Fifth year men's soccer player Adelman was given the first Wenzler Award in honor of Chris Wenzler, Class of 1990, and former John Carroll Sports Information Director. In 2020, Wenzler lost his battle with multiple myeloma.
"I am incredibly honored to receive the Wenzler Award," said Adelman. "To me, an award with the Wenzler name attached to it is the most meaningful award I could receive as a student-athlete at [John] Carroll. It means much more than any award I could ever earn on the soccer field. The respect and admiration I have for Chris Wenzler will continue to inspire me for the entirety of my life."
Congratulations to Senior Captain, Michael Adelman, on receiving the inaugural Wenzler Award at last night's Hall of Fame Dinner! ⚡️⚡️⚡️ #WenzlersWarriors #JCUHOF #ManForOthers pic.twitter.com/qqCCZHFfus

— JCUMensSoccer (@jcumenssoccer) October 2, 2021
 The Blue Gold Club created the Wenzler Award to recognize a man or woman for others and student-athlete who embodies being a servant-leader.
 "Michael Adelman is hands down the most important person in our program," said JCU Men's Soccer Head Coach Mladenovic. "What he does in his role as captain goes beyond his years and is attributed to his maturity, selflessness, and upbringing," 
Adelman worked in the sports information department for Wenzler, was the SAAC (Student Athlete Advisory Committee) president, is currently in his second season as team captain, a three-time OAC Tournament Champion, three-time Academic All-OAC, and won the school's Leadership Award last spring.