On an Evening in Roma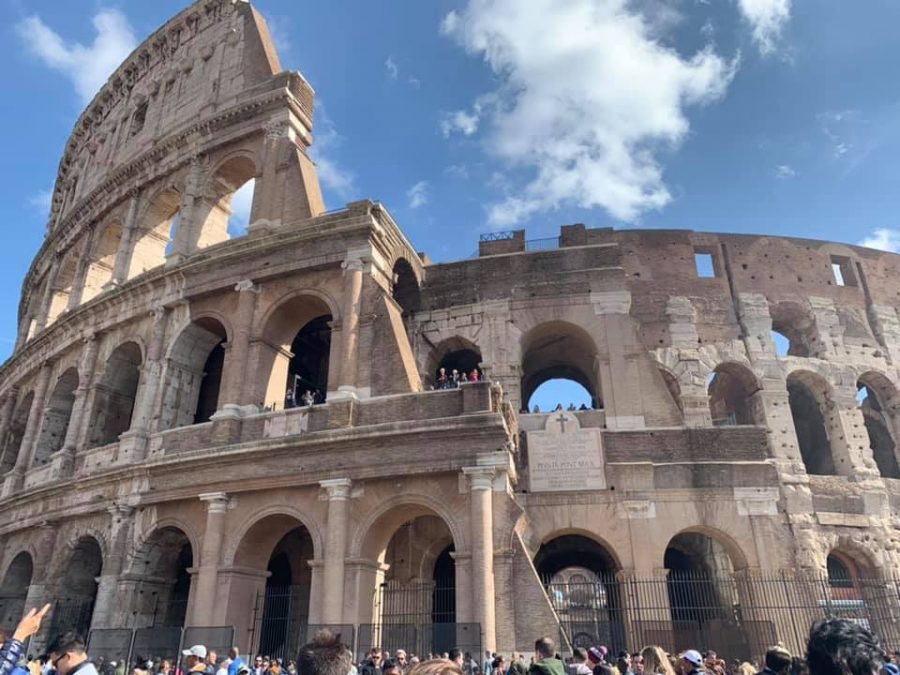 A horde of 13 American students dragged their enormous, heavy luggage across the cobblestone roads of Rome, dodging cars and trekking their way to Borgo Pio street. This was the scene Italians watched as JCU's Rome and the World of Wonder class first arrived in Italy.
For me, it was my first time abroad, and I can honestly say it was the greatest adventure I could have hoped for. Not only did I experience all of the art and culture that was at every turn, I also made memories with some amazing people.
Prior to leaving for our 10 days in Rome, we spent the beginning half of the semester discussing influential artists of the Baroque period, such as Caravaggio, Bernini, Michelangelo, Artemisia and plenty of others. This learning was vital because we already studied and understood the lives of the artists and the meaning behind their works before seeing the works in flesh.
One of our stops was the Vatican Museums, which were breathtaking. We had a guided tour, so we were fully engrossed in the works and art displayed on the walls and ceilings of the museums. The tour ended at the Sistine Chapel, which was my very favorite part of the trip. Pictures and talking are prohibited in the Chapel, so it was incredible to just stand there and soak up every moment. The "Final Judgement" portion of the Chapel had so much detail and beauty, it is truly indescribable.
Another personal favorite was seeing Artemisia's work "Judith Slaying Holofernes" at the Uffizi Gallery in Florence. We had discussed this work in class, and its graphic nature repulsed me at first. Then we compared it to Caravaggio's version of the same painting. After understanding how Artemisia's personal experience of being raped and reclaiming her femininity and sexuality through her paintings, I re-examined my feelings on the painting. Seeing the painting in person made me fully appreciate her work, and I learned not only about the painting but also the backstory of the artist.
Although we spent a lot of time focused on visiting different churches and museums to observe Baroque art, we still had plenty of opportunities to roam Rome and experience once-in-a-lifetime events. For example, we went to the Papal Audience. Waking up at 6 a.m. and standing in line for hours allowed us the chance to stand about 10 feet from Pope Francis. I will cherish this memory forever.
We visited historical sites, such as the Colosseum and Roman Forum. We lived two minutes from St. Peter's Basilica. We visited the Pantheon. There were so many moments on this trip when I paused and was in awe of all this history and culture that surrounded me.
Another important aspect of the trip: the food. Carbonara and margherita pizza were the staples of my week. Daily gelato runs gave us something to look forward to after hours and hours of walking. Multiple cappuccinos kept us caffeinated and alert. It was all so delicious. But my favorite meals were the dinners where the whole class, along with our professors, Santa Casciani and Luigi Ferri and Classical and Modern Languages and Cultures' administrative assistant Brenda Bailey, all ate together. Several times during the 10 days we all came together after a long, full day to  eat a meal, drink wine and share laughs and memories together.
A facet of the trip that I was not expecting was the culture shock. There were several, notable differences between Italian and American cultures, the first being that cars do not care about pedestrians, and they are willing to come extremely close to hitting you while you are walking. I was shocked at how often we would be walking down miniscule alleyways and someone would yell "car" and a car would be speeding down this tiny street with no caution. I was also shocked to learn we had to pay for daily necessities, such as access to public toilets and water with our lunch and dinner. I had a running list on my phone throughout the trip so I could remember and reflect on how different life in Italy is from the life I live.
It is unreal to me that I was able to go to such an extraordinary place and see and experience so many incredible things. I am so grateful that I went to Rome with this class. I was immersed in culture and art, and I was able to experience it with some wonderful friends (quick shout-out to the fam). It was an expensive trip, but it was worth every single penny I spent.